LET'S TEAM UP TO BUILD YOUR BRAND
Yoga is about service, and we're here to give you all we've got! In order to build your brand, you've got to utilize the same elements you would when forming meaningful relationships; time, trust, and clear communication. Here at Swagtail, we provide tangible strategies and practical resources to make those relationships last!
As the founder of Swagtail, I reside in both California and Florida, and I get to travel the US extensively.  This provides a unique connection with a broad, evolving yoga community.  I collaborate with the best studios and teachers to provide the most insightful tools, products, and information possible. My professional experience in the yoga world, along with other stints in the project management space,  shape my refreshing, relatable voice of wisdom. And, I'm stoked to bring the best of this business insights to you!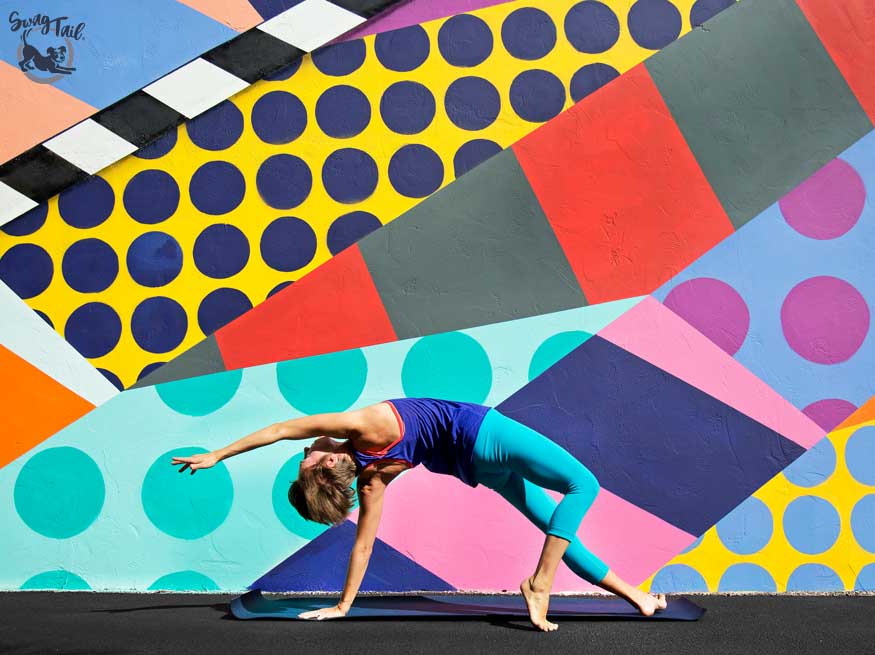 Consulting
Success in the yoga business industry involves the perfect balance of brand development, business strategies, and intuitive fortitude. By diving deep into the specifics of your business, Kym can pinpoint weaknesses, bolster strengths, and create a long-term path to success that aligns with your overall goals.
Brand Collaboration
Partnering with Swagtail is a powerful way to reach a niche of the yoga community in a personalized manner. Based on your specific goals, Swagtail can create custom blog posts, YouTube Videos, and social media campaigns to spread the word about your awesome brand. Think word of mouth at lightspeed pace.
Request a media kit now!
Host an Event
Bring some buzz to your studio with a custom workshop led by Kym Coco. Allow your community to come together in an immersive experience to deepen their physical practice, broaden their perspective, and gain specific tools for emotional equanimity off of the mat. If you're interested in a teacher-only experience, events can be customized to focus on business tools and strategies for success.
FREQUENTLY ASKED QUESTIONS
Can we send you product in exchange for promotion?
Swagtail is founded on integrity, connection, and excellence. If your product aligns with our vision, and is one Kym is proud to stand behind, then we can build a promotional partnership.
How much do you charge?
Swagtail prices vary depending on the type of collaboration you wish to establish. In order to discuss your specific goals, send us your information via the link below. This will give us a better idea of your project, budget, strategy, and best path to success.
Do you sell links or allow guest posts from brands?
No. Kym only writes about products that she tries, uses, and whole-heartedly recommends. If you are only interested in a link, guest post, or infographic, please do not contact us.
WANT TO COLLABORATE?
We'd love to hear from you to discuss your project. Use the contact form below to get in touch, and please include:
Your name & email
Company name
Specific product, place, or activity you are looking to promote
Type of content you are most interested in (social, blog, newsletter, video, etc)
Project Timeline (i.e. – Fall 2018)
Any other information we would need to know to craft a proposal