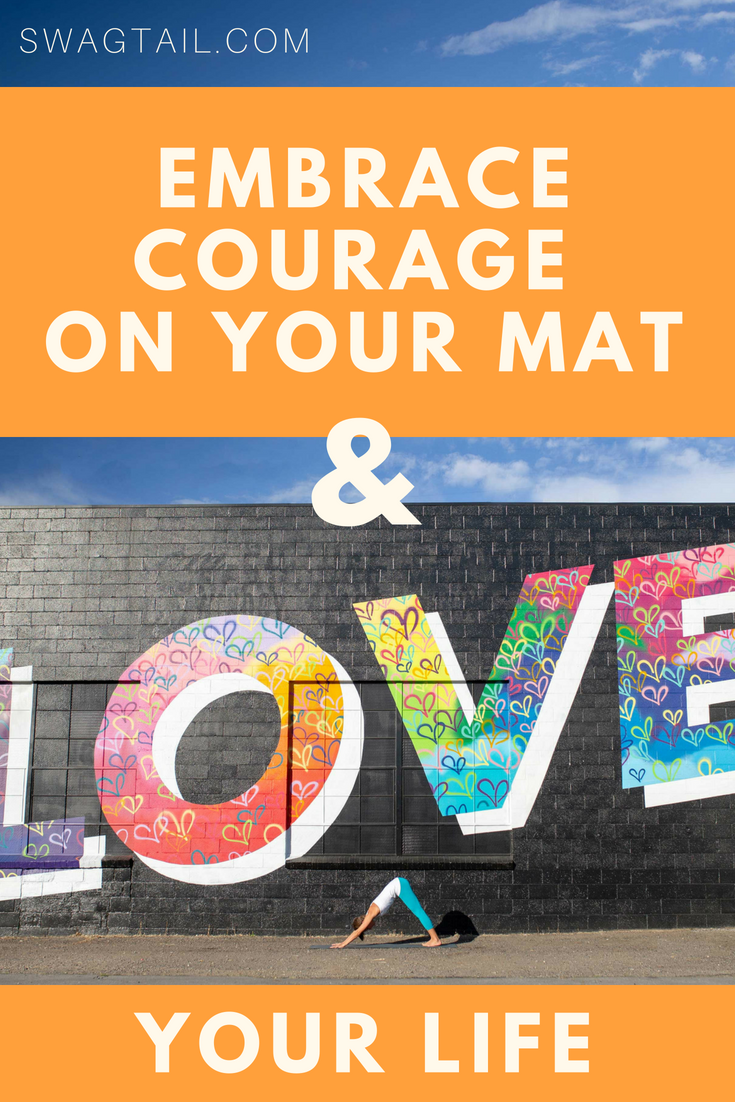 Fear helps us survive dangerous situations, but it is unnecessary for almost everything else. Instead of removing this life-saving emotion, you can embrace courage in the face of it to still lead a magnificent, creative, and successful life. Yoga helps you do this.
When driving through a whiteout blizzard in Wyoming, I experienced my first taste of debilitating fear. The pitch black of night was almost imperceptible due to the constant snowfall. The highway was entirely white, and the only visible means of progress were the reflectors on the side of the road. Alarm bells rang loudly in my head, begging me to slow down. But, the still-quick pace of semi trucks forced me to maintain my speed.
As much as I wanted to pull over, I couldn't. No shoulder, and no exits for miles. I had to press onward. Steve sat in the passenger seat, talking me back from an emotional meltdown. "Breathe. Focus. Stay present. We're going to be fine," he would say.
It's true my yogic breathing helped get me past the fear of crashing, and ultimately dying, out in the middle of nowhere. When a pull out finally appeared, we switched. I cried. The release of internal stress manifested as uncontrolled sobbing
Fear can, and does, rear its head during your yoga practice, especially when you are trying something new or uncomfortable or inverted. The sensations might not reach panic attack levels, but the fear could hinder your breath, stall forward progress, or shut down your courage to try. Instead of forcing away fear, build a new relationship with it–one in which your creativity still shines and you discover big magic along your journey.
Photo Credit: Diane Nicole Photography
THE ROOT OF FEAR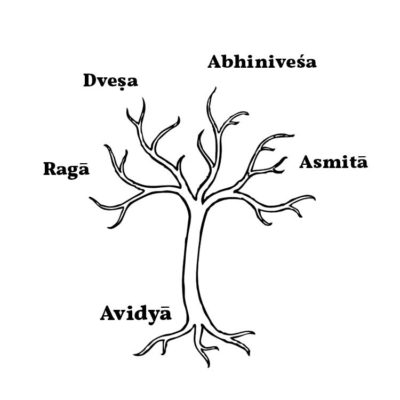 Yoga is a practice that not only fine-tunes our physical body, but one that aims to create a state in which we are present–conscious and aware–in each moment. It is also designed to illuminate our spiritual, infinite nature that extends far beyond the human form we associate with in most instances.
The Yoga Sutra explains that avidya–which are false perceptions–cloud our ability to see our amazing power. There are four branches of avidya:
Asmita, which is the ego and it's desire for perfection, superiority, and validation.
Raga, the aspect of ourselves that demands we want, need, and must have more in order to survive.
Dvesa, the opposite of raga, pushes away any people, places, or things that bring us pain.
Abhinivesa, which is fear. This emotion surfaces in varying degrees–anywhere from uncertainty or doubt to unease or even terror.
CHANGING YOUR PERSPECTIVE ON FEAR
The opposite of avidya is vidyga–or correct understanding. Said another way, vidya is a clear understanding that some thoughts and actions will cloud the view of your best self. It's having the ability to witness your fear, without letting it dominate you.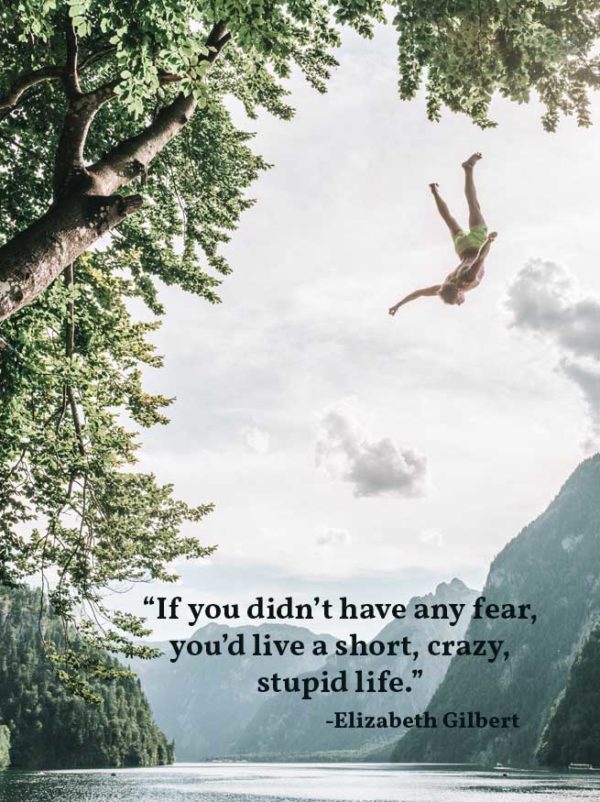 Fear will always exist. It is an internal mechanism designed to steer you away from real danger in life, like hot stoves or falling off of a cliff. If you didn't listen to these warnings, you'd just be considered reckless. Thus, fear is to help you survive actual danger.
Fear will also want a vote when perceived danger is on the horizon. This can be evident for your students when they:
Start yoga for the first time
Take a class from a new teacher
Hear unfamiliar names in sanskrit
Chant, or hear people chant, Om
Take unstable postures
Assume inverted postures
Fart aloud and wonder if the entire room will know it was them
As a yoga professional, fear could surface when you organize a new class sequence, teach at a new venue, launch a new marketing campaign, or decide to sell your studio.
Essentially fear shows up when the outcome is uncertain and the list of ways fear can arise is endless. And, since you don't want to entirely rid yourself of fear (as it can be helpful in those survival-based situations), it's time to simply change your relationship with it. Yoga is a great practice through which to make this shift.
Photo Credit: Julian Paul
EMBRACE COURAGE ON YOUR YOGA MAT
One of the best parts about yoga is that it's a pathway to discover your best self. Through various postures, breathing techniques, and some quiet space to distance yourself from everyday mental habits, you can glimpse your immense power within. Through vidyga–or correct understanding–you can connect with this power and utilize your amazing gifts.
But the yogic path is not always comfortable. It requires you to look at areas of yourself and your life that may be out of balance and make some subtle adjustments to create more alignment. These step-by-step changes take courage on the journey. Yet, the long-term benefits of improved health, reduced stress, and increased creativity (among a long list of other things) are totally worth any short-term challenges.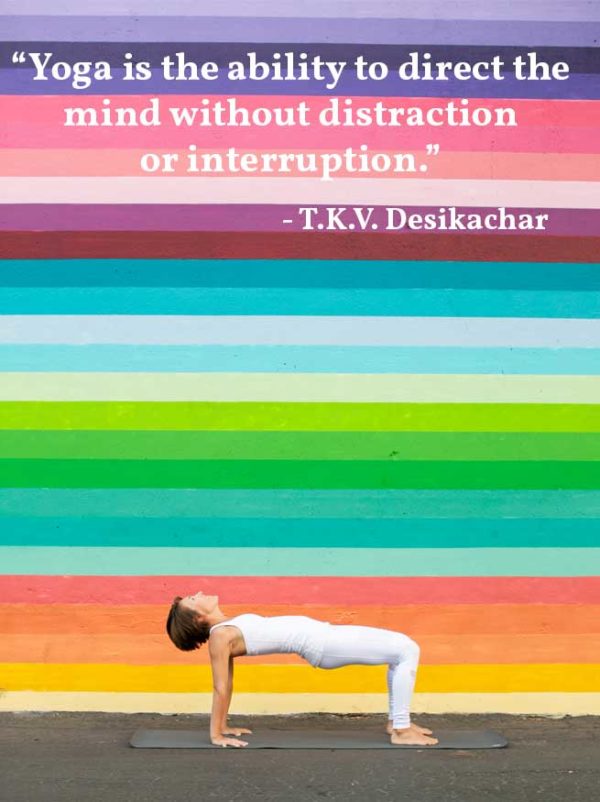 So, what are some simple ways to embrace this courage on your yoga mat? Here are some of our favorites
Make space for change
If you know fear will rear its head in new endeavors, you can make space for it to exist. You don't have to fight it or eliminate it. You can simply be aware of it, and let it be there without giving it control over your experiences. Fear does help in survival situations, but your yoga mat is a safe place for you to grow and change (even though you might not know how those changes will exactly take shape). As you breathe during your practice, notice any fearful thoughts that arise. Thank them for trying to help keep you alive, and then dismiss them kindly (as their concern is not really necessary right now). When your fear and courage can live side-by-side in the space of your life, you'll notice more energy, focus, and inspiration throughout it. And, you'll welcome those new changes in life with far less resistance.
Start with clarity
As we discovered above, fear arises in the unknown and this can happen each and every time students show up on the mat. In set sequences, like Bikram or Ashtanga yoga, you know the path. But in vinyasa and other styles, postures change from class to class. Clarify your intentions for your classes before you begin. Tell them where you are headed. Like a trail guide leading a hike, you want them to be aware of the destination and that you will navigate them there in a safe, fun, and exploratory manner. This will soothe much of their mental uncertainty and allow them to focus more in the moment throughout class.
Encourage curiosity
Instead of taking big leaps in your practice, which allows fear to creep in with uncertainty in the larger outcome, invite curiosity into your experience. Cultivate an attitude of wonder and inquisitiveness. Ask questions, of yourself and your teacher. See just how far you can go into any pose, while still maintaining a deep rhythm of breath. If you can't sustain the posture, or your breathing diminishes, back off. Use your practice as a time for experimentation and enjoy the feedback you get along the way. For this attitude of curiosity will light your way for growth and progress, and ultimately lead to more fulfillment in each experience.
Adopt a new measuring stick for success
In her book Big Magic, Elizabeth Gilbert suggests you "measure your worth by your dedication to your path, not by your successes or failures." What might that dedication look like for you? Just showing up for class is a start. Doing your best–even though your best will change daily–is another. Your dedication might also be evident when holding a strong pose a few breathes longer than you think, staying a few extra minutes in savasana, or trying a new style of yoga entirely. When you shift your definition of success from an external one (like the actualization of a pose) to an internal mindset of commitment, you'll find a much higher rate of accomplishment and satisfaction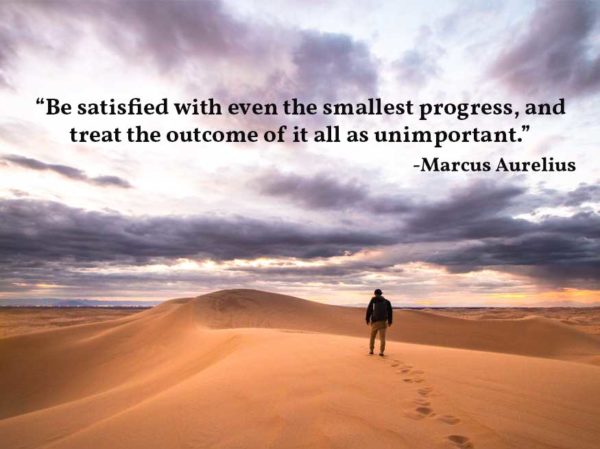 Photo Credit: Jeremy Bishop
PUTTING IT TOGETHER
You have amazing treasures within you, some you might have discovered already and probably many you have not. In order to bring those treasures to light, it helps to know which avidyas–including fear–are blocking your progress. But you don't need to get rid of fear to experience success. Instead, recognize the role it plays in keeping you safe and then embrace courage as you step into the unknowns of your life–both on and off of your yoga mat.