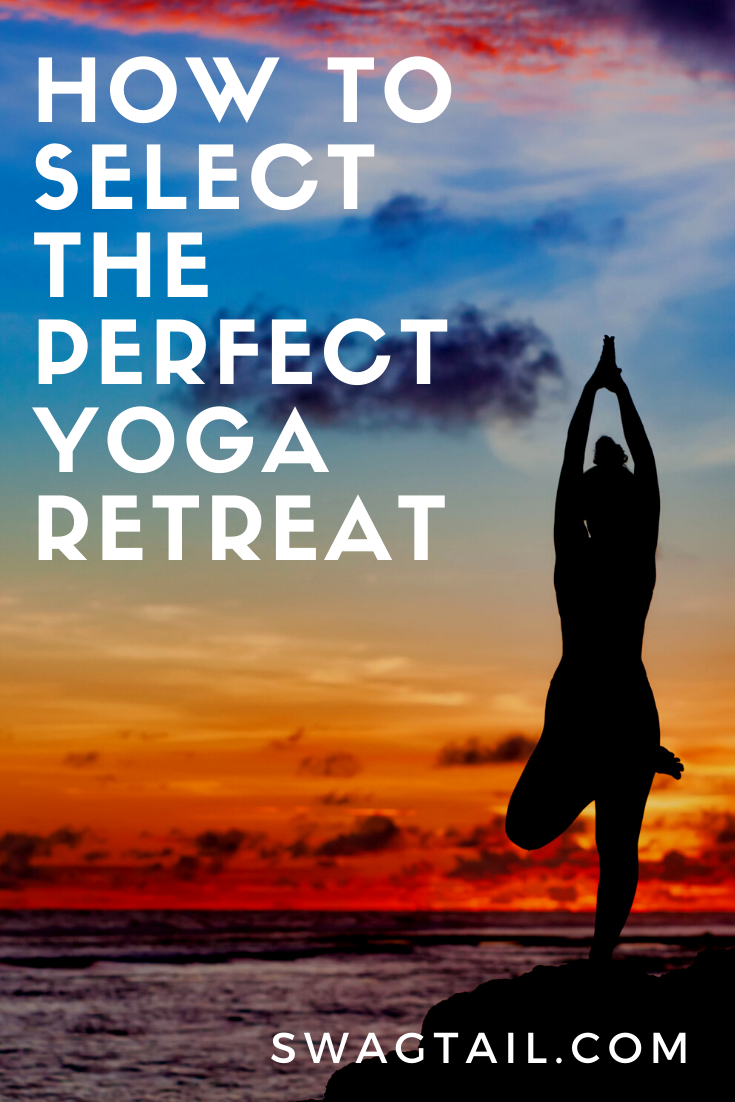 Curious students often want to take their practice beyond the studio walls and attend a yoga retreat. The problem is that there's not a one-size-fits-all experience that will please everyone. So they come to you for advice. Steer them in the right direction by asking them these 7 questions. It will not only increase their trust in you as their yoga guide, but it will allow you to make recommendations that can meet their expectations. Plus, this same criteria can be used by you when you're planning a yoga retreat, too.
This blog post was actually inspired by a recent letter I received from my cousin. In it, she posed this  question:
"What's your take on yoga retreats? I've always been curious about doing one. Can you please share your insights with me?"
She knew I was on a yoga retreat in Costa Rica and wanted more detail.
This blog post stems from my direct response to her. Only, I've added a few more details to consider for you as a yoga professional.
Photo Credit: Tropical Studio
BENEFITS OF A YOGA RETREAT
Yoga retreats have the amazing capability to renew the body and energize the soul. Yes, you get to bring the familiarity of time on the yoga mat to another location. And yet the experience of practicing in another location can transform your entire being.
You are removed from the everyday patterns of life. This resets your perspective about yourself and the world around you. A yoga retreat has the capability to remove unwanted stress and negative habits that are no longer serving you. And since the day-to-day routine of life can cloud how to do this, retreats can be a way to embrace the best version of yourself in a really enjoyable way.
Plus, yoga retreats offer:
A chance to connect with other incredible yogis
Opportunities to explore new parts of the world in the safety of a group
New ways to enhance your personal practice
An infusion of positive energy into your life
More clarity about your purpose and direction, and
Some down time to simply relax and rejuvenate
And the the ways in which to experience these benefits are infinite, it helps to answer these 7 questions in order to select the perfect yoga retreat for you.
(1) WHY DO I WANT TO GO ON A YOGA RETREAT?
This question is incredibly important because it sets the tone for the entire yoga retreat experience. It's the reason, or reasons, you want to expand your practice beyond the familiar setting of your yoga studio.
The desire to go on a yoga retreat can stem from a shift in your personal life. It could be a calling for adventure, a change in relationship status, or even the deeper need to connect with others in a more meaningful way.
I remember on my recent flight to Costa Rica, I pulled out my journal and made notes about why this trip was important to me. I wanted to reaffirm my reason for attending. And, since I had a clear understanding of why I was there in the first place, I had guidelines by which to make decisions once I was on the yoga retreat.
Ask More Questions
If students can't answer the general question of why they want to attend a yoga retreat, you can probe a little further by asking a few more questions. Some example of this include:
What sparked your curiosity about a yoga retreat in the first place?
What excites you the most about the possibility of attending a retreat?
How would you like your life, or yoga practice, to be different after a yoga retreat?
Are you looking for a stimulating adventure or more quiet retreat experience?
Keep in mind you can also remind students of the benefits of attending a yoga retreat. In doing this, observe which benefits seem to resonate with them the most and ask more questions along those lines.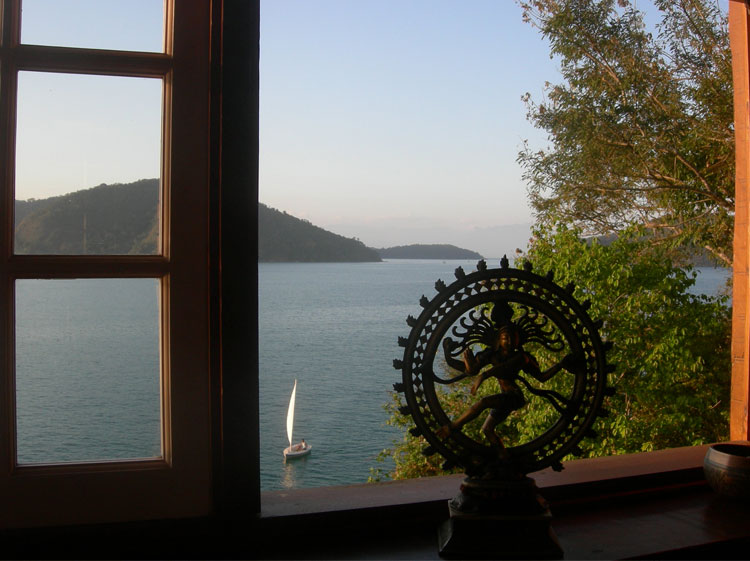 My first teaching location: an Eco-lodge in Brazil
(2) DO I HAVE A YOGA TEACHER OR YOGA STYLE I LIKE?
Let's be honest. Not all yoga teachers and not all yoga styles will resonate with every person. Just like some people prefer strawberry ice cream to a chocolate-vanilla swirl, there will be different yoga preferences for each student.
If you're leading a yoga retreat, those that regularly attend your classes will likely be interested in attending. They already enjoy your teaching style and trust yoga classes with you on a retreat will enhance their experience.
But what if you're not leading one anytime soon?
Establish even more trust with your students by sharing these ideas in an authentic way:
Recommend a teacher you know and like yourself.
Perhaps you have a colleague at your studio or friend in another part of the world that has a similar teaching style to you. Giving a personal referral can have both positive effects for your students and your business relationships.
Explain various yoga styles
Let's say a student often comes to you for powerful vinyasa classes, yet their main reason for going on a yoga retreat is to offset the stressful workload at the office. They might even have a recent injury that needs more time to recover. If this is the case, perhaps a gentle or restorative yoga style will best serve them while away. Even guided meditation during a retreat could help them achieve their desired goals.
The main takeaway here is that the more you understand the reasons why students are going on a retreat in the first place, and what they hope to get out of it, the better able you are to suggest yoga styles and teachers to meet those goals.
Do your homework
Whether you can give a personal recommendation or not, I always tell students to do research about the yoga teacher leading the retreat. Find their website. Read their bio. Watch any videos they have posted online. Even contact them directly to get to know their voice and teaching style. All of these factors can help decide if an instructor or yoga style is right for you.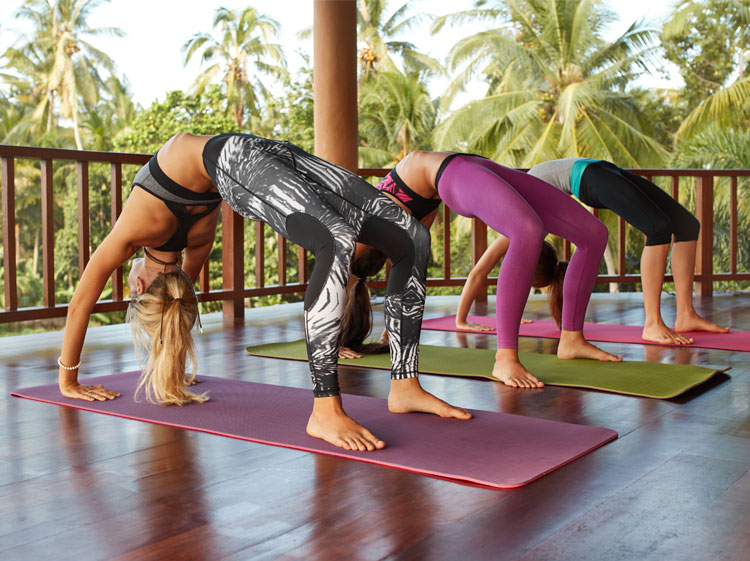 Photo Credit: Jacob Lund
(3) WHERE DO I WANT TO GO?
The thrill of travel is in my blood. I traveled halfway around the world to get my 200-hour yoga certification and my first teaching position was held at a yoga retreat center in Brazil. Since then, I've led yoga retreats in the mountains of Northern California and along the beaches of Barbados.
But just because I love to explore all corners of the globe doesn't necessarily mean my students want to during a yoga retreat.
That's why it's incredibly important to find out where they want to go. Ask them questions like:
Do you want to stay close to home?
How far are you willing to travel?
Will flying be an issue?
Is it necessary that the retreat is held in a country that speaks your primary language?
If inward transformation is the main reason students want to go on a yoga retreat, the actual destination might be less relevant than for those who have a bucket-list of destinations already in mind. Simply listen to your student needs and make suggestions accordingly.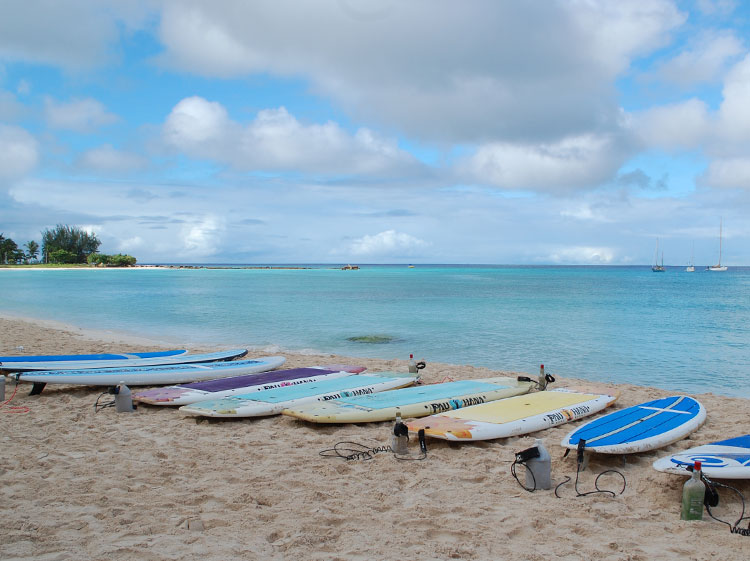 SUP boards ready for our on-the water class in Barbados
(4) WHEN IS THE BEST TIME TO GO?
Yoga retreats are held throughout the year and you can find one at a location and climate preference that will get you excited to be on a yoga adventure. However, picking the time of year to go is just as important as selecting the right destination.
As you know, there are four seasons of a yoga business. Some of these seasons are hectic and business is fast-moving. This is actually a time of year in which a vacation actually causes me more stress.
If this is true for your clients as well, then perhaps a shorter yoga retreat over the course of a weekend can offset some of the pressure from life.
Yet other seasons in both a yoga business and other industries have a slower pace. This can make traveling more accessible… and longer yoga events far more enjoyable!
More time-related questions to ask:
How many days do you want to go away on a yoga retreat?
What time of year is most busy for your line of work?
When is a slower season for your industry?
Do you have any specific responsibilities that would also affect the duration of your time away?
(5) WHAT'S MY IDEAL COMFORT LEVEL?
You know you can travel all over the world at any time of year for an amazing yoga retreat. And, in doing so, you can find just as much variety in comfort levels during each experience.
What do I mean by that?
First, your level of comfort relates to the accommodations and daily luxuries you like to have access to while on vacation. For example, the rainforest retreat in Costa Rica was rustic and secluded. Cabins were simple, as were the meals. Plus, transportation to and from town was very challenging.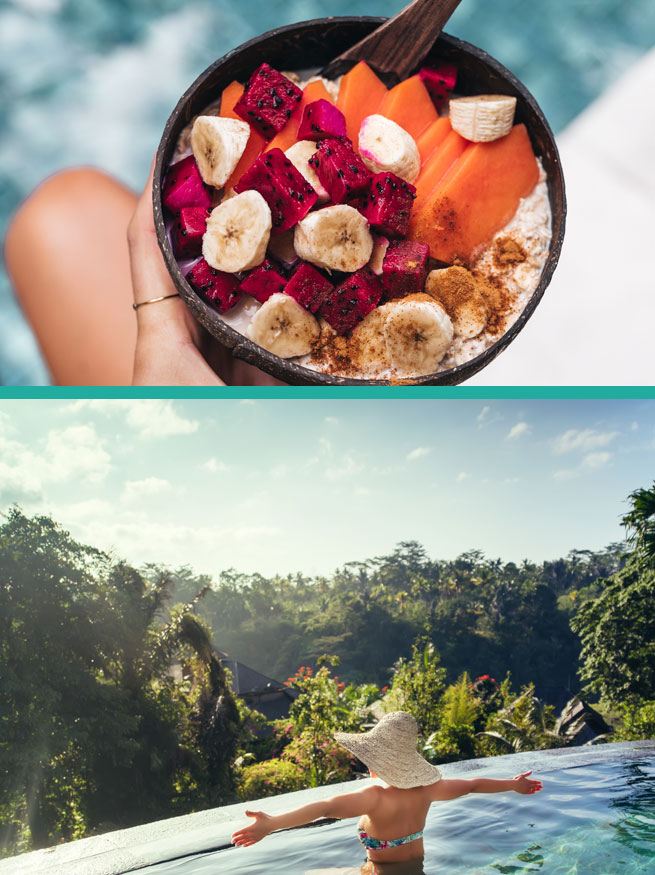 Since I have clients that prefer 5-star hotels and Zagat-rated restaurants while on vacation, I would steer them away from yoga retreats that don't meet their standards.
Second, group dynamics can greatly impact your level of comfort. I've been on retreats where the entire group comes from the same studio. It's a tight knit group and they enjoy their experience more because they are surrounded by people they know and trust.
However, you could be equally comfortable joining a group of total strangers for a yoga retreat. You might be energized by meeting new people and making new friends. If this is you–or your yoga students–then their comfort levels can be met in more ways because knowing the group won't limit where or when they travel.
Creature comforts
Here is a partial list of things to consider when deciding your comfort level on a yoga retreat:
Climate
Room size / bed size
Shared / Separate rooms
Accessibility to cities
Transportation options
Excursion / adventure / entertainment options
Wireless capability
Dietary preferences (including whether or not alcohol is on site)
Overall relationship to the group
Photo Credits: Alexandra Andersson, Hoda Bogden
(6) HOW MUCH ALONE TIME DO I WANT ON MY TRIP?
For me, personal space is essential. I'm an introvert who thrives on time alone. In fact, it's this quiet space in which I can recharge and then be at my social best when around others. Knowing this about myself has taught me to ask this very question each and every time I plan a vacation (and yoga retreat).
So, if you're like me and want more time alone, consider paying more for your own room or casita. This can give you far more freedom to spend time with the rest of the yoga group knowing you can be alone whenever you choose.
Yet you might actually get more energy being around other people. This means you might enjoy boarding in a shared space with old and new friends alike. And even if you choose this route, you can carve out some alone time on your yoga retreat regardless of location and sleeping arrangements.
So, ask yourself and your yoga students:
"How much alone time would be ideal for you on your yoga retreat?"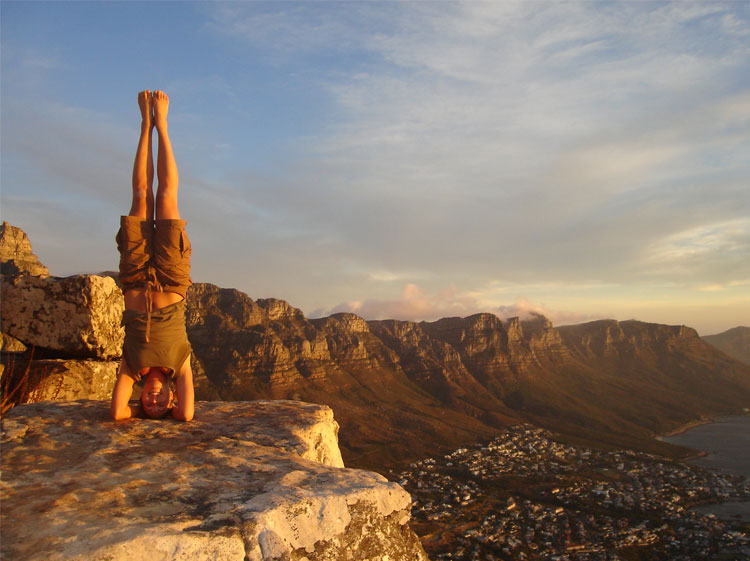 Yoga in South Africa, circa 2007
(7) WHAT'S MY BUDGET?
When you have answers to all of the above questions, you will naturally start to discover the perfect yoga retreat for you. In fact, the very same criteria you create above will lead you to this final important factor–your budget.
Yes, you likely have a dollar figure in mind that you're willing to spend on a yoga retreat. And each of the other elements above will influence the price you'll pay for a great experience.
For example, traveling further away, being gone longer, and having a private bedroom will likely increase the cost of your yoga experience. Yet if you want to be comfortable by checking an exotic destination off of your bucket list, you could spend less by going on fewer excursions while actually on the yoga retreat to still get there on your budget.
Or, if you don't have a lot of up front cash to spend, then staying close to home and doing a shorter event can still give you a taste of the retreat experience without breaking the bank. Some retreats are also all-inclusive (including food, lodging, transportation, and yoga). This makes the retreat more cost-effective as well.
Other Budget-Related Questions:
How much do I want to spend on a yoga retreat?
What will additional costs be to attend (airfare, transportation, excursions, massages, etc)
How much will each of those additional items cost at the location of the yoga retreat?
PUTTING IT TOGETHER
A yoga retreat can be an amazing way to uplift your body, mind, and spirit. Only, with so many options on the market today, it can be challenging to find the right one for your students. That's why you can ask them these seven questions before they make a decision. Doing so can help them avoid a frustrating experience that runs contrary to their expectations, level of comfort, and style of practice.
Take Action Now:
Download this guide and pass it out as student questions arise! They'll trust you all the more when you listen to their goals and have their best interest at heart.
Or hare this article with your yoga students (via email or social media, using the links below).
Please use the comments section and tell me your favorite places to go on a yoga retreat!! I'm always looking for the best venues and locations for upcoming trips myself!