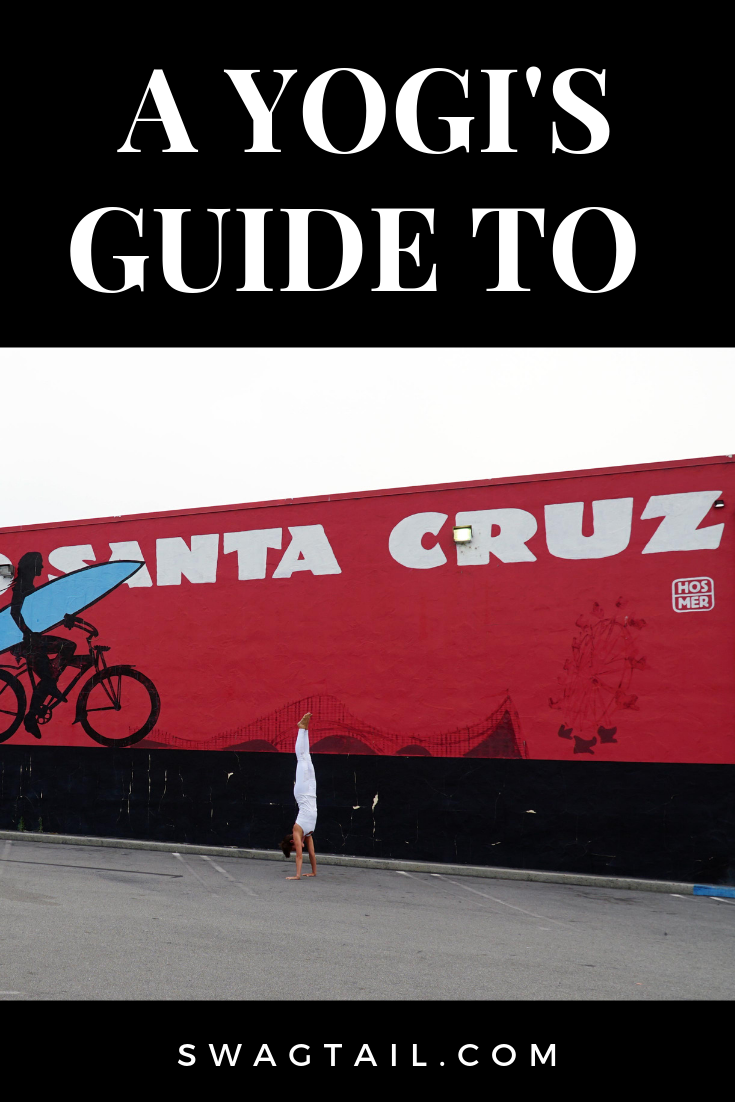 Santa Cruz, California is a vacation destination for many reasons. It has a thriving yoga community, rich surf culture, and adventures galore for both beach and mountain lovers alike. With so many options at your fingertips, it can be hard to decide what to do when you get there. This article will make sure you absolutely make the most of your time by the sea… leaving you refocused and refueled (both on your yoga mat and in all areas of your life!)
This cozy beach town didn't really appear on my radar until my freshman year of college. My new friend, Kendyll, invited a few of us girls to her hometown of Santa Cruz for a long weekend. We strolled along west cliff at sunset. We ate ice cream and rode the roller coaster at the Boardwalk. Even her parents treated us all to a meal at the Taco Bar downtown. It was love at first visit.
Then, much to my delight, my younger sister, Jen, decided to attend the University of California, Santa Cruz just a few years later. And since I was living in Chico at the time, I made the four-hour trek to visit her every chance I could get.
Over the ten years Jen decided to call Santa Cruz home, I had the pleasure of getting to know much of the city. And her insider tips about where to surf, eat, and explore made each gathering special. Not to mention it saved me tons of time and energy when planning each getaway.
My goal is to do the same for you with this blog post. Below you'll find some amazing local spots to make your trip to Santa Cruz a fun and memorable one!
Photo Credit: Michelle Hall
WHERE TO PRACTICE
Santa Cruz Yoga
Santa Cruz Yoga has been my go-to studio when visiting this area for years. My sister lived in Santa Cruz for a decade, and I would always hop on a strand cruiser bike and make my way to classes at this incredible location. The bamboo floors are contrasted by high ceilings and sunshine pouring through the skylights.
My suggestion? Get there early for evening classes. This town is full of health-minded locals who love yoga just as much as surfing or mountain biking or running and you'll definitely want to grab your spot to practice.
Mark Stephen's Yoga
Mark Stephens is probably most well-known for his textbooks that accompany so many yoga teacher trainings around the world. When he's not leading events himself, you'll find him teaching at his own studio in Westside Santa Cruz.
This small studio is just two blocks from Santa Cruz Yoga (the studio he started and sold years ago) and it's a delightful way to get personalized attention from top-notch instructors. The only downside is the class offerings are limited due to Mark's travel schedule.
Pleasure Point Yoga
When you're on the Eastside of Santa Cruz, Pleasure Point Yoga is the place to practice. The schedule is consistent throughout the week—with a wide array of offerings—so you're sure to find a class that will fit in with your other local adventures.
Plus, the inside of the space is beautiful, too! It's got painted murals on the walls that will add an extra level of inspiration to with each dristi you take in class.
Additional Note: While you're there, take a walk down to East Cliff Drive. You'll catch sight of hundreds of surfers when the swell is right and you can take the steps down to numerous beaches at low tide.
Also as a sidebar, they were filming the movie Chasing Mavericks on one of my visits to East Cliff. And, yes, Gerard Butler is just as handsome in person as the movies portray.
WHERE TO DRINK
Verve Coffee
Despite a town ripe with surf culture, not many coffee houses open early on the west side… except for Verve Coffee. This hipster's joint knocks it out of the park with their bright decor, delicious coffee, and excellent pastries. And if you like a medium-dark roast, I highly suggest the Street Level blend.
A quick sidebar: During a month-long stay in Santa Cruz, I found myself at Verve almost every morning at 6 am (I'm a morning person, remember?) Months later, when I took a road trip down the California Coast, I had to stop here before leaving Santa Cruz. The barista actually remembered my name and said hello upon my arrival. Yep, Verve Coffee not only roasts some impressive beans, but their customer service is top-notch too!
Cat and Cloud
Who would have paired a cat and cloud with coffee, but the high quality of their coffee drinks make you care far less for the name and go for what they really bring to the table–amazing craft coffee!
Insiders Tip: The avocado toast here is out of this world (and the portion size is huge. Plus, it's half the price of other locations in town for the same breakfast item. And if you've got something sweet on the brain, try one of their pastries–they're sourced directly from Companion Bakeshop! So, if you're on the east side of Santa Cruz and want an amazing breakfast to accompany your brew, definitely go to this hot spot.
Companion Bakeshop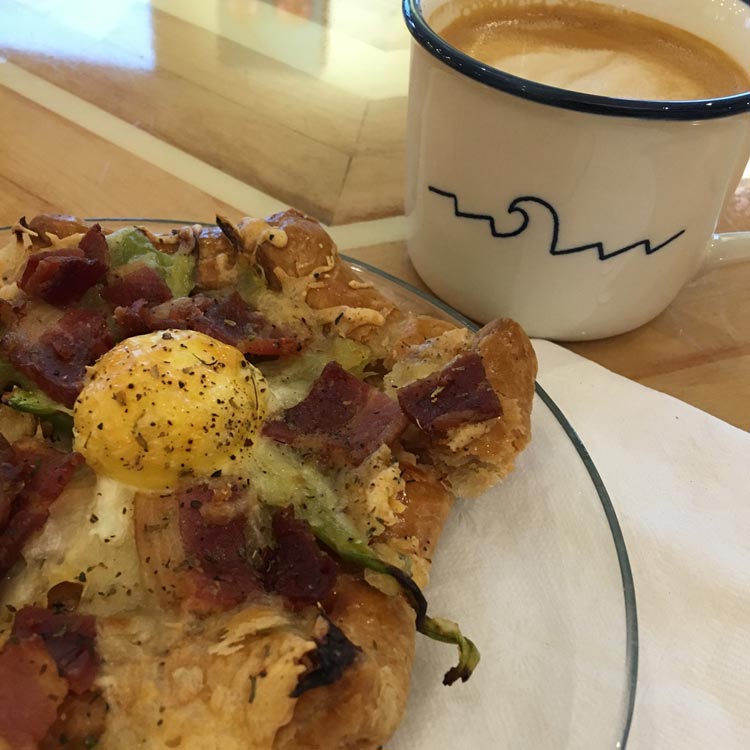 If you're on the westside of Santa Cruz, definitely visit the Companion Bakeshop in person. They serve the delicious Cat and Cloud beans, and accompany them with an out-of-this-world pastry selection. From freshly-baked breads to seasonal fruit galettes to deep-dish quiches, your toughest decision of the trip might be what to get for breakfast here.
My suggestion? Get the savory veggie and egg galette. The flaky crust is balanced perfectly with the saltiness of the roasted vegetables and slight firmness of the egg. I'm salivating now just thinking about it!!
WHERE TO EAT
Mobo Sushi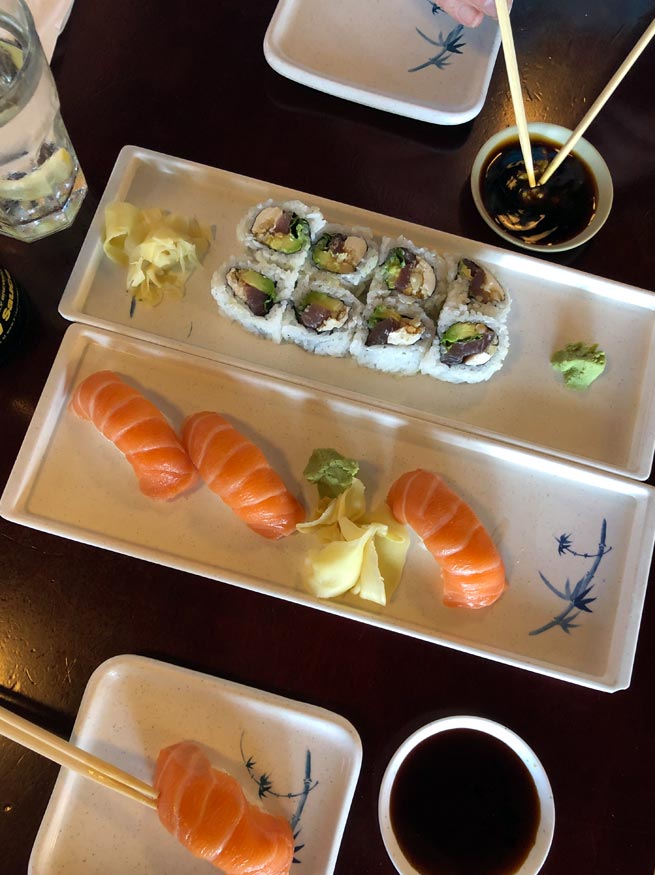 Calling sushi lovers everywhere!! Mobo Sushi is the main reason I will head to downtown Santa Cruz… well, that and the unbelievable people-watching. Seriously, though, Mobo Sushi serves up fresh fish in generous portions. And I absolutely love how many of their rolls are lined with macadamia nuts. Try the Mowie Wowie for a simple, satisfying bite or order the Death Star (sub avo instead of cream cheese). You won't be disappointed!!
When to go?
Make sure to book a reservation on a Friday or Saturday night between 7 and 8 pm so you can catch Sake Bomb Time. The owner carefully sets up 100 beer glasses, fills them to the brim with cold brew, then sets full sake shots on top of them. And the crowd even counts down to the start of the show, making you feel like you're at the New Year's countdown in Times Square.
BURGER.
Don't let the name fool you. While they have an incredible assortment of witty-named burgers on the menu, Burger. has one of the very best vegetarian burgers I've ever had in my entire life. EVER!! The best part is that you can order this vegetarian patty in any number of the unique combinations offered for your meat-loving friends. And to top it off, you can skip the bun and make it a burger-like lettuce wrap instead.
PS. They also have fantastic sweet potato fries. Just sayin'!
Cafe Iveta
Cafe Iveta is a hidden gem on the Westside of Santa Cruz. They serve everything from refreshing smoothies to savory soups and salads. Their outdoor patio is small—and often shaded—so you can enjoy the sea breeze with your meal. And, If you decide to venture up to the UCSC campus, as I recommend, there's a second location at the graduate centers common (right in the heart of campus).
Gayle's Bakery
If you're in the neighborhood of Capitola, just east of Santa Cruz, you absolutely must swing by Gayle's Bakery. It's a rapid-paced deli and bakery that will have you drooling as soon as you enter the door. The entire left side of the building encases filling meal choices—such as sandwiches, pasta salads, and enchiladas. Then, the whole right side is dedicated to sweet treats. You can choose from a variety of croissants, fruit tarts, cupcakes, and full cakes.
Insiders Tip: Grab a number as soon as you enter the door. The lines are usually long here, but you can use the time before your number is called to search the numerous cases for just the right breakfast or lunch item.
Or, if you're just cruising in for a cup of coffee and a pastry, you can skip the long line entirely and move to the small counter all the way to the right side of the building. It's a local secret that's sure to save you time!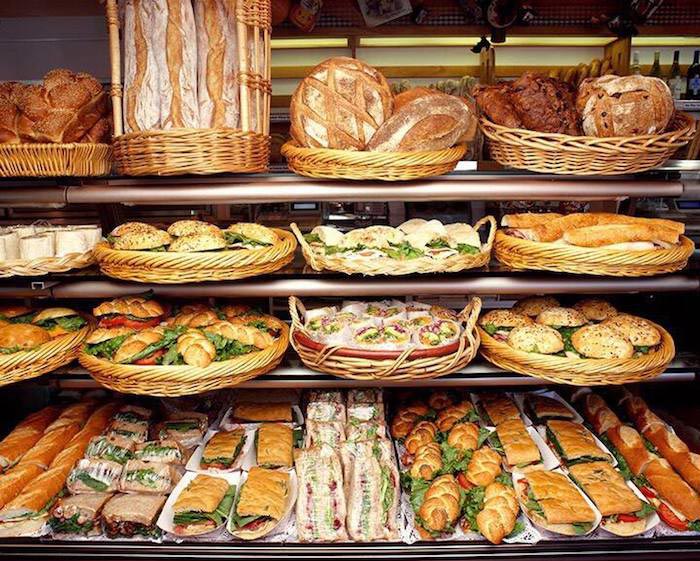 Photo Credit: Gayle's Bakery
WHAT TO DO
Walk along West Cliff
Listen to the waves crash along the cliffs as you walk along a meandering trail on the West Cliff of Santa Cruz. This will also give you a chance to watch the talented surfers at Steamer's Lane or catch the green flash at sunset. Or, you can stroll all the way to the west end and find Natural Bridges State Park.
Surf at Cowell's
I know, I know. This spot is always crowded. And for good reason. It's one of the most forgiving surf breaks in California. There is a well-maintained staircase that makes it easy to access the break. Plus, the ocean floor is sandy and shallow—which makes it easy to get back on your board after a wipeout.
New to surfing? Rent a board and take a lesson with one of the fantastic instructors at Cowell's Surf Shop. You also have easy parking within walking distance of your customized surf session. Just keep in mind you might still want to rent a wetsuit even when visiting in the summertime.

Visit UCSC
Home to Redwood trees and stunning views of the entire bay, the University of California, Santa Cruz campus has it all! You might even rent a mountain bike and hit the trails, riding your wall all the way down to the city center.
Tip: All of the city buses have bike racks on the front of them and it's a cheap ride all the way back to the top of the hill if you want to skip the uphill workout back to your starting point.
Other Recommended Adventures
Without making turning this article into a novel, I want to share a few more great things to do while you're in the Santa Cruz area: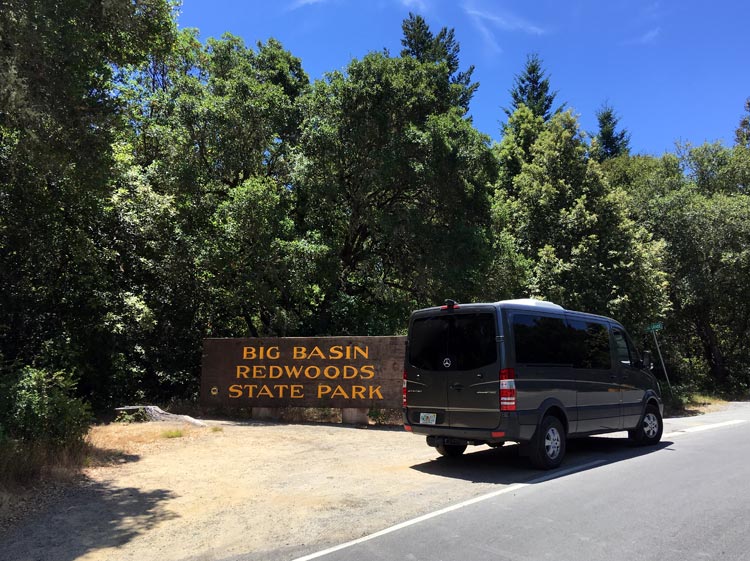 PUTTING IT TOGETHER
Santa Cruz, California is a hotspot for yoga lovers and outdoor enthusiasts alike. Time on your mat here will energize your spirit. Walks by the sea will revive your soul. And when you pair the good food with the amazing things to do when visiting here, you will leave absolutely stoked to be alive on this great planet!
Take Action Now:
Download this yoga sequence from my recent visit to Pleasure Point Yoga.
Make some avocado toast for breakfast this week, just to feel the California vibe without having to leave the comfort of home. You might even do it like Verve and top your bread with cultured butter, avocado, chives, radish, and a hint of shallot. The poached egg is totally optional!
Share your favorite beach town with me via email. I'm always on the hunt for new, yoga-based adventures!