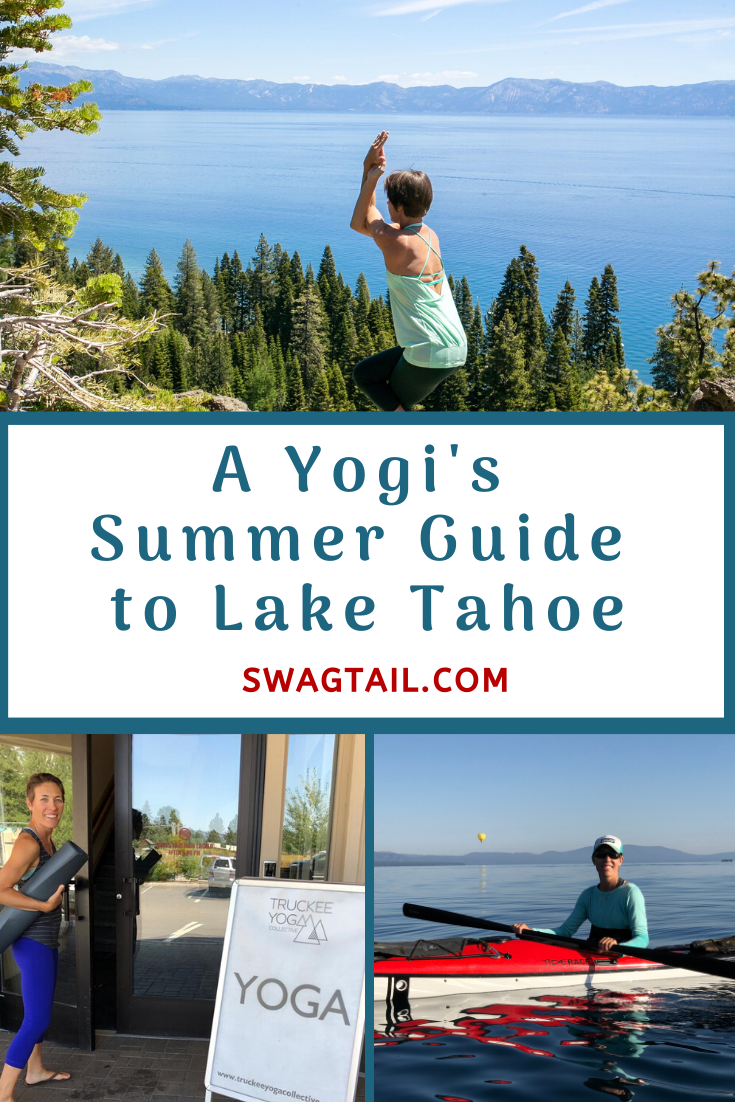 Lake Tahoe is absolutely one of my favorite places in the Sierra Nevada Mountains! It's where 40 thousand adventurous souls call home and 20 million people come to visit each year. This upswell in recent popularity can make navigating the area a headache. That's why I created this summer guide to save you time, money, and energy in the planning process. Plus, you'll get to enjoy the scenery–and awesome yoga at Lake Tahoe–like a local!
My love affair for the mountain life started in my second year of college. Well, actually, I decided to skip the school part and become a snowboard instructor at Sugarbowl. If a long-distance love relationship hadn't called me back after that short stay, I probably would have ended up around the Tahoe area permanently.
One of my favorite jokes goes, "If you want to make God laugh, notify Him of your plans." Neither the college romance or my ski bum lifestyle in Tahoe panned out. Yet, I did end up two hours north of there–living lakeside and married to my soul mate. This gives Steve and me plenty of time to explore the area in all seasons. And it's with great pleasure that I share some of my favorite spots around Tahoe with you now!
Photo Credit: Diane Nicole Photography
A LONG WEEKEND GETAWAY
It's my hope that when you come to visit Lake Tahoe, you will get to spend more than three days' time in the area. For those of you simply passing through, or just taking a long weekend getaway, here would be my ideal way to create the most memorable experience possible!
This Yogi's Guide to Lake Tahoe would involve 3 nights and 3 days. Again, I'll add additional suggestions in case you do get to savor the summertime there a bit longer.
Some Quick Logistics:
Fly into Reno, Nevada (RNO). It's closer and has far less traffic than the Sacramento, CA (SMF) option.
Once you arrive, head to Truckee, California for your first night's stay.
This guide lead's you counter-clockwise around the lake.
DAY 1: MORNING
If you're like me, you wake up before the sun (even on vacation).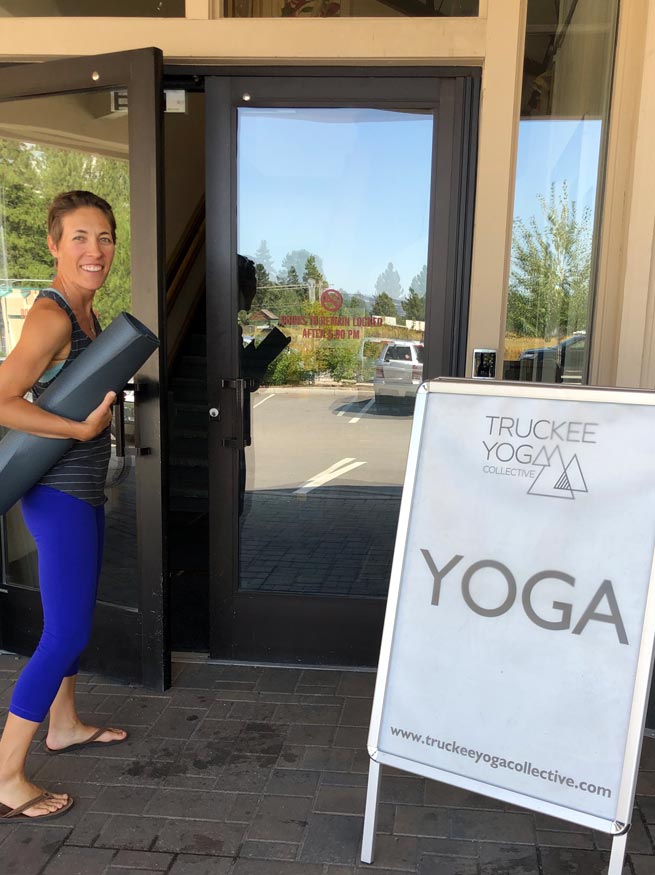 My morning ritual involves meditation and writing. And, when my husband is still sleeping, I often take this routine to a local coffee shop. My suggestion if you want some caffeine before doing anything else, check out Dark Horse Coffee.
Yoga in Truckee
Whether or not you decide to indulge in a pre-dawn espresso, I recommend the first physical activity of the day be on your yoga mat. For this, visit the Truckee Yoga Collective. The staff is intelligent and warm-hearted and they offer a wide variety of classes. Plus, it's a great way to shake on the stiffness from your previous day of traveling.
Then, head over to The Mill Juice Shop for a post-practice smoothie. I'd order one to sip on right away and purchase a second one to take with me around the lake. Snacking is a must for me, and you don't want to get stuck after a hike without fuel. Step right next door to the Funny Belly Deli and get a sandwich to go as well.
DAY 1: MIDDAY
After you've eaten and showered, it's time to get to the Lake. Take 89 South, pass through Tahoe City, and make your way down the western shoreline. 
See the Squaw Valley Olympic Flames
The 1960 winter Olympic games were held in Squaw Valley and you can get a taste of history when you stop to see those very same Olympic flames alight. Simply pull your car right off of Hwy 89 to capture this image. If you want to take a 3- minute detour, take a drive up Squaw Valley Road to the resort area. It's full of great mountain shops and more dining opportunities.
Hike Eagle Rock
The first stop will be at Eagle Rock, which is about 4 miles south of Tahoe City. There is a small parking lot on the right-hand side of the road. The walk is short but relatively vertical. It's totally worth it, though. You hike up the backside of the rock, and when you reach the top, you gain a spectacular view of the entire lake from this vantage point. If you're hungry by this time, Eagle Rock is also the perfect place for a picnic lunch!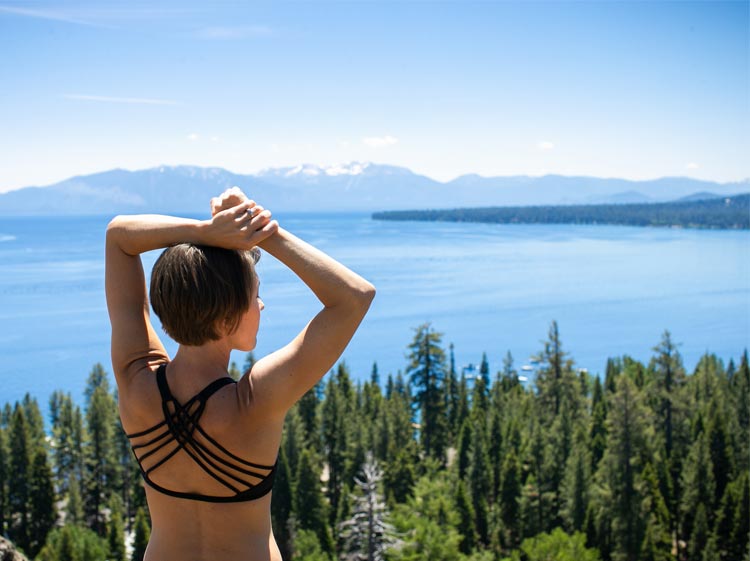 Photo Credit: Diane Nicole Photography
DAY 1: EVENING
Tonight you'll be sleeping in South Lake Tahoe. On your way into town, you'll stop by SUP Tahoe. You'll want to pick up a stand up paddleboard for tomorrow morning's activity. Then, check into your accommodations and get ready for a lovely summer evening.
Dine at Edgewood
While the Edgewood resort is most well known for it's incredible golf course on the water's edge, the dining on site is the perfect place to end the day. The Bistro is the more casual of two options (where a glass of red might will pair well with one of their amazing flatbread pizzas). Or, you can go the upscale route and savor the bronzed scallops and pan seared branzino. In any case, make sure you save time to stroll by the lake at sunset! It's one of the best views in the entire region!
Stroll through heavenly Village
Then make your way south to the lively Heavenly Village, which is located at the base of Heavenly Mountain Resort. The walk will be entirely refreshing after so much time in the car all day (and it will help with digestion, too). Plus, the shops stay open late and live music will serenade you as you walk down the charming cobblestone pathways. Plus, there are plenty of restaurants with outdoor, fireside seating if dessert is calling your name.
DAY 2: MORNING
Summer at Lake Tahoe is especially luxurious because of so many daylight hours at your disposal. I suggest your first adventure of the day start before the sun rises, though.
Paddle at Sunrise
There are two great places to launch your Stand Up Paddle for your sunrise session. The first is Camp Richardson's marina. There is plenty of parking, and there is a small beach area that makes entry and exit into the water a piece of cake.
The other option is to start further west at Baldwin Beach. This will allow you to paddle along the east shore, and make your way toward Emerald Bay. If you have the stamina, enter the cove and venture to the teahouse (the small island in the center of the bay). The stunning sunrise and amazingly clear water are sure to delight you no matter which route you take.
Side Note: Kayaking at sunrise is another great option. The point is to get on the water in the still, quiet of the morning. Keep a lookout for the hot air balloon which often launches at the early morning hours as well!

Black Cabin Coffee
Black Cabin Coffee makes my favorite almond milk latte around the entire lake. They open early and have a delicious avocado toast to pair with your morning drink.
Want to take your palate on an adventure as well? Order Black Cabin Coffee's white witch. They take a lightly-roasted bean, grind it into a white espresso, and mix it with almond milk, honey, and nutmeg! You get all the caffeine you want without the strong espresso flavor.

Yoga at OMNI
Get back on your yoga mat to work out any tension that might have accumulated from your time on the water this morning. OMNI is a welcoming studio that not only offers a wide array of classes. The teachers are fantastic, and you'll totally feel like a local as you practice alongside such a supportive community!
DAY 2: MIDDAY
Since OMNI does not have shower facilities, you'll want to swing by your hotel room and get showered before your afternoon activities. What's next? I suggest you:
Ride the Gondola at Heavenly
You catch the gondola at the Heavenly Village in town and ride 2.5 miles up the mountain to get one of the best views of Tahoe available. Once you're at the top, have lunch. Take a walk (or even a hike if you've got more energy to burn).
There are also many fun activities atop the Heavenly Resort. You can ride their mountain rollercoaster. Hop on their ropes course or give mountain tubing a try!
Not a fan of Heights? You can stay on the ground and simply hike your way up the Heavenly Loop Trail. You'll get spectacular views without ever having to ride the gondola.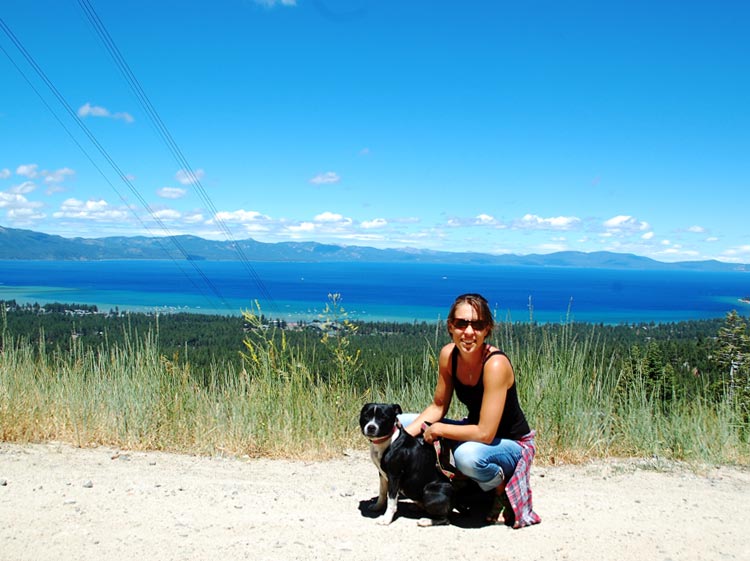 DAY 2: EVENING
After a jam-packed day, you might want to take it easy for the evening hours. I suggest The Naked Fish sushi (I love their Ultimate Salmon Roll) or Cold Water Brewing Company for dinner. Or, if you have a meat-lover in your family, check out Sonney's BBQ Shack. The latter two of these restaurants have outdoor patios, which make for the perfect way to savor the warm summer weather.
For nightlife activities, I simply recommend you check out Lake Tahoe This Week. This online site lists all of the upcoming events in the area. And, if you don't want to be on your phone much while on vacation, there are hard copies of this magazine spread throughout town. You're sure to find music or dancing that fits your mood!
DAY 3: MORNING
You have one more day in the Lake Tahoe area, and you'll want to make the most of it. Start out at Clyde's Coffee, just north of the Stateline. This quaint coffee shop is a revered local roaster and is also open every day at 6 am.
Want a croissant to pair with your coffee? The pastries are made by Paul Schat (son of the famous Bishop baker, Eric Schat) and brought up from Carson City. the best part is they are baked fresh daily in the coffee house (which makes it smell amazing!) And if you're not feeling the caffeine vibe, Clyde's offers an array of smoothies, too. This includes the Green Monkey made with green tea matcha, almond milk, and bananas. YUM!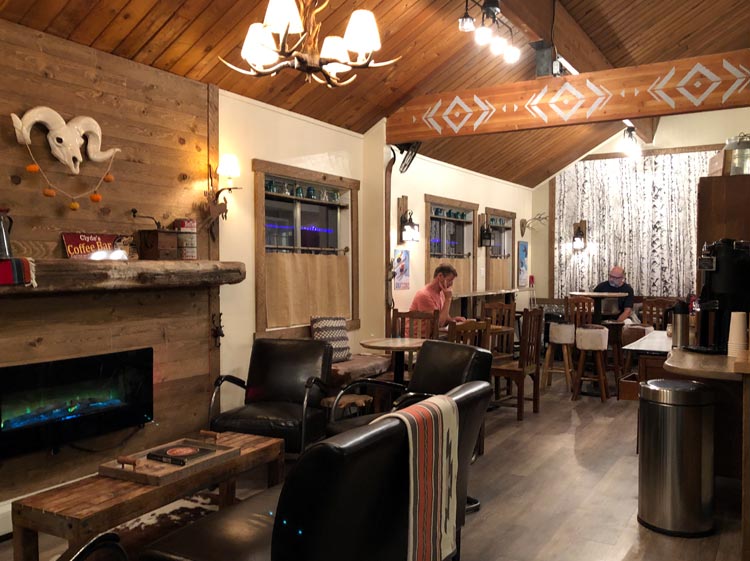 Regan Beach
While you could sip your drinks in Clyde's cozy decor, I suggest you head down to Regan Beach to warm up waterside. Plus, there's a walking path down there so you can stroll when you're finished!
Stretch at Still Water Yoga
Then, join numerous other weekend warriors at Still Water Yoga for another great practice! You will definitely keep your energy high as you head into the final hours of your trip. The studio is located next door to Clyde's Coffee, so you'll know how to get there. Parking is plentiful, and you'll have to enter through the glass door to access the upstairs location. Once there, the uplifting vibe of the great teaching staff and vibrant space will confirm you made the right decision to keep yoga as part of your routine while traveling.
DAY 3: AFTERNOON
After you shower and check out of your accommodations, grab some snacks at Sprouts Cafe or Whole Foods Market. Both have a wide variety of healthy smoothies, sandwiches, and salads. Since you'll be on the road for the rest of the afternoon, you'll want to be prepared for the mini-road trip.
Then, make your way north along the East Shore of Lake Tahoe. Along the way, you will pass Zephyr cove, Logan Shoal's vista point, and Secret Cove. Depending on your time frame, any one of those can provide more stunning views of the lake. However, I suggest you make your way all the way up to Sand Harbor.
Walk around Sand Harbor
This is perhaps one of the most photographed areas around Lake Tahoe due to the incredibly clear waters that stand in contrast to magnificent granite boulders. Once you're there, you can stroll down the beach. Or you can claim your spot in the sand and take a refreshing dip in the water.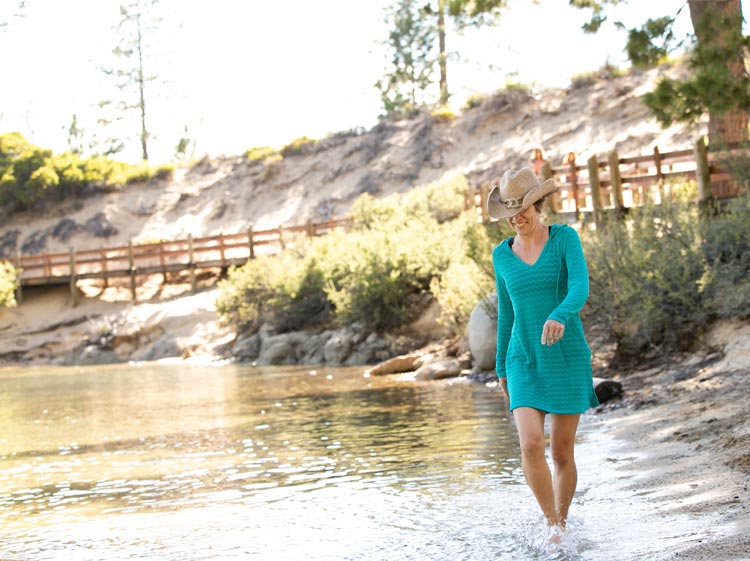 Take a Leisurely Bike Ride
Another option would be to travel past Sand Harbor and enter Incline Village. In that town, you can rent bicycles at Flume Trail Bikes and ride the newly-constructed bike path down to Sand Harbor. This way you enjoy the stunning views while a bit more mobile!
Travel Home Safely
Highway 431 will take you directly from Incline Village back down the mountains to Reno, Nevada. If you have time to dine before catching your flight, visit The Stone House for dinner. The historic building started in 1876 as a nursery. It hosted a variety of other businesses over the years, and finally became a restaurant in 2005. You'll not only get a satisfying meal, but you'll feel part of a timeless tradition.
MORE FUN ACTIVITIES AT LAKE TAHOE
I recommend the above itinerary when spending 3 full days in the Lake Tahoe area. However, there are so many wonderful gems in the region to check out. Here are some other fantastic things to do during a longer visit.
Visit Vikingsholm Castle
This is a historic site at the base of Emerald Bay. You can park at the top and hike down to the water's edge. Plus, there are SUPs and kayaks you can also rent when down there!
Hike Shirley Canyon Trail
I highly recommend the Shirley Canyon Trail, which starts just behind Squaw Valley Resort. You gain almost 2000 feet in elevation over the course of the 3-mile trek. There are small swimming holes and waterfalls along the way. And, if you don't feel like hiking back down, you can ride the Squaw Valley Tram for free!



Float the Truckee River
On hot summer days, you can cool off quickly by floating the Truckee River. Simply rent a raft in Tahoe City, lather up with sunscreen, grab your hat and water bottle, and enjoy the casual drift downstream.
Golf at Coyote Moon or Incline Village
High elevation golf courses amidst the forest are my favorite. You not only hit the ball further, but you're surrounded by some of the most serene beauty on the planet. My favorites include Coyote Moon–in Truckee–and the two courses at Incline Village (the Championship course as well as the short, mountain course.
PUTTING IT TOGETHER
Bring your yoga mat and adventurous attitude as you make your way to Lake Tahoe this summer!! When you follow this sample 3-day itinerary, you'll make the most of your time and energy while there. You'll see the jaw-dropping beauty of the lake from multiple perspectives. And your body and mind will receive a huge energetic boost from your visit to the coolest yoga studios and local hotspots around the entire region.