INCREASE YOUR POSITIVE IMPACT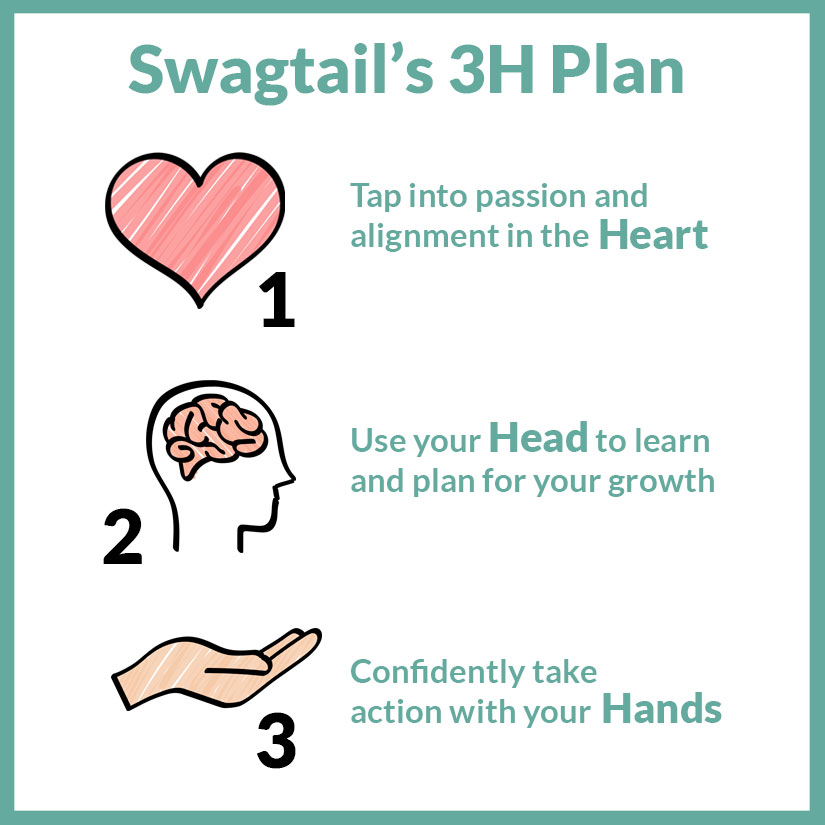 Congratulations! You are making an incredible difference in the lives of others as a yoga leader. You're definitely doing many things right as you see cash flowing into your business. And you also work with amazing teachers and clients. Yet despite the rewarding work, you're ready to fine tune your operation so you have more time to create, innovate, and expand.
Wouldn't it be great if you had systems in place to help you do just that? That's were Step 2 in Swagtail's 3H plan comes into play.
STEP 2 = USE YOUR HEAD
Your heart gives you the inspiration to show up and give your best each day. Now, it's time for your head to step in. In Step 2, you use your brain to learn new ways of approaching familiar topics in your business.
You can fine tune your communication to get everyone on the same page. You'll establish a more efficient structure to find, and keep, the best instructors on your team. And you can even automate other areas of your business to still remain profitable, all while keeping the hard-earned trust you build with your clients.
ARTICLES FOR YOGA LEADERS
Check out these articles if you own a studio, manage a team, or facilitate yoga teacher trainings:
As a yoga leader, you also want to maximize your own skill set to dream big for your yoga future. This includes taking time in stillness via via meditation. You can then take your ideas and craft a clear message for your team and clients.
STEP 3: TAKE ACTION WITH YOUR HANDS
Your head is now on board with the idea of creating new systems that make you more efficient and energized as a yoga leader. What we've found, though, is that it takes time to implement new plans. And accountability in the process can help. That's why we created the Yoga Business Academy (see below).
Swagtail also has a Yoga Business Basics program, in which 3 hours of contact training is outlined for you. There are powerpoints, worksheets, and homework assignments for your students to make your life as an E-RYT so much easier. To learn more, click here: