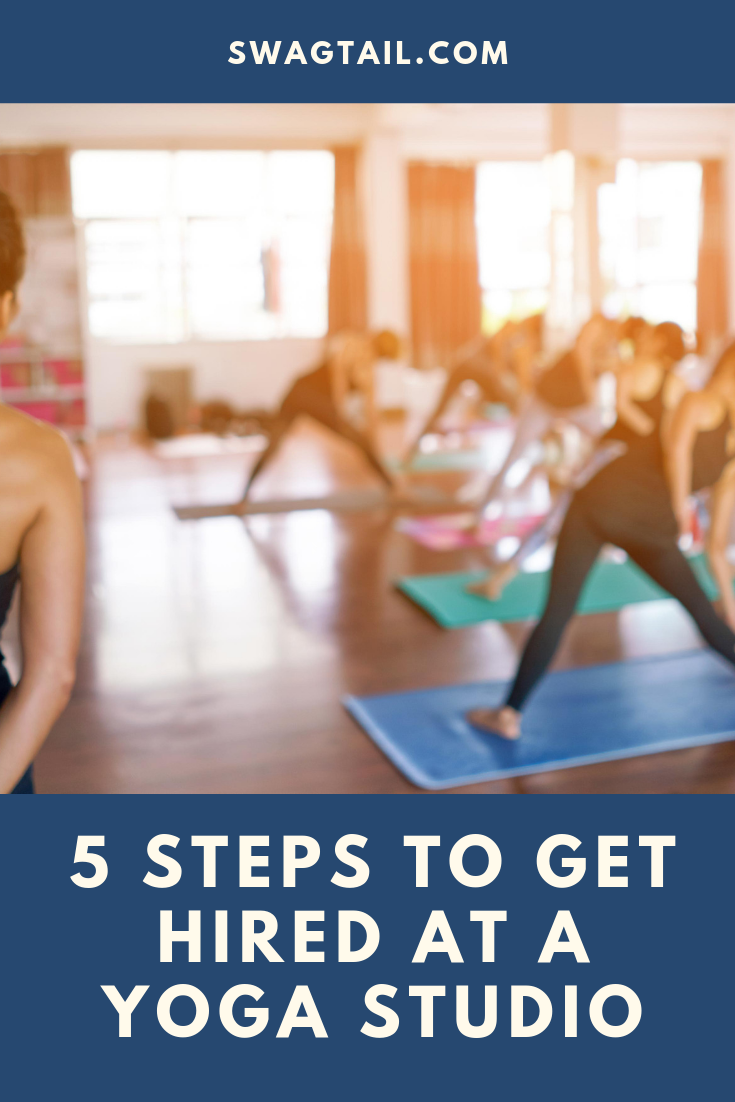 Are you ready to land a yoga teaching position, but not quite sure how to do it? Maybe you just graduated from a yoga teacher training program, or perhaps you moved to a new city and want to become part of the local yoga community. No matter the reason, you can use these 5 steps to be prepared for a fantastic teaching opportunity. You'll not only feel confident as you explore your options, but you'll also show up as a stellar yoga professional when meeting others in the field. And, I think this might just be the perfect recipe to get hired at a yoga studio near you!
This 5-step plan comes to you today courtesy of Danielle Rush, a teacher and studio manager in Spring Hill Florida. I met Danielle while attending a myofascial release training with Yoga Medicine's founder, Tiffany Cruikshank.
Danielle was a bright light in the room and I was drawn to introduce myself. She's got a fierce attitude for learning and a vibrant smile that encourages anyone in the vicinity to approach with ease. What I soon found out is that Danielle's intelligence extends far beyond the yoga world.
Photo Credit: Somikat
WHO IS DANIELLE RUSH?
Danielle, like most of you, is a highly-energetic human who wears many hats. She's a 200-hour yoga teacher who found the practice as a way to initially relieve stress and minimize back pain. Turns out, teaching yoga was just a perfect next step in her long-line of wellness-based interests.
In fact, Danielle has spent the past 25 years as a personal trainer and educator. She loves music and puts together incredible playlists to keep her students fired up when on the mat or in any other form of fitness.
In addition to her kinesthetic prowess, she's also got a Master's Degree in Artistic Meditation.
This was the ideal way to blend her passion for art and wellbeing. Yes, she's an artist who works with watercolor, acrylic, oil and mixed media art … and finds her creative time behind a canvas just as uplifting as time on the yoga mat.
And she's got a grounded, logical business-brain to boot! She ran several companies in Virginia while simultaneously raising children. Basically, Danielle knows her stuff when it comes to yoga and yoga business, which is exactly why I wanted to share her insights with you today!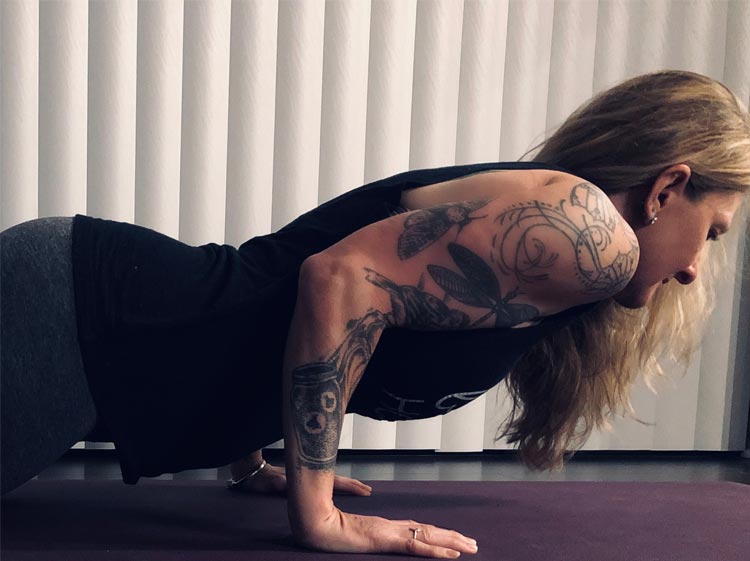 Her move to Spring Hill, Florida
While Danielle is a Virginia native and called this Old Dominion state home for much of her life, she and her husband decided to make the move to Spring Hill, Florida less than one year ago. And unlike many of the snowbirds that fly south for the winters, Danielle was ready to settle in year-round in her local community.
Danielle actually used the 5 steps below to get hired at a yoga studio in town. Within weeks of the move, she scored positions teaching at two different studios. And, she was also offered a managerial position at Yoga 4 Fitness not long thereafter. So, if you want to share your love for yoga with others, follow Danielle's lead and use these 5 steps to get hired at a yoga studio in your community.
STEP 1: RESEARCH STUDIOS YOUR AREA
Thanks to instant access to lots of info online, you can quickly do a search to find yoga studios in your area. Make a list of these studios and visit their websites. Find out what styles of yoga they teach. Learn about the neighborhoods in which they are located. Learn more about the other teachers already on staff and how many classes a week are offered.
The research you do here in Step 1 will help you determine which studios you might actually want to partner with as a yoga professional. Some factors that could determine this could include:
Teaching style
Existing staff
Website quality and professionalism
Proximity to your house
Current class schedule
Community collaboration, and
Pay structure
STEP 2: RESEARCH THE OWNERS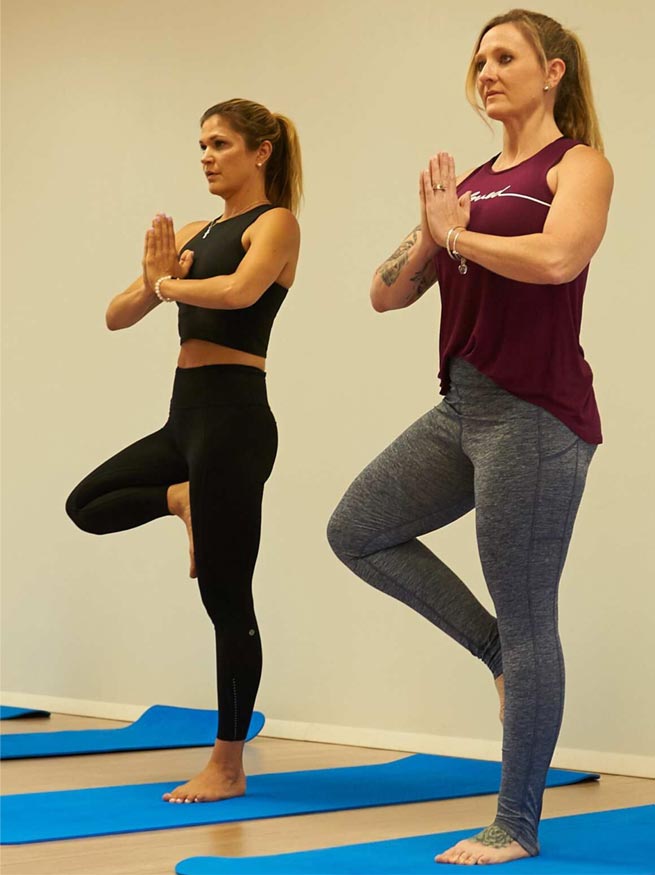 While Step 1 paints the general picture of a yoga studio, the next step is to uncover more information about the studio owners themselves. Often basic stats about the owners are easy to find on the studio websites (if the owner is also a teacher on-site). Take note of their teaching style and level of education. Be curious about any insights they share about themselves as an individual beyond the mat. And definitely write down any questions you might have for them when you meet them face-to-face.
If both the owner and studio seem like a good fit, move on to Step 3. Otherwise, continue your research until you have a solid list of studio locations at which you'd like to teach.
Keep in mind…
Some locations simply have studio managers who run the entire operation. If that's the case, learn more about the manager. They will likely be responsible for hiring if the owner is not involved in daily studio operations.
Photo Credit: Yoga 4 Fitness
STEP 3: TAKE A CLASS FROM THE OWNER
Now that you know the days, times, and styles taught by the owner (or manager) of a studio, plan to take a class with them. Block off time in your schedule to drop into one of their classes. Since you will already have an idea of who they are based on your research, you'll want to learn what they're like in person. This step will help you do that!
Meeting the owner is really important for a number of reasons. First, you want to see if you respect them and their teaching style as a yoga professional. Do they have good rapport with their students? Do they teach with safety in mind? Is their yoga knowledge credible?
Next, you'll want to gauge the owner's personality. Studio owners instill an incredible amount of energy and resources into the creation of a yoga space. And as I've found, many are very attached to the business.
This means that if you want to teach at a studio where the owner is highly involved, it can be very beneficial to like and respect them. This is true not only for their skills as a yoga professional but in how they operate their yoga business as a whole.
Quick Tip:
If you get good vibes from the owner but are not sure about their business sense, you can ask these important questions during an interview or more formal conversation down the road. These can include:
What are your expectations for teachers at your studio?
How does the studio market and/or advertise for studio growth?
What is the pay structure for teachers?
In what ways does the studio connect with the community?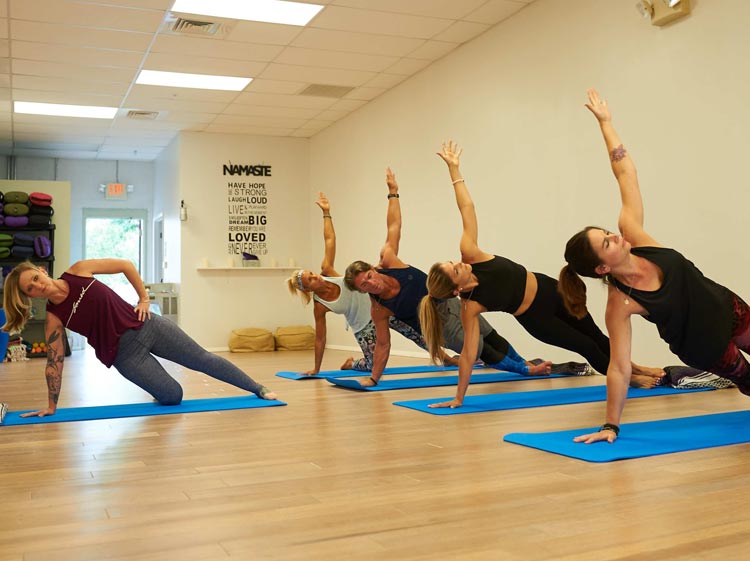 Photo Credit: Yoga 4 Fitness
STEP 4: INTRODUCE YOURSELF
As a yoga teacher, you are your own yoga business. And you alone are responsible to demonstrate your confidence and capability. Thus, when you introduce yourself to the studio owner or manager, you want to directly and clearly demonstrate your great qualities. As Danielle says,
"I always want to be upfront with other yoga professionals and tell them I'm a teacher right from the beginning."
While I might personally wait until after the class to introduce myself, there are some simple guidelines you'll want to follow whenever you do decide to say hello:
Be professional.
Present yourself as a reliable, knowledgeable and dependable (just be sure that you actually embody these attributes so that you can live Satya–or truthfulness).
Ask direct questions, and be ready to listen.
STEP 5: BE PREPARED TO TEACH A CLASS
When Danielle arrived at Yoga 4 Fitness to take a class with the owner, she was the only student who showed up. The studio had just opened its doors a month prior. However, this can happen to any studio, any time.
Danielle didn't mind, though, as it gave her plenty of time to chat with the owner, Christina Muro. And, since Danielle scores off the charts on the professionalism scale, she was prepared to step in and teach a class to the owner on the spot.
It's true that many studios will want to have you audition and see your style before bringing you on board. This means that you will want to have one or two class sequences prepared in advance. Keep them simple and well-rounded. Practice them at home. Memorize the general flow. Make sure you know how to modify the sequence for whichever students are in the room.
As was the case for Danielle. The class schedule called for a yin class, but Christina asked if Danielle could teach a vinyasa flow instead. No problem! Danielle was flexible enough to shift immediately from the mindset of a student–ready to take a class–into one of a teacher ready to teach one of any format!
One more thing…
Keep one or two playlists on your phone or Spotify account that match your prepared sequences. This will show you are responsible and reliable. Plus, it will further increase your confidence when walking into a situation with unknown outcomes.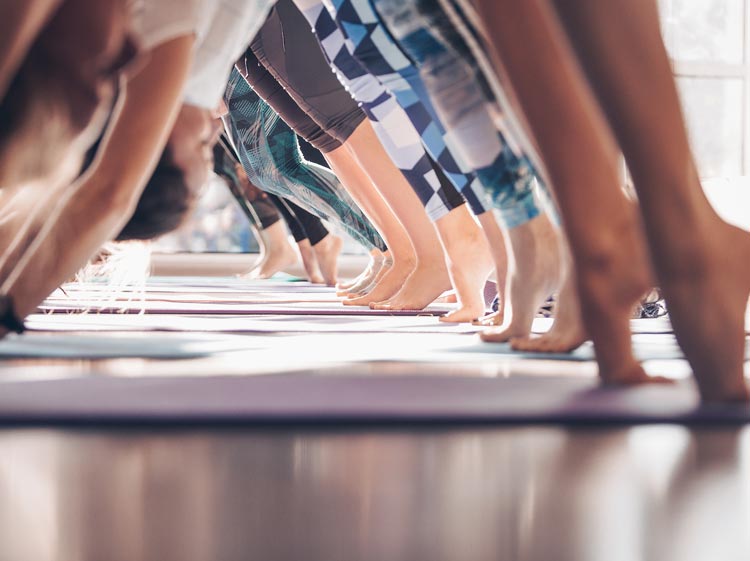 Photo Credit: Nadezhda
PUTTING IT TOGETHER
If you want to get hired at a yoga studio, the task can seem daunting. You can get nervous or overwhelmed and lose sight of your amazing talents. Thankfully, seasoned yoga teacher, Danielle Rush, recently moved to Spring Hill, Florida and found herself as a newbie in the community. She used the 5 simple steps above to land positions at two studios within months of her arrival! When you follow in her footsteps, you can confidently and clearly present yourself to studio owners… and maximize the opportunities placed in front of you to share your passion of yoga.
Take Action Now:
Connect with Danielle Rush, Yoga 4 Fitness, and us here at Swagtail to stay inspired as a yoga professional
Download our Get Hired Checklist to make sure you are embodying these 5 elements
Send me your questions and input about the hiring process, for your experiences are valuable and you can be a great resource for others to learn from!