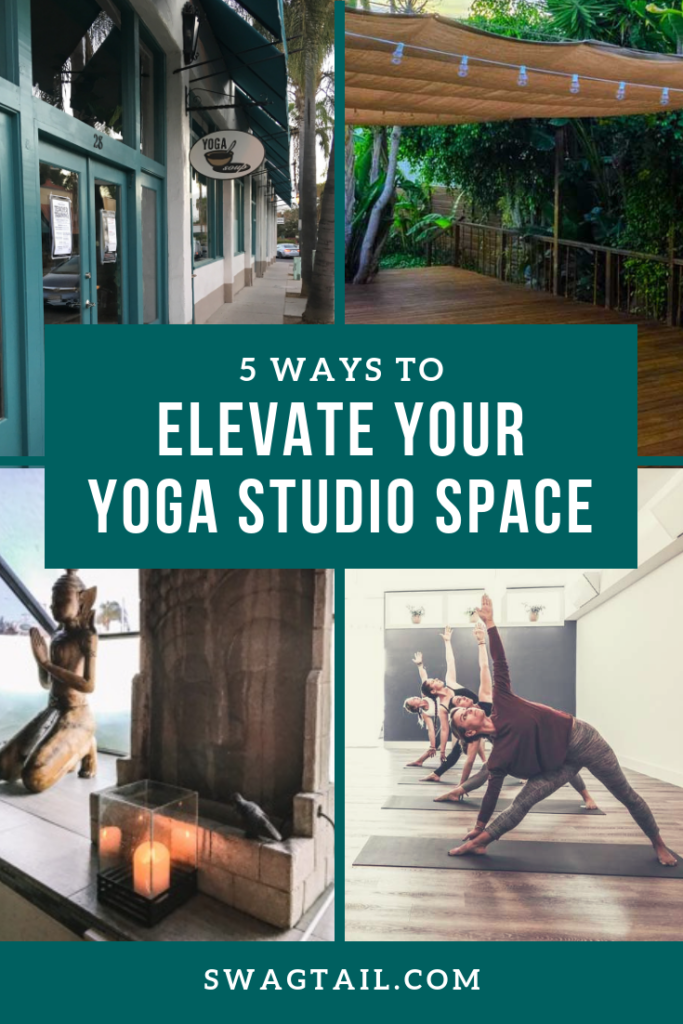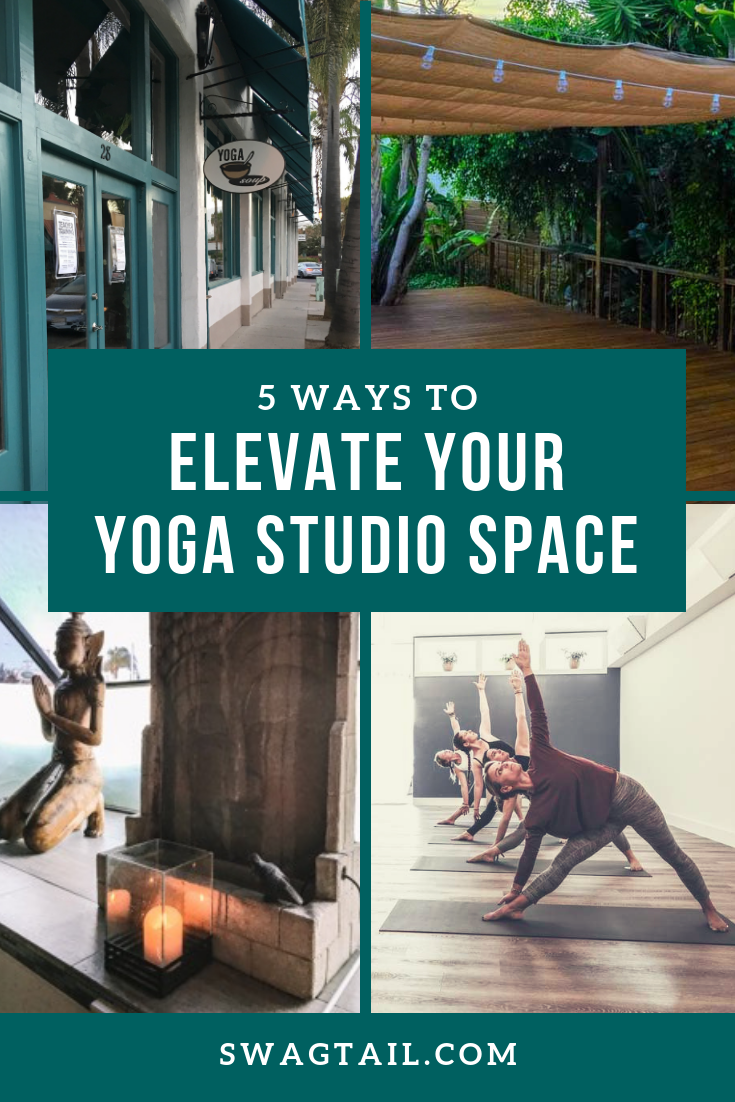 Small details added to a yoga studio space can leave a lasting, positive impression on students. These custom features could be design-related. They could also offer additional support and make the student experience more comfortable. They might enhance the visual, auditory, or tactile components of learning. When you add unique elements to your classes, it will keep students enthusiastically coming back for more!
On a recent trip down the California Coast, I had the privilege of stopping at numerous studios. Each had different floor plans, color schemes, styles of teaching and number of classes advertised on their schedules. Some were within blocks of other yoga studios. Others stood alone in a yoga desert.
Despite the differences, there was a common theme: each studio provided something special, a unique touch to their space that brought a heightened level of attention to their students. This level of care and comfort made even a visitor, like me, feel right at home.
The best part is that you can easily weave any of these ideas into your teaching, whether you're a studio owner, site manager, or yoga instructor with various teaching locations.
Photo Credit: Kris 10
(1) USE YOGA MAT SQUARES
How many times do you instruct students to come to all fours? Or drop the back knee for anjaneyasana? To prevent discomfort on the knees, you might suggest students use a blanket for support. Or, you might even have them fold over the edge of their mat to double its thickness.
Both methods can be helpful when holding such poses for a longer period of time. But, the additional propping and movement can hinder transitions in and out of such poses.
One fantastic solution was found at Mark Stephens' studio in Santa Cruz.
This yoga studio space provides yoga mat squares in their props section. What is a yoga mat square? It's essentially a long yoga mat that has been cut into 6" x 6", or 8" x 8" squares. You can easily take a high-quality mat, like a Manduka Pro, and cut it up into squares yourself. They don't take up more room if you travel to various locations, and they store simply by other existing props in an existing studio space. Plus, they don't cost much money to make.
Just make sure that when you first introduce them to your studio, you invite students to give them a try! They can be a great way for extra support, even for those who don't think they need it right away!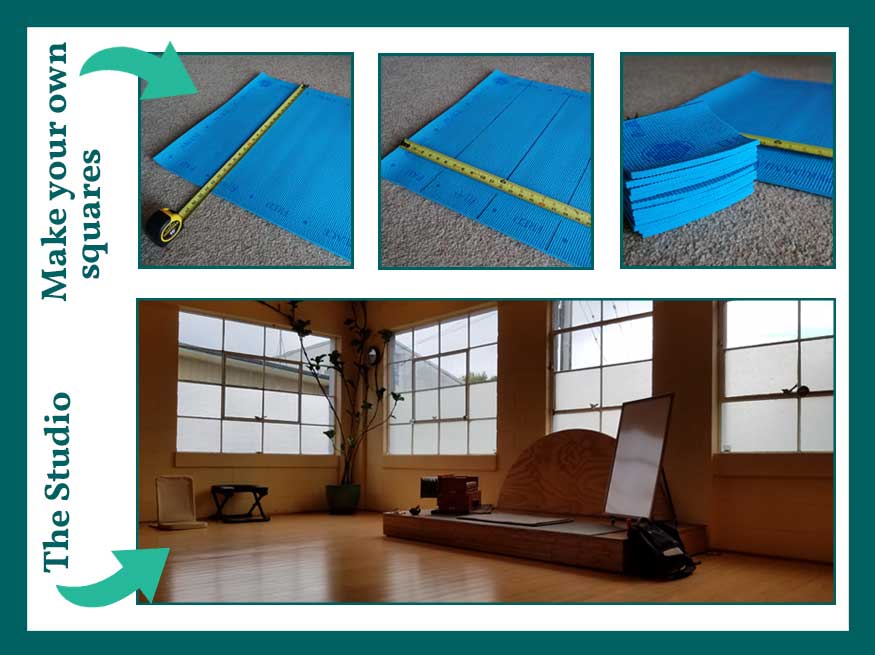 Studio Photo Credit: Michelle Hall
Additional Tips:
You can also use these squares to support the wrists similar to that of a wedge (without the drastic angle). This could be beneficial in both down dog, or tabletop, or even wheel. Or, if students find it challenging to get the outer edge of their foot to the floor in warrior 1 or 2, you can use the mat square to press under the elevated portion of the foot. This will give them a surface to push into if the floor is too far away, thus building muscle memory of proper position in such a pose.
(2) OFFER COOL TOWELS
As I sat in the back of Union Yoga in Monterey for a heated vinyasa class, a continuous stream of people entered the room until it was entirely packed. The room was sure to heat up naturally with all of the bodies moving and flowing.
After 65-minutes of movement, the class was instructed to move toward savasana. As the lights dimmed, a light rustling could be heard throughout the room. It was a small group of individuals passing out cold, damp washcloths. These had been stored in a small refrigerator under the registration desk, and could be used to wipe down the body, or place over the chest or face. The subtle mint and lime scent also provided an additional cooling element. What an incredible touch!
It was such a refreshing way to end a hot class! It brought a 5-star spa experience right to your yoga mat! The best part is that it's an easy idea to implement at any location.
Additional Tips:
If the class is larger, such as the 30-person room at Union Yoga, then have teaching assistants or teachers in training help distribute the towels. This way, each student on their back will receive a cool towel at the beginning of their savasana and can enjoy its cooling effects the entire relaxation period.
You might also want to place a small bin by the door, labeled "dirty towels," and remind students to drop them there on their way out.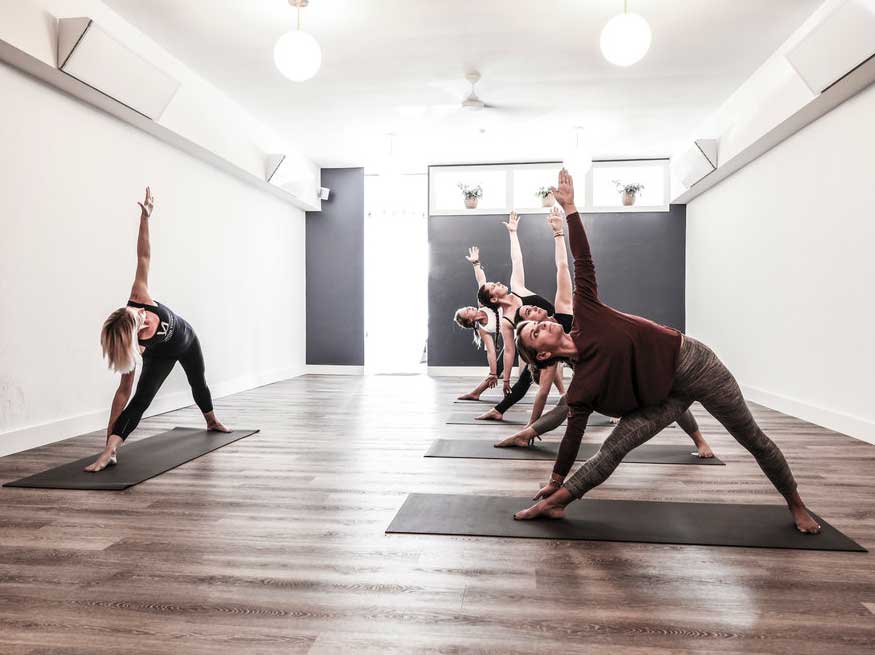 Photo Credit: Union Yoga
(3) INSTALL SOUNDPROOF PANELS
Have you ever eaten in a loud restaurant and had the deafening sound reduce your enjoyment of the meal? The improper acoustics in a yoga space can similarly affect a student's satisfaction in class. This can be especially true in locations that have concrete walls, hard surface flooring, and high ceilings.
That's why the sound panels at Yoga Soup in Santa Barbara were so impressive. They were discreet, spread throughout the room, and added a layer of texture to the decor that might have been otherwise missing in the large space.
Additional Tips:
Sound panels, especially those noted in the wall photos above, can simply be vacuumed once per quarter. If you have a lightweight fabric hanging from the ceiling, then you can also take down the material and wash it quarterly as well. Keep in mind that if studio doors are often open, allowing dust and particles into the studio, then vacuuming or washing more than 4 times per year might be necessary.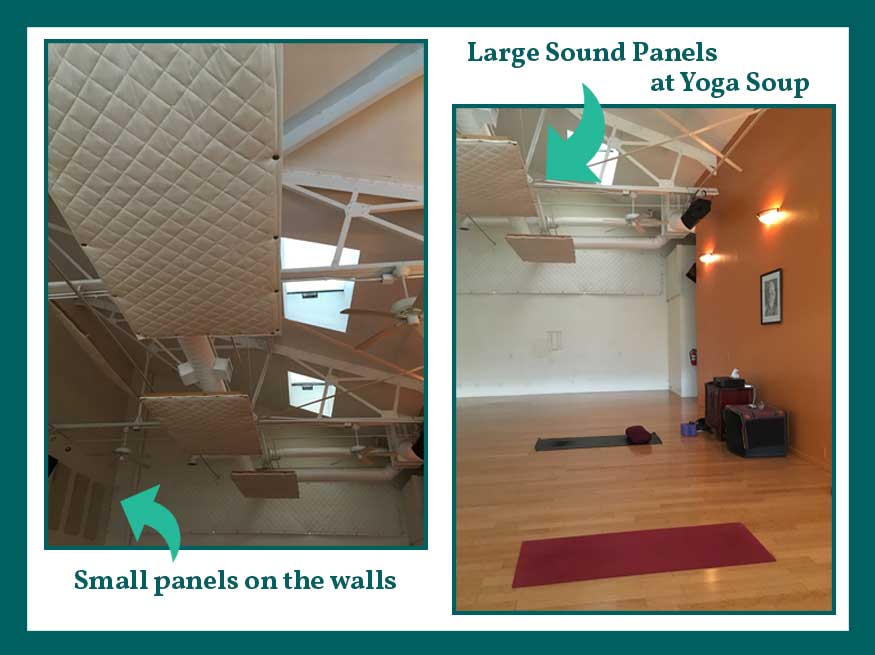 (4) ADD A WATER FEATURE
Water has many natural healing qualities. It's essential to maintain high brain function, reduce muscle tension, moisturize the skin, and reduce blood pressure. Psychologically, it increases alertness and supports feelings of well-being. Having running water gently pouring from a fountain in a yoga space can remind students to relax, breathe, and enjoy the journey on their mats.
On a functional level, a fountain can also block distracting sounds. Harmony Yoga in Redondo Beach understands this well. The beachy, clean vibe of the studio is accented with a beautiful fountain in the back corner. Their water feature not only added a stunning art piece to the room, but it curbed any unwanted traffic noise from the nearby street.
The best part is that you don't need a lot of space to incorporate a water feature. It can be tucked in the corner of your studio, or installed on a wall space. They also add texture, natural sounds, and visual interest without much effort at all. Many recirculate water and do not need to be replenished often, which is an added bonus.
Additional Tips:
When in savasana, cue students to tune into the sound of the water. Invite them to listen carefully to the sounds created by its movement, and encourage them to hear the silence between the sounds. This level of attention on the water feature can take them more deeply into the present moment. It can also amplify the level of inner calm and clarify created by the yoga practice itself.
You can also cue students to imagine water washing away worrisome or unwanted thoughts, tension in the body, or distraction from the moment.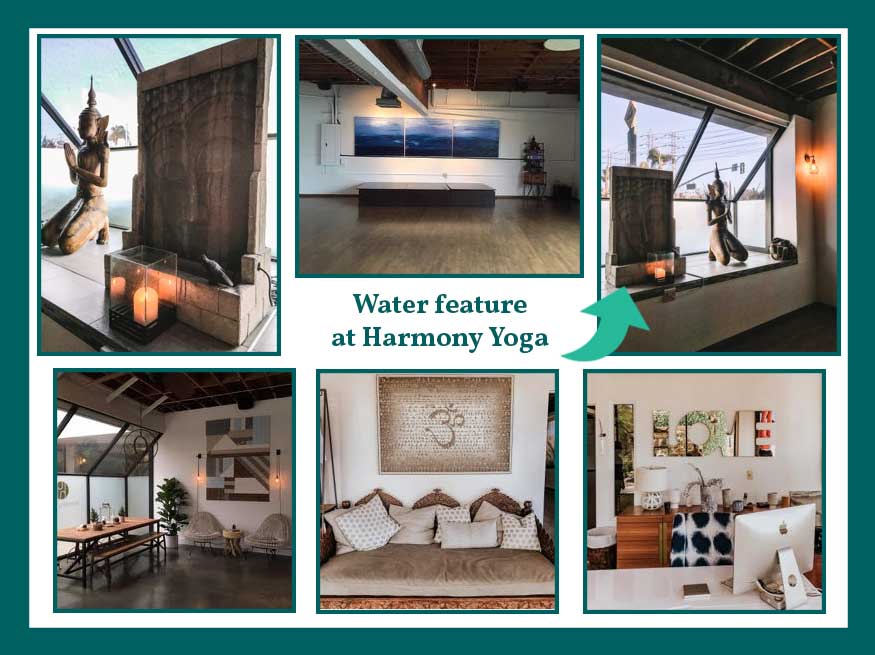 Photo Credit: Harmony Yoga
(5) CONSTRUCT AN OUTDOOR SPACE
Riffs studio in La Jolla, CA is just blocks from the Pacific Ocean and combines music and yoga in their unique space. Instead of limiting their group classes to a traditional yoga studio format, they thought outside of the box (or the building) and created an outdoor deck for classes.
It took about 3 months to complete the project. Once finished, the deck provided a magic atmosphere for students to be connected to their practice and with nature at the same time. The deck at Riffs is surrounded by trees, inviting all sorts of birds and butterflies to join the practice session. And, breathing in the ocean breeze adds a whole new high to ujjayi pranayama! Plus, they've even got infrared heaters to help keep you warm on those cool, foggy Southern California mornings.
Additional Tips:
The build-out costs for an outdoor space can vary depending on the size of the space and the product you install. What many forget to account for in such a project is the cost of ongoing maintenance. For example, Riff's sands and stains their deck each year. It also requires more frequent cleaning than an indoor space, as well as additional maintenance for lights and shades. So be sure to plan for additional, or ongoing, costs that accompany any outdoor yoga studio space.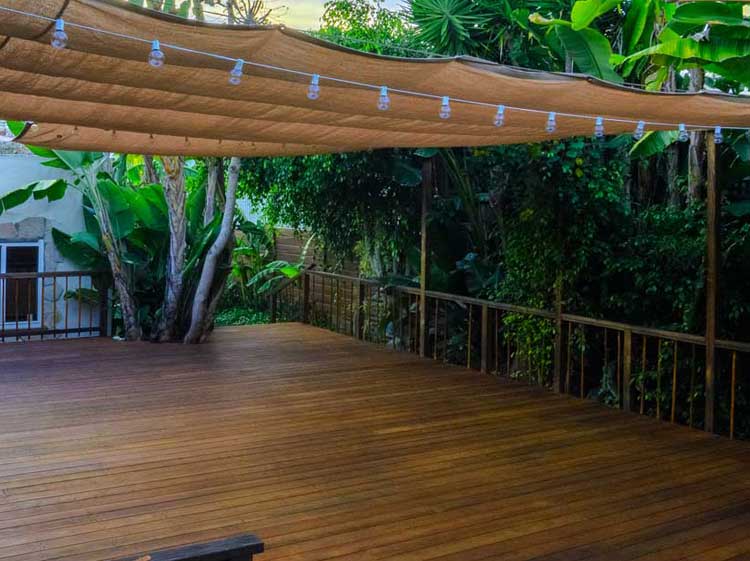 Photo Credit: Riffs Studios
PUTTING IT TOGETHER
Elements you add to your yoga studio and classes can elevate the experience for your students. It can welcome newcomers into the community and increase retention of existing clientele. Some simple, yet powerful ideas to add care and comfort for your students include mat squares to support the body, live music to heighten the senses, cold towels to calm the body, sound panels to reduce distraction, and water features to soothe the mind.
With the abundance of creativity in yoga studios across the world, what unique studio elements have made you smile? Please share your studio experiences below!
Next week, join us for the 3 spheres that comprise yoga businesses and the 5 podcasts we recommend to any entrepreneur!