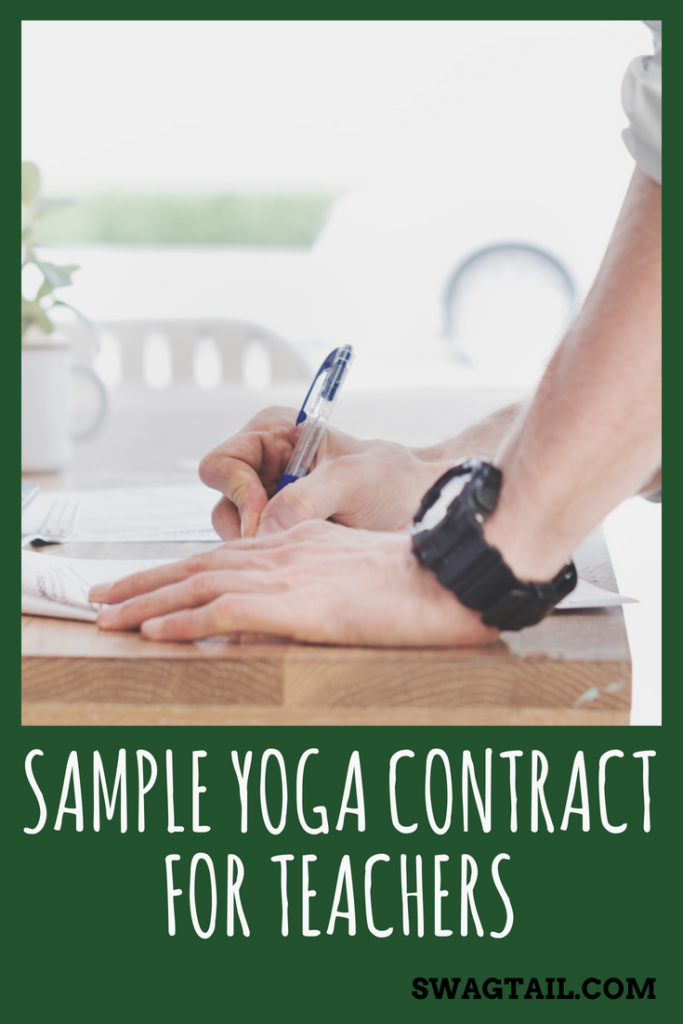 As an independent contractor in the yoga field, it's essential that you use written agreements to keep integrity and clear communication at the forefront of your business relationships. The sample yoga contract below covers the 10 points you'll want to consider before signing a teaching contract. Then, if all parties are on the same page and clear expectations have been put into writing, you can teach your classes with more confidence, clarity, and purpose.
Although this topic can seem dry and boring, having a contract in place can prevent getting burned by another yoga company. This happened on two very distinct occasions for me (before I realized the importance of a written contract). The first time, I was traveling to Brazil to teach at a yoga retreat. Upon my arrival, I realized the owner did not provide an honest description of my living conditions or my pay rate. I was frustrated and felt stuck, as what I actually experienced abroad was subpar to what was promised.
The second time around, a disconnect occurred with a studio owner around the topic of pictures and intellectual property (which is why I suggest you organize the business behind a photoshoot before taking any pictures). Unfortunately, we could not come to an agreement and we parted ways. And, since we did not have a formal agreement in place, I was not paid for my last two weeks of teaching at that location.
I learned these lessons the hard way. I hope that in reading the sample contract below you will get an idea of what to look for in an independent contractor agreement. Keep in mind that this example is very formal, and many studios do not go to this length to describe the responsibilities and expectations of each party involved. However, you can create a simple version of a yoga contract to ensure your needs can be met in writing before you begin teaching at a venue.
Photo Credit: RawPixel
SAMPLE YOGA CONTRACT
Effective as of the Acceptance Date, [insert teaching venue name], (hereafter "TEACHING VENUE") and [insert yoga teacher first and last name] (hereafter "CONTRACTOR"), agree that Contractor will provide instruction to clients of Teaching Venue under the terms and conditions of this Independent Contractor Agreement (the Agreement).
DATE:
FULL NAME:
CONTACT INFORMATION:
PERSONAL BIO:
ARTICLE 1: TERM OF AGREEMENT
1.1 This Agreement becomes effective as of this date, (the Acceptance Date) and it continues in effect until terminated in accordance with the termination provisions contained herein.
ARTICLE 2: INDEPENDENT CONTRACTOR
2.1 Both parties agree that Contractor is an Independent Contractor and not an employee, agent, or partner of Teaching Venue. Nothing in this Agreement shall be interpreted or construed as creating or establishing the relationship of employer and employee between Teaching Venue and Contractor or any employee or agent of Contractor.
2.2 Contractor retains the right to provide services to others during the term of this Agreement and is not required to devote its services exclusively to Teaching Venue.
ARTICLE 3: CONTRACTOR'S SERVICES
3.1 Method of Providing Services: Contractor will conduct themselves and their classes in a manner consistent with commonly accepted professional standards. Procedures and policies governing the conduct of classes are maintained and available to Contractor at Teaching Venue. Contractor agrees to comply with these procedures, which may be updated at any time. The Teaching Venue will notify Contractor of any changes made to these procedures.
3.2 Schedule: Teaching Venue shall maintain and publicize a schedule showing the starting time and ending time of classes as agreed between Teaching Venue and Contractor. Contractor agrees to start and end each class according to that schedule. Contractor shall be present for 15 minutes prior to the start of each class and up to 15 minutes after the end of each class.
3.3 Administrative Responsibilities: Contractor must maintain attendance records and correspondence related to the classes he/she teaches in accordance with the Operating Manual/Yoga Instructors. Contractor is responsible for using and leaving the space in which he/she teaches in a clean, safe, and secure manner.
3.4 Substitute Contractors: Contractor may not use substitutes for its services, except as specified in the Operating Manual/Yoga Instructors. Substitutes must only be selected from an approved list of Contractors who have an existing Independent Contractor Agreement with Teaching Venue.
3.5 Place of Work: The nature of the services provided by Contractor requires that they be performed on Teaching Venue premises. Teaching Venue agrees to furnish space and equipment as provided under the terms of this Agreement.
ARTICLE 4: PAYMENT FOR SERVICES
4.1 Compensation Rate for Public Yoga Classes: In consideration of the services to be provided by Contractor to Teaching Venue, Teaching Venue agrees to pay the Contractor according to the following schedule:
Insert Payment per student or class. For example: $10 per student.
4.2 Paying Students: All students who pay the regular fees or membership entitling them to attend Contractor's class shall be considered paying students. All students using a promotional discount or free tuition issued solely by Teaching Venue or its agents shall be considered Paying Students.
4.3 Non-paying Students: Contractor may have up to 10 guests in any class. These guests must pay $7.00 per class tuition, and are not Paying Students. Teaching Venue and Contractor may choose to jointly issue promotional discounts or free tuition for Contractor's class. Students using this promotion are not considered to be Paying Students.
4.4 Compensation for Workshops: Teaching Venue agrees to pay the Contractor 60% of gross revenues for workshops. Gross revenues is here defined as the actual income collected after all discounts.
4.5 Compensation for Private Lesson: Teaching Venue agrees to pay the Contractor the following rates for private lessons:
Example:$75 for 1 hour, $95 for 90 minutes, $110 for 2 hours.
4.6 Compensation for teacher training programs: Teaching Venue agrees to pay the Contractor the following rate for scheduled classroom time spent on Teaching Venue teacher training programs: $50 per hour.
4.7 Invoices and Date of Payment: By properly completing the attendance record keeping responsibilities described in Teaching Venue Policy and Procedures, Teaching Venue administrative systems will automatically generate an invoice for Contractor's services. Contractor has the ability to verify and correct these records at any time prior to the 3rd of the month following the month in which services were rendered.
4.8 Invoices for Services performed in a month will be created for Teaching Venue on the 3rd calendar day of the following month, or the first business day thereafter (the Billing Date). The Due Date of the invoice will be 30 days after the Billing Date. Teaching Venue pays vendor invoices no later than 30 days of the Billing Date. Payment for services will be made by Teaching Venue's financial institution, to the address shown in this agreement, or by direct deposit, to Contractors bank account as given in this agreement, as elected by Contractor.
4.9 Payment on Account: Teaching Venue is authorized to deduct any amount owing on Contractor's account with Teaching Venue from Contractor's payment. This includes any penalties or fees assessed for non-compliance with the terms of this contract and purchases on Contractor's account with Teaching Venue.
ARTICLE 5: COSTS AND EXPENSES
5.1 Contractor shall be responsible for all expenses incident to rendering services for Teaching Venue, including, but not limited to, all costs of equipment provided by Contractor, travel and communications expenses, all professional fees, fines, licenses, insurance, bond or taxes required of or imposed on Contractor, and any other costs of doing business. Teaching Venue shall not be responsible for any expenses or costs of any kind incurred by Contractor in providing services for Teaching Venue.
ARTICLE 6: OTHER FEES
6.1 Finder's Fee: Teaching Venue acts as a booking agent for Contractor when Contractor teaches private yoga lessons to Teaching Venue's clients. In the event that the Contractor ceases to contract through Teaching Venue and works directly for the client, then the Contractor is automatically liable for a $500.00 finder's fee for each client.
6.2 Workshop Cancellation Fee: In the event a Contractor chooses to cancel a workshop that has been scheduled, that Contractor is liable for an $80.00 cancellation fee, unless otherwise mutually agreed to in writing by both parties.
6.3 Failure to Perform Duties: Contractor is liable for fees that may be imposed in the event that Contractor fails to perform the duties of this contract, as described in Paragraph 9.3 below.
6.4 Failure of Contractor to conduct a class as scheduled is cause for material damage to Teaching Venue and its members, clients, or students. Contractor agrees that in the event of Contractor's failure to conduct a class as scheduled, Contractor will pay to Teaching Venue the sum of $100.00 per occurrence, and further authorizes Teaching Venue to deduct such damages from any invoiced charges due Contractor.
6.5 Failure of Contractor to follow the procedures or policies described in the Operating Manual/Yoga Instructors for the administration of records and facilities may result in a penalty of up to $50.00 per occurrence.
ARTICLE 7: OBLIGATION OF CONTRACTOR
7.1 Liability Insurance and Indemnification: Contractor agrees to indemnify and hold Teaching Venue and its owners and agents harmless against any and all liability imposed or claimed, including attorney's fees and other legal expenses, arising directly or indirectly from any act or failure of Contractor or Contractor's assistants, substitutes, employees or agents. This includes all claims relating to the injury or death of any person or damage to any property. Contractor is responsible for maintaining at all times its own liability insurance in a minimum amount of $500,000.00 to cover any such claims, and is required by this Agreement to provide evidence to Teaching Venue of the coverage described in this paragraph.
7.2 Local, State, and Federal taxes: Contractor understands that, as an Independent Contractor, it is solely responsible for paying all required local, state, and federal taxes and insurance. In particular, Teaching Venue will not:
Withhold FICA (Social Security) from Contractor's payments;
Make state or federal unemployment insurance contributions on behalf of Contractor;
Withhold state or federal income tax from Contractor's payments;
Make disability insurance contributions on behalf of Contractor; or
Obtain worker's compensation insurance on behalf of Contractor.
7.3 No Employee Benefits: Contractor understands that, as an Independent Contractor, it is not entitled to any benefits typically associated with an employee, such as medical, sick or vacation benefits. If Contractor wishes to have similar kinds of benefits, it must purchase them separately and independently of this relationship.
7.4 Proprietary Information and Intellectual Property. Contractor agrees that all materials prepared on behalf of Teaching Venue is the sole property of Teaching Venue and shall be surrendered to Teaching Venue upon demand. All client information, sales information, and communications among Teaching Venue associates and contractors related to Teaching Venue are confidential and to be used solely for the purpose of Teaching Venue and shall not be conveyed, transferred, or shared with any other person or business. Contractor hereby agrees that Teaching Venuemay take photographs and video and other imagery for the purpose of promoting the services of Contractor and/or Teaching Venue and that Contractor waives all rights to these images and gives Teaching Venue the exclusive rights to own and use them.
ARTICLE 8: OBLIGATION OF TEACHING VENUE
8.1 Cooperation of Teaching Venue: Teaching Venue agrees to comply with all reasonable requests of Contractor, and to provide access to all pertinent services, facilities, and documents reasonably necessary for Contractor to provide services under this contract. Teaching Venue shall make public the schedule of classes to be taught by Contractor, typically with a printed schedule and website.
8.2 Place of Work: Teaching Venue agrees to furnish space or premises, under the terms of this contract, for use by Contractor while providing contracted services.
ARTICLE 9: DEFAULT AND TERMINATION OF AGREEMENT
9.1 Termination on Occurrence of Stated Events: This Agreement shall terminate automatically upon the occurrence of the bankruptcy, insolvency, sale or death of either party. This includes removing access to administrative systems, the premises, and appearance on the schedule of classes.
9.2 Teaching Venue, at its option, may terminate this agreement immediately by giving written notification to Contractor. For the purpose of this section, material breach of this Agreement includes, but is not limited to, the following circumstances:
9.3 Damage by Default: Failure of Contractor to perform as agreed in this Agreement is cause for material damage to Teaching Venue and its members, clients, or students. Contractor agrees that in the event of such failure, may pursue reimbursement for all damages incurred by it as a result of the actions or inactions of Contractor. Damage may arise from the following events, including, but not limited to:
Contractor fails to start and end a class as published;
Contractor fails to show up for a class and fails to secure a qualified substitute by following the Policies and Procedures;
Contractor fails to conduct a class safely or professionally;
Contractor falsifies attendance records or an invoice;
Contractor defames Teaching Venue, its agents, or employees either orally or in writing; or
Contractor's conduct results in substantiated or meritorious complaints from Teaching Venue's members or clients.
9.4 Termination by Contractor for Default of Teaching Venue: Should Teaching Venue default in the performance of this Agreement or materially breach any of its provisions, Contractor, at its option, may terminate this agreement immediately by giving written notification to Teaching Venue.
9.5 Teaching Venue Failure to Pay: Should Teaching Venue fail to pay Contractor any part of the compensation set forth in Article 4 of this Agreement on the date due, Contractor, at its option may terminate this agreement immediately if the failure is not remedied by Teaching Venue within 15 days from the date payment is due.
9.6 Contractor may terminate this Agreement at will and without cause with two weeks' written notice to Teaching Venue.
ARTICLE 10: GENERAL PROVISIONS
10.1 Notice: Any notice required under this Agreement must be in writing by email. If either party changes its email address, emailed notice of such change must be given immediately to the other party. Emailed notices are deemed communicated as of one day after mailing. Teaching Venue's address is [insert email address]. Contractor's address is as provided on this form, as [wlm_email].
10.2 Entire Agreement of Parties: This Agreement supersedes any and all other agreements and or contracts, either oral or written, between the parties regarding Contractor's services for Teaching Venue. It contains all of the covenants and agreements between the parties, regarding the rendering of such services in any manner whatsoever. Each party to this Agreement acknowledges that no representations, inducements, promises or agreements, oral or otherwise, have been made by any party, or anyone acting on behalf of any party, which are not contained in this contract. If there is any agreement, statement or promise not in this contract, it shall be void, invalid and non-binding. Any modification of this contract will be effective only if it is in writing and approved by both parties.
10.3 Partial Invalidity: If any provision in this Agreement is held by a court of competent jurisdiction to be invalid, void or unenforceable, the remaining provisions will nevertheless continue in full force without being impaired or invalidated in any way.
10.4 Government Documents: Contractor agrees to file all necessary government documents, including appropriate tax returns, reflecting its income and status as an Independent Contractor for the services rendered to Teaching Venue. Should any government agency audit the files of Teaching Venue and request information about Contractor, Contractor agrees to immediately furnish Teaching Venue with any records, including tax returns, relating to the services rendered to Teaching Venue.
ARTICLE 11: LEGAL PROCEEDINGS
11.1 Arbitration and Governing Law: Both parties agree to mediate any controversy between them involving the construction or application of any of the terms, covenants or conditions of this contract. This Agreement shall be governed by and construed under California law.
ARTICLE 12: APPENDICES
12.1 Appendices to this Agreement may be modified from time to time with the mutual agreement of Teaching Venue and Contractor. Such modification shall be an addendum and revision of this Agreement and shall become effective upon the date of the signature by both parties.
ATTACH ADDENDUM:
If you have received an addendum to your independent contractor agreement and you agree with that addendum, you may upload your .pdf of that addendum here and make it a part of this agreement.
SIGN THE AGREEMENT
Both parties will need to sign this document if all questions have been answered and all parties involved agree on the terms. Keep in mind that it helps to review your contract a few times a year to make sure it still supports you and your business. You will grow and evolve. Support yourself in this process by having your paperwork in order, even if it means creating your own documents based on this sample yoga contract.As one of my favorite quote states, "Trust in God and tie up your camel." Said another way, you can still keep integrity and trust in your yoga business. But it helps to do the due diligence in the meantime.