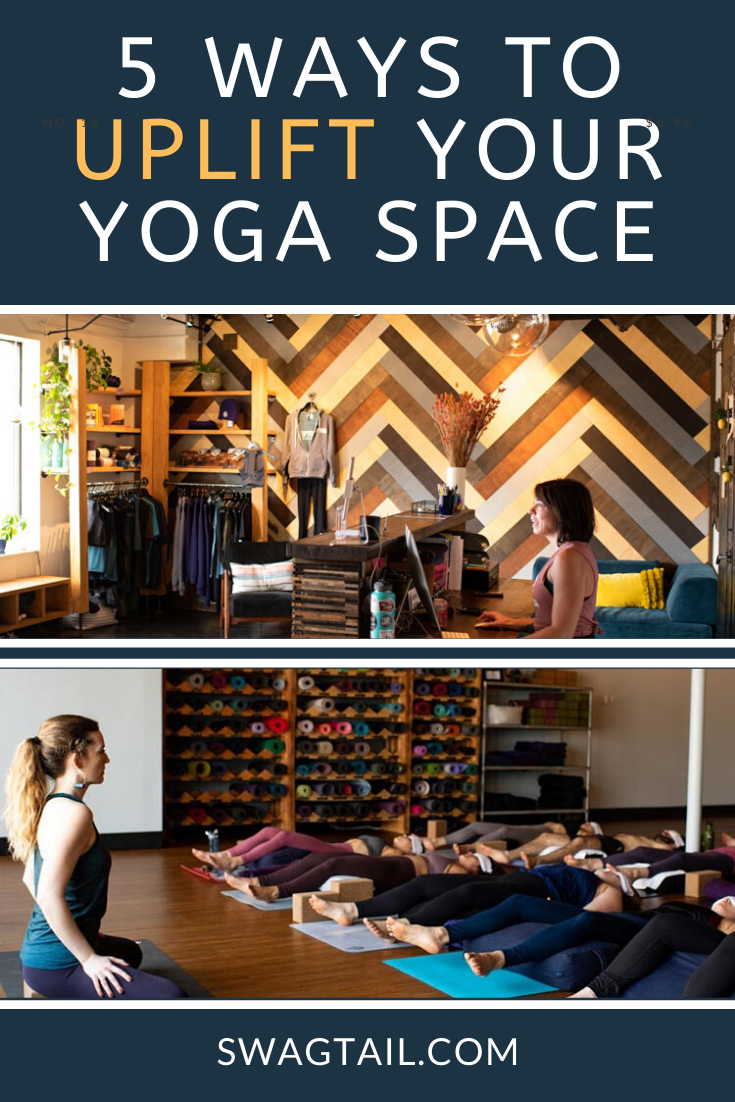 The yoga studio is designed to be a safe place for your students to explore their practice. While a room doesn't have to be fancy, you can design it in a way that inspires your students when on their mat. You can make it feel like a second home to your students. And when you uplift your yoga space with beautiful and balanced decor, students will enthusiastically return to this place of ongoing inspiration.
On my last visit to Minneapolis, I had the pleasure of visiting UpYoga. My entire family was in town and I attended 6 am classes at a few studios to ensure I got time on my mat. This meant I had to drive 20 minutes or more in the dark–and freezing temperatures–to make this happen! Hats off to all of you dedicated yogis who face these winter elements on an annual basis! You're strong and courageous!
That being said, I found the warmest welcome at UpYoga. The foyer felt like walking into someone's home and the friendly staff embraced me like family. Other perks of the studio–like the layout and functionality–brought me to a whole different level of appreciation for this studio as a business.
It's because of their attention to detail and extreme professionalism that I just have to introduce you to the owner, Lindsay Grabb.
Photo Credits: UpYoga, MN
MEET LINDSAY GRABB
On the yoga front, Lindsay Grabb holds a tier 3 certification in the Baptiste Methodology. That equates to 1200 hours of training, for those of you not familiar with that line of training. She has also taught yoga in Singapore and at various studios around the Minneapolis area before opening this studio of her own.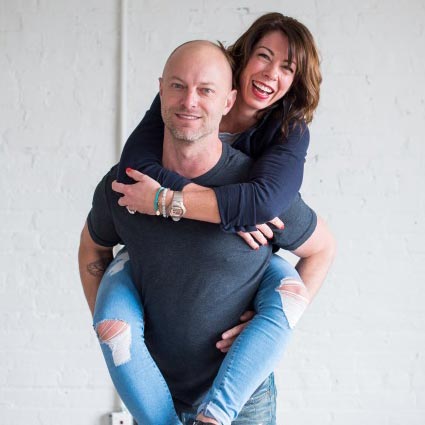 What I love most about her story is that the spark for the studio came during a week-long Baptiste training in the fall of 2016. She not only missed the heated power yoga element so central to her lineage. But Lindsay realized she was playing small back at home. That's when she and her husband, John, began working on UpYoga. Within 6 months, the new studio opened its doors!
This speaks volumes about Lindsay's vision, courage, and get-it-done attitude!
Yoga and Business
Lindsey loves how yoga can open the door to amazing possibilities in your life. She also understands that a well-run business can do the same. For years, Lindsay bought home textiles for Target and West Elm. This gave her the chance to refine her natural talent in design.
Plus, the corporate world strengthened her ability to create eye-catching marketing campaigns–both for UpYoga's physical location and its corresponding website. If you visit either, you notice a cohesive, positive message in her yoga business. And, as Lindsay so accurately points out,
"When students know what to expect (whether on the website or when they come to the studio), they come back more often."
You, too, can keep your students returning frequently when you use any of the 5 ideas below to uplift your yoga space.
(1) MAKE THE SPACE AN EXTENSION OF YOU
One of the best ways to build trust with your students is to be honest and authentic. The space in which you teach can then become a visual representation of this promise to your students. In the case of UpYoga, the building wasn't always this way. The location was great, but Lindsay and John had to completely demolish the inside of the building before it could be designed to match their vision.
So what did they do to make it an extension of themselves?
John built all of the furniture by hand in their garage.
The front desk is made of 1500 individually-cut pieces of a whiskey barrel.
Lindsay ordered a West Elm couch in royal blue–her favorite jewel-toned color.
The chairs in the entry room are actually vintage pieces that were once in their own home.
Hand-written song lyrics are framed on the walls exactly in the way they are at the Grabb household (only a different song hangs at the studio)
And pleasant essential oils are diffused in the space to keep it smelling fresh and clean!
Basically, Lindsay's studio and house have the same vibe–the same love! Now, when she walks in the space, she can honestly say, "I love it!!" And her students do, too!
Ask yourself: In what ways is my studio a creative and beautiful extension of me?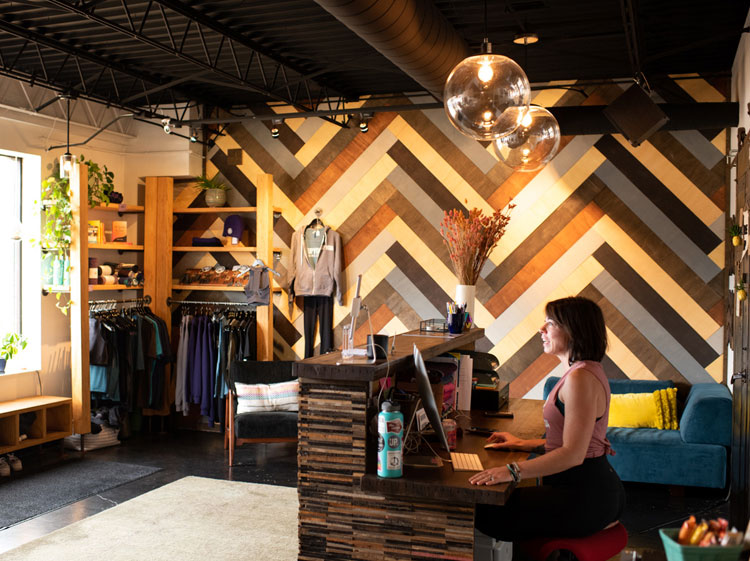 (2) OFFER MAT STORAGE ON SITE
I have to admit that the wall of mat cubbies was one of the first pieces in the actual studio that caught my eye! For good reason! It was a well-designed piece that was extremely functional!
In fact, the logistical aspects of your studio can be one of the best ways you serve your students. If you have ample parking, your students don't have to fight for a spot on the street. If you are easy to find, your students spend less mental energy (and time) getting to class. And, in the case of providing mat cubbies at your studio, students don't have to lug their mats to and from the studio.
Another way mat cubbies can uplift your yoga space?
The cubbie rentals can generate additional revenue for your yoga business! At UpYoga, students pay $10/month to have their mat stored on site. This includes the drying and restocking service that occurs after you practice (in addition to the convenience of leaving a mat on site to make practice all-the-more accessible to students).
Is there a way you could store mats for your students on site and create this win-win for everyone involved?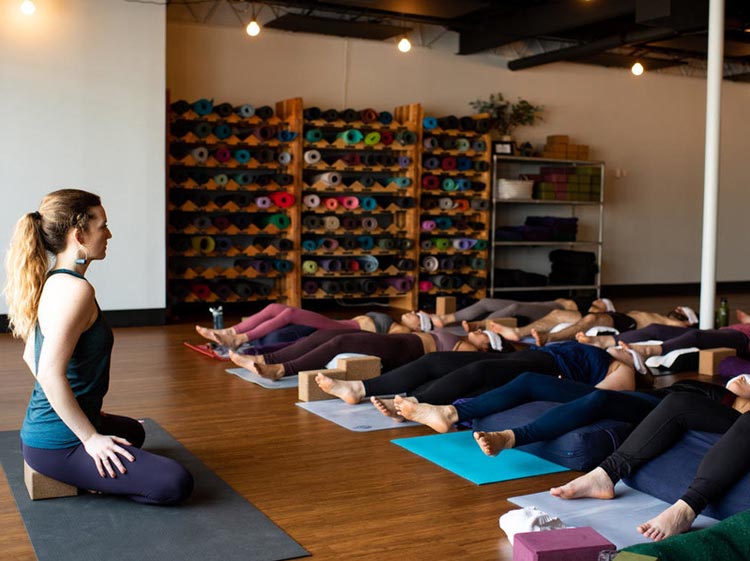 (3) INSTALL MAT-DRYING RACKS
While the mat cubbies were inspired by a standard wine rack design, you can't just roll up sweaty mats and put them away immediately. That's where UpYoga decided to install mat drying racks around the room.
These racks are discreet and lie flat against the walls when not in use. This means that the studio doesn't lose any functional wall space when it's needed in class. And, the racks can then be used to keep mats sanitary and dry before being tucked away for storage.
(4) ADD A MURAL
How often in a yoga class do you instruct your students to find a point of focus? You might encourage them to gaze past their fingertips or look at a point on the wall to help sustain balance in a challenging posture.
UpYoga has done it right! They have given students something beautiful to look at, whether in an active pose or just lounging in the studio. They hired a local artist to paint a beautiful mural on the front wall.
It's simple and stunning and right on point with UpYoga's message to uplift their students in every way possible. Yet, Lindsay didn't stop there!! They have a mural on the side of their building that says "SHINE." It's a fun way to remind students to be bright when off of their mat, too!
Not an artist?
If you're not an artist yourself, or you don't have the budget to hire one right now, you can likely do a trade with someone in your community. I know plenty of talented painters who also happen to love yoga. If using a mural to uplift your yoga space sounds like a good idea, you can likely find an easy way to make that happen!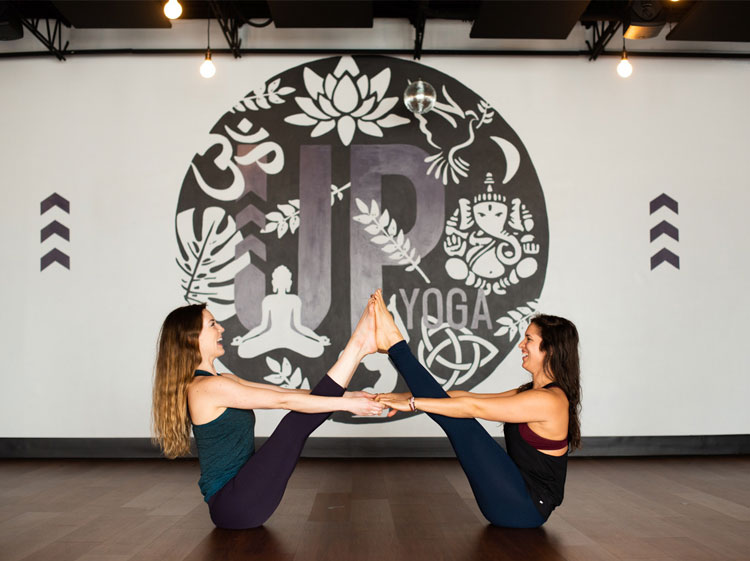 (5) ESTABLISH AN ENERGY EXCHANGE PROGRAM
There are numerous elements that help a yoga studio thrive. Money management is one of them; fantastic staff is another. In the case of UpYoga, they have an Energy Uplifters program that helps blend those two needs.
Basically, Lindsay created an energy exchange program that became the backbone of their community. These individuals commit to a three-hour shift at the studio, once per week, and they help with numerous miscellaneous tasks.
"Our energy uplifter program is what keeps our studio running!"
Energy Uplifters ensure the laundry gets done. They welcome students, make the chilled towels that get distributed at the end of class, and help keep the studio clean. As a trade, these energy uplifters receive an unlimited monthly yoga pass as well as mat storage. Plus, they get discounts on teacher trainings and other workshops held at the studio.
Allow great people to Uplift your Yoga Space
In what ways could you use the energy of others to enhance your business? And what is the value you could offer them in return for their commitment? Remember, you can't do it all yourself! Consider using an energy exchange program to leverage your time and resources more efficiently so your business can continue to grow!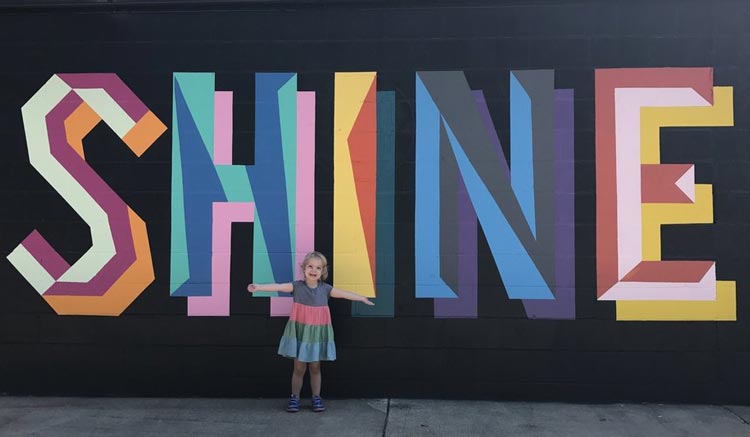 PUTTING IT TOGETHER
The design of your yoga studio speaks volumes of your personality and commitment to your students. Use the ideas in this article to uplift your yoga space right now! Doing so can make your clients feel more at home. You can create a location in which they feel safe, inspired, and eager to return! The best part is that you don't have to be an artist, former corporate buyer like Lindsay, or even handy builder like John to make that happen!
Take Action Now:
Observe the quality of the space in which you teach right now.
Ask yourself how you might add more balance, beauty, and efficiency to your space? (The book Joyful is an incredible resource to give you ideas about this). Then, without the pressure to make those changes right now, craft a realistic timeline in which you could make those changes. Then start making contact with your current network of support to get the ball rolling in the right direction.
Check out Journey Into Power if you want to learn more about Baptiste Power Yoga. This was one of the first yoga books to hit my bookshelf and I still reference it to this day.