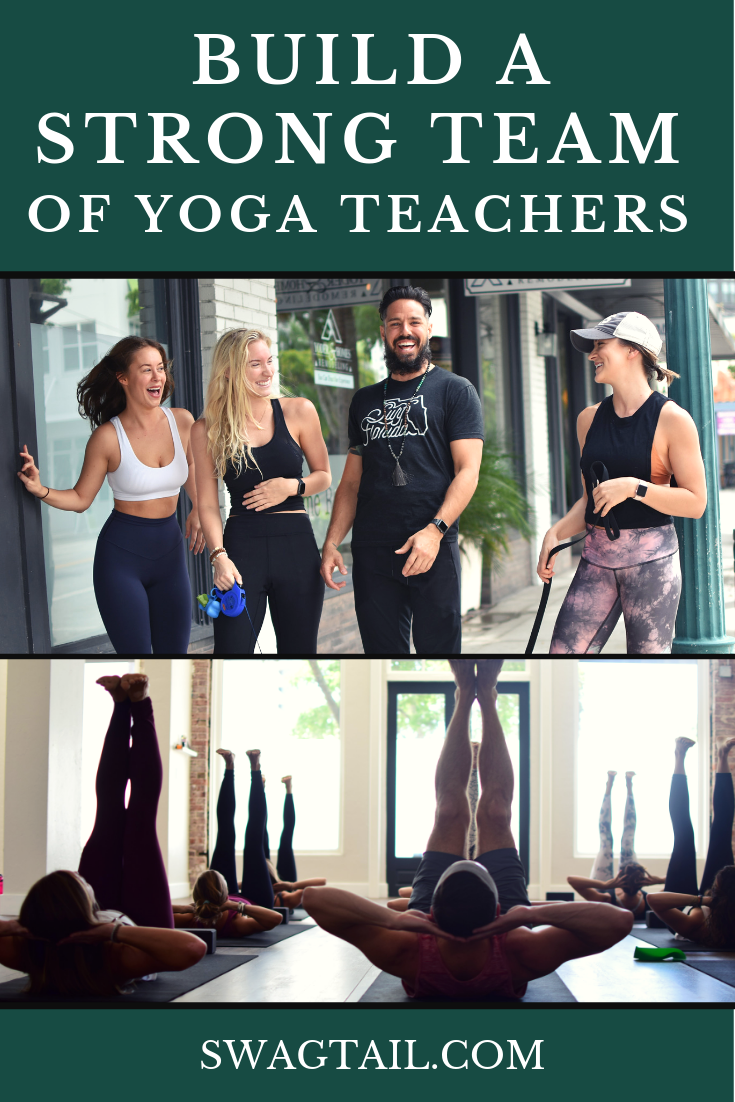 Do you want to have a team of vibrant teachers at your studio? Are you ready to be part of a yoga business that inspires the community on a daily basis? Can you see yourself as a strong, capable leader–whether you're guiding a team or part of one? Owners of The Yoga Shack in Sarasota Florida demonstrate the incredible growth that can happen in your yoga business when you build a strong team of teachers. This article reveals how you can follow their lead into greater levels of success.
Recently, I had the pleasure of sitting down with Courtenay Smith and Nikka Colorado at their downtown studio. When you walk into their newest space, you immediately feel like you've arrived home. The natural wood, clean lines, and bright sunlight welcome you into the foyer. A wall garden of succulents connect you with nature, even though you're indoors. And, the large yoga room gets you excited to step on to your mat and sweat your heart out!
The intentional design of the studio mirrors the deliberate actions taken by these two ladies on a daily basis to grow The Yoga Shack. Courtney and Nikka are dynamic, authentic, and personable. They're also two powerhouse spirits housed in limber bodies with forward-thinking minds.
They talk about their team like family, and they understand that true leadership requires a high level of personal integrity. Their business has exploded from a one-room shack to a three-studio success in just five years. Here are the relational elements that made this growth possible.
Photo Credits: The Yoga Shack
(1) TEAM UP WITH A LIKE-MINDED PARTNER
When The Yoga Shack first opened its doors in 2012, Courtenay was partners with Alli Kosky. The spark they had together doubled the studio size in a short amount of time. But then Alli had a personal calling to move out to California and Courtenay bought her out (a process that can actually go smoothly with integrity and trust).
Then after a [insert time frame] of managing a team of ten alone, Courtney met Nikka Colorado.
"Nikka and I became hard and fast best friends. It was like a match made in the Universe. It was meant to be, so I asked Nikka if she wanted to be my business partner." -Courtenay
Nikka was on the same trajectory as Courtenay–both were certified the same year, started teaching immediately, and knew they wanted to own a yoga studio. They not only shared the same goals in the past, but their go-getter personalities keep them moving forward today. Courtenay and Nikka are intuitive, focused, and willing to do the work necessary to keep the business on track.
"Having a partnership is the best thing that happened to me because I get to work with a second person who is just as motivated to run this business, and it takes the weight off of doing everything alone." -Courtenay
Plus, a partnership is a great way to have a sounding board for ideas. You also have support when things happen beyond your control.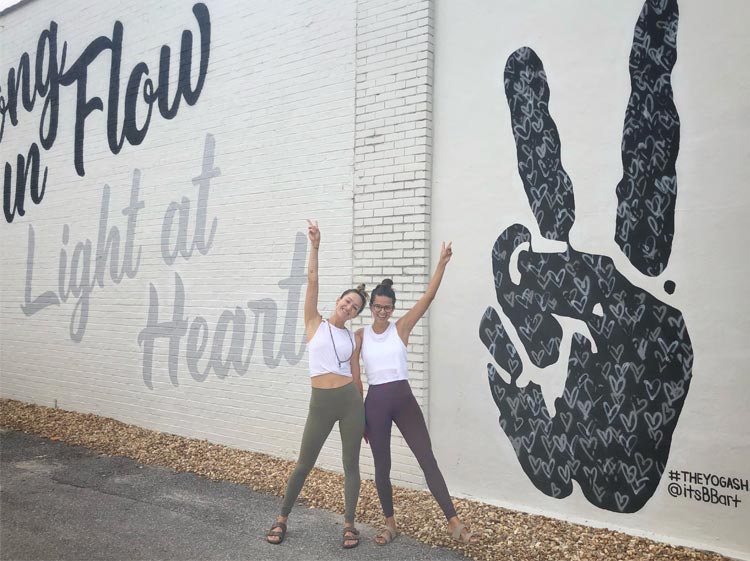 (2) SET GOALS FOR THE YEAR (AND SHARE THEM WITH YOUR TEAM)
There are several components to running a successful yoga business. One of which is having a clear vision for the future. This involves breaking down that idea into smaller, attainable steps along the way. These are goals you set, and they allow you to:
Provide structure and organization to your business
Define the expectations of your journey
Stay on track with your dreams
Remain focused and flexible as events unfold
"For many years we focused on outward expansion. Now this year, we are focusing on inward growth and fine-tuning the details of our business." -Courtenay
Most importantly, shared goals can increase efficiency and harmony within a team. The Yoga Shack continues to be a model for growth because they not only set business goals, but they communicate them with their staff on a regular basis.
(3) MEET WITH YOUR TEAM OFTEN
Once you have a vision for your company, and specific goals to help you stay on track, it's essential to share that message with your team. The key is to not just do this once, but to do it over and over and over again. To build a strong team, The Yoga Shack owners check in with their teachers all the time.
"We individually meet with our teachers on a monthly basis. We'll go on a coffee date. Or, we'll drop-in to one of their classes and then chat with them afterward." -Courtenay
This open line of communication extends to quarterly meetings with the entire staff. This individual and group collaboration increases the success of not only each teacher, but also the studio as a whole.
Are you communicating clearly?
If you work with a team of teachers, ask yourself the following questions:
Why does your company exist?
What goals do you have for the upcoming quarter? Year?
How will your team succeed in reaching these goals?
What steps are most important right now for my team?
How often do I communicate with my team? (individually and collectively)?
How often do we hold staff meetings?
In what ways could I increase and/or improve my communication with them?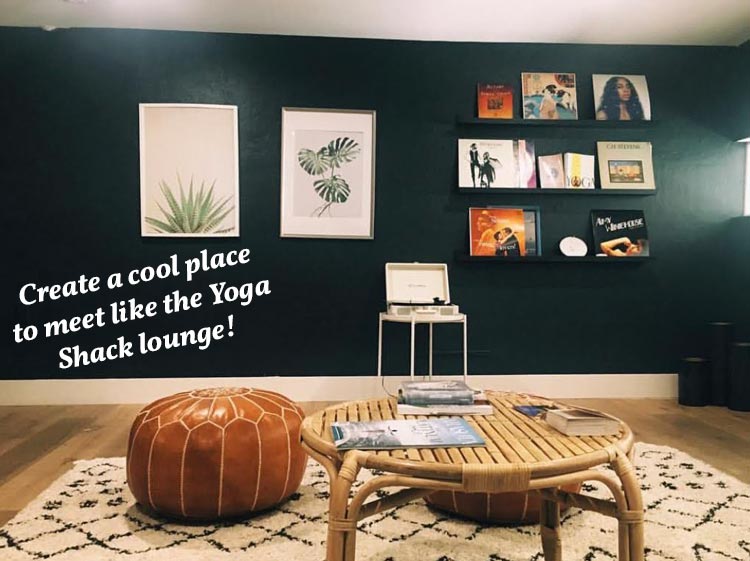 (4) TREAT YOUR TEAM AS EQUALS
Communication from the top down, from owners to managers to teachers, is the most common flow of information within a yoga business. In fact, this is necessary if you're going to share–and reach–the goals of your company.
When you treat your team as equals, you invite an upward flow of communication as well. It involves asking questions of your team and listening to their needs.
"If someone is getting lots of subs, then we want to know what's really going on in their lives to cause the issue. We ask about deeper rooted issues, instead of canceling their classes or blaming them right away." -Courtenay
Both Courtenay and Nikka make sure that their team feels valued. They demonstrate compassion when teachers are having a tough time, and they work to create a solution that will benefit all involved.
As a leader, you want to balance compassion with responsibility. That's why specific systems within a yoga business need to be put into place. Each member of the team can then understand the rules of engagement and ensure they are on a level playing field with others.
Ask yourself:
How does my team know they are valued by me?
In what ways am I demonstrating compassion?
What rules and systems are in place to ensure there is no favoritism in the group?
In what ways can I improve my listening skills and hear the needs of my team?
(5) SET THE BAR WITH YOUR OWN EXAMPLE
It can be tempting to fall into the trap of believing that leaders are always meant to be charismatic, wise, and graceful. In fact, yoga studio owners and teachers are all human. They have successes and failures. But what makes a great leader is their ability to:
Do what is right
Complete thankless jobs
Control their emotions, and
Live by their own example
As Courtenay said, "We let the team know we are working on the same issues ourselves. And we're in self-reflection all the time."
This is the principle of Svadhyaya, an element of self-care that is outlined in the 8 limbs of yoga by Patanjali. It's the act of looking at yourself honestly and objectively. Celebrate your strengths. Learn from your weaknesses. By understanding all aspects of yourself through self-study, you have the power to convert unsupportive thoughts and behaviors into supportive ones. And, you can tap into the true, infinite nature of your being.
As you make choices from this level of consciousness, your inner light shines more brightly. And your team will respect you more as an authentic and integrous leader.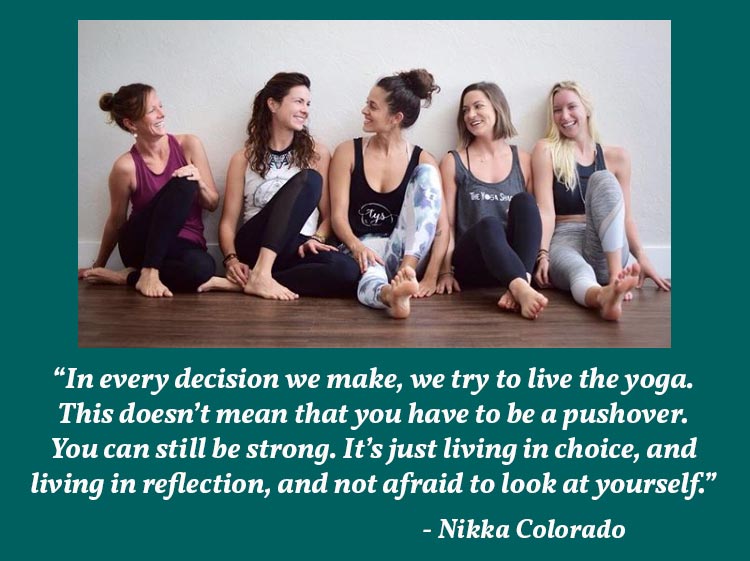 (6) ALLOW FOR TEACHER INDIVIDUALITY
The Yoga Shack team is very similar to any other group in that it's comprised of individuals with unique talents and interests. In fact, teacher individuality is what can add great strength to a yoga business.
But many times studio owners will squash this potential by creating too many rules. They will provide too much feedback and seem to critical of its teachers.
"I want other people to love what they do and wake up everyday with excitement." -Courtenay
To prevent losing quality teachers and micro-managing your staff, Courtenay and Nikka suggest the following route:
Audition your teachers first to make sure they are a good fit for your studio
Give teachers a month or so to teach without critique. This will allow them to get their feet wet and wiggle out any unanticipated nerves when teaching.
Get to know your teachers on a personal level. You can then adapt your leadership to their personality style.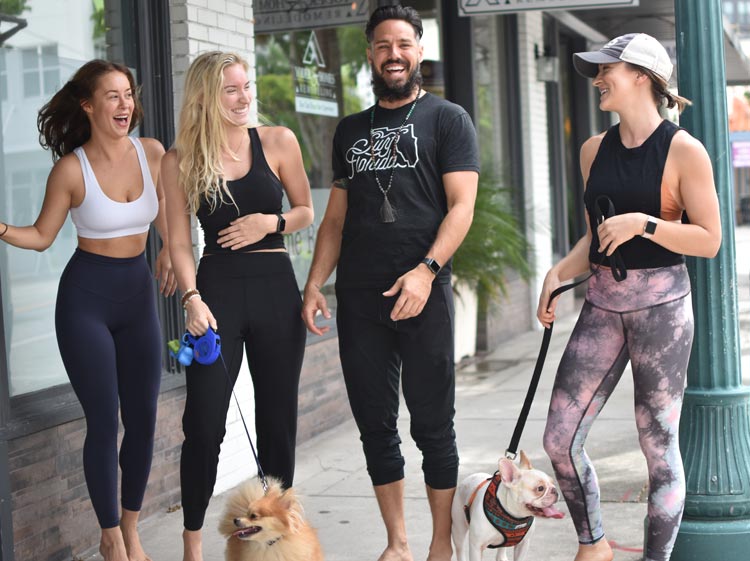 SERVE YOUR BROADER COMMUNITY, TOO
When you take the time to build a strong team of yoga teachers, you set each member of the group up for success. This also means that the students benefit from the aligned message the group portrays.
But how do you add new yogis to your community? How do you continue to introduce yoga to others in your area to keep your class sizes and private lessons fully booked? The key is to invest time and energy into community events.
"When we had our little shack, we offered Shanti flows, which were donation-based classes open to the community. At first, money went back into growing the business. Then it evolved into coordinating free classes with local charities. We've worked with the Humane society and local breast cancer awareness group. And people are continually knocking on our door to work together." -Courtenay
Not only are these opportunities to market our services, but they are a way to spread the uplifting message of yoga. You might need to contact others at first to create these events. But then the momentum builds and your community will reach out to you for collaborations.
Listen twice as much as you speak
Here at Swagtail, we're huge fans of clear communication. And that involves the art of listening as well as speaking with clarity. While you might want to share the message of yoga at all times, it's important to be present as a motivating force in your community, too.
Courtenay recommends that you show up to cheer for others at running races. Be visible at farmers market. Go work out at other gyms–in fact, she's a regular at Orange Theory herself.
When you show up where others are, you gain credibility in your area. Plus you get to meet other business owners and develop friendships with all sorts of interesting people in your community.
PUTTING IT TOGETHER
Building a strong team of yoga teachers requires numerous leadership traits. This includes the ability to create a goal and communicate that vision with your staff. It also involves listening to the needs of each individual, supporting them in a compassionate way, and making team decisions from a balanced perspective. Both Courtenay Smith and Nikka Colorado, owners of the The Yoga Shack in Sarasota, do this well. Plus, they continually work on personal growth so they can be walking examples for their community.
If you're ever in South Florida, I highly recommend you visit any one of their fantastic locations! For their passion, commitment and a level of excellence inspires both staff and students alike!
**Again, I thank both Courtenay and Nikka for generously sharing their time and wisdom. It was a pleasure to sit down with you both and I know your success will continue well into the future! Namaste!