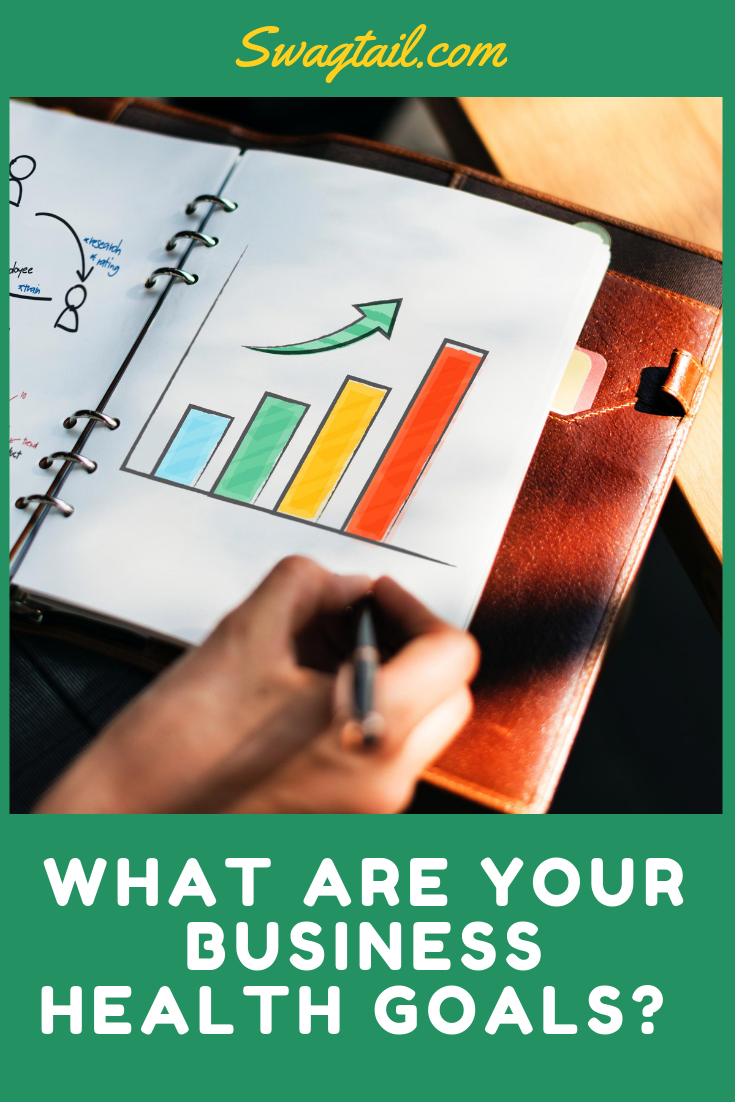 A successful yoga business is both smart and healthy. Most professionals make the mistake of focusing solely on the first element, which involves strategies, marketing, and technology. Yet the health of a company forms the foundation on which those tactics rest. Health involves increasing productivity, morale, clarity of purpose, and cohesive teamwork. So, instead of just working smarter this year, what business health goals have you set to increase your success?
This year began for me on an unexpected foot–I got sick. Like you, I go to great lengths to take care of my physical health. I practice yoga regularly. I eat well and rest often. And, I definitely manage my stress levels through meditation and other awareness-based practices.
But, alas, I'm human after all and found myself missing a week of work due to flu-like symptoms. My energy was low and my focus was non-existent. Productivity decreased and I had to put a few big projects on hold.
Just as a body requires good health to be vibrant, so does your yoga business. Thankfully, I have the flexibility to adjust to these delays. And your yoga business could suffer minor setbacks in poor health temporarily. But, to prevent the loss of customers and profit, it's not a path to take for the long run.
Thus, we suggest you seriously consider creating some business health goals for this year. Whether you're an independent contractor or you manage a team of people, the items below can help you build and sustain a healthy company now and for years to come. So, let's get started!
Photo Credit: Raw Pixel
A CLOSER LOOK AT BUSINESS HEALTH
Health is the greatest indicator of success for your yoga business. It can have a broader reach than your talent, your knowledge, and your creativity. Your health not only affects those attributes, but it's the way in which those elements get integrated for long-term success.
Patrick Lencioni, author of The Advantage, clearly defines which aspects of business belong to the brains of a company and which are controlled by health.
Smart = strategy, marketing, finance, technology
Healthy = minimal politics, minimal confusion, high morale, high productivity, low turnover
Yoga is a holistic practice, and running a yoga business is really no different. You want to be both smart and healthy. The smart aspect is easy to track. You can look at analytics, class numbers, and your Profit and Loss statements. Yet despite being a bit more challenging to measure, the health of your company can have a greater impact on your success over time.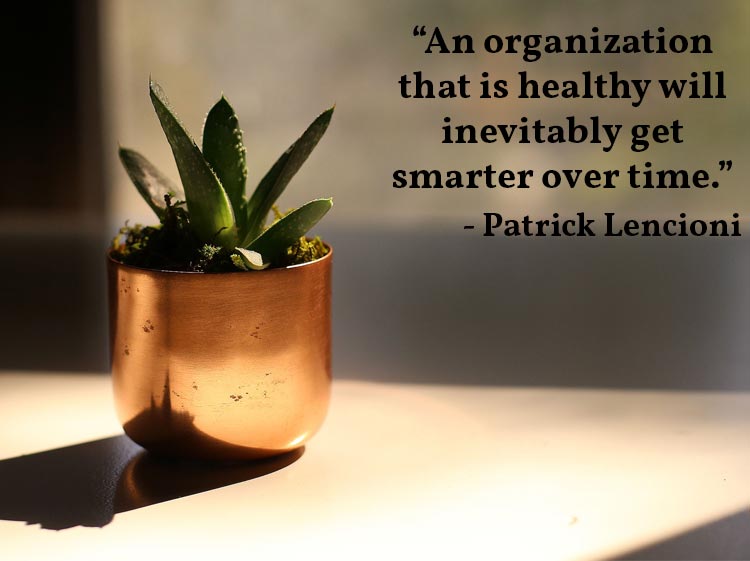 Photo Credit: Jarrod Reed
FOUR PRACTICES TO BUILD BUSINESS HEALTH
Lencioni also outlines four basic practices in his book that contribute to a healthy business. These include a:
Cohesive leadership team
Clear message
Repetition of the clear message, and
Reinforcement of the clear message
The first of these four categories involves the development of leadership traits. This is especially important if you are working with others. Yet if you're a soloprenuer, you can still develop health in this area with a clear message and purpose (as we'll discuss below). Then, three out of the four ingredients for success require clear communication. The skills in this realm will serve you well when working with a team, leading a class, or speaking to potential and current clients.
(1) CREATE COHESION AS A LEADER
As mentioned above, leadership habits can benefit those directly working with a group of people as well as those operating alone. Let's take a look at how leadership would apply to both situations.
But first, let's create a working definition of a leadership team. Lencioni describes this as "a small group of people who are collectively responsible for achieving a common objective for their organization."
If you're a studio owner, you might work with managers, staff, and other teachers to keep your yoga business running smoothly. Within that larger group, you could have a few members that make up your specific leadership team. Or, given the definition above, you might consider your entire team of teachers to be part of that group in your business.
If you have business health goals to increase the cohesion of your leadership team, you'll want to have the following in place:
A clear company vision that is understood by all. This means the entire team knows why you exist, what you stand for, and how you serve your community.
Direct methods to communicate with your team. As the next three elements reveal, an open line of communication keeps your team on the same page.
Ways for the team to ask questions. Leaders ask questions, and then really listen to what others have to say.
Communal support systems. Leaders create an environment in which all people feel they can be honest, overcome challenges, and reach their individual goals while helping the group succeed too.

Are you an independent contractor?
If you're an independent contractor working within the framework of a studio or wellness center, you will quickly understand whether or not the organization has a harmonious leadership team by looking at the above list. You can add value to your position by helping increase the business health where you work.
Perhaps you have similar goals when working with your clients. You want students to understand your vision. Communication happens clearly and directly to keep clients in the loop. And, you ask questions of your community to continually seek improvement.
If you're not doing all of these things to improve your leadership traits, you now have a place from which to create new business health goals this year.
(2) FORM A CLEAR MESSAGE
Alignment of the body in yoga is used to prevent injury, and alignment in your yoga business–via a clear message–prevents confusion and disorder. To generate a concise understanding of your business, ask yourself the following questions:
Why do we exist?
This involves the value you bring to your clients and customers. What benefits do you offer? How will the lives of others be changed by working with you? This could mean a healthier body, a community to call home, pride in an enlightened practice, serving the community more effectively, or help people appreciate their true power.
How do we behave?
Essentially this question boils down to the values you hold at the core of your yoga business. For, it's your values that attract the right customer, and your values that determine your actions. Pick just two or three core values, so that your purpose is clear.
For example, if truth is an ethical principle by which you abide, you could have all teachers agree to only teach what they know. Or if presence is a high priority, you could encourage teachers to arrive 20 minutes early to be focused prior to their classes. The possibilities are endless.
What do we do?
Don't overthink this question. What are the basic activities of your yoga business? Forget about the outcomes here… just think about the products and/or services you provide.
How will we succeed?
This question revolves around the strategies you employ to get the job done well. Essentially, it's the decisions you make–day in and day out–to help your yoga business grow. While your core values may change little over the course of your career, your strategies might need to be adjusted often to accommodate a changing market. Be okay with that, and keep an eye out for what's working and what's not. This will help you modify your strategy as needed.
What is most important right now?
Think about the ONE thing that is at the top of your priority list in your business. What needs to be accomplished in the next 3-6 months to keep you growing? Start with a broad picture of what you want to achieve, then break that goal down into the steps needed to be taken to get there. That will help you decide answers to the next question.
Who must do what?
To reach your goals, it is beneficial to know how the responsibilities will be assigned. What will you–as a studio owner–do to make the shifts? What will be the jobs of your managers? Administrative support? Front desk volunteers? Go down the list so that everyone knows their place on the team. This information can be shared via a monthly staff meeting.
If you're a one-person show, then you might still be responsible for the priority goal you selected in the question above. However, now that you have a clear picture of what is needed to get there, you can schedule your time and manage your energy far more efficiently.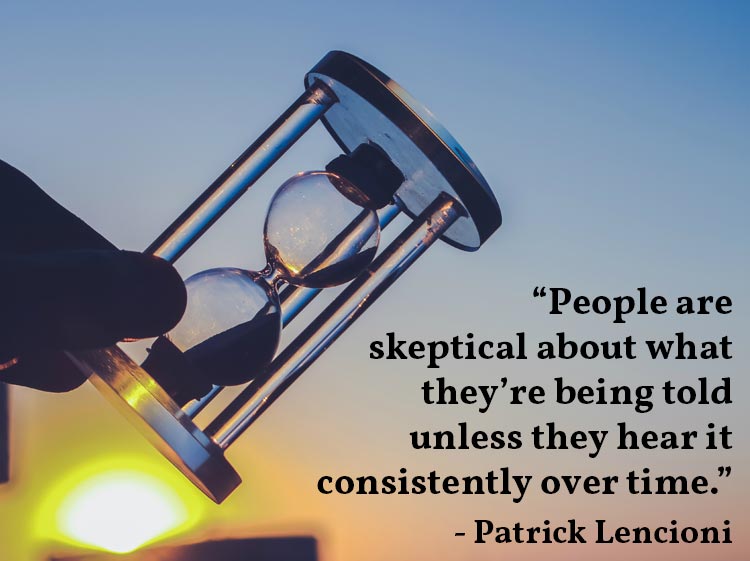 (3) OVERCOMMUNICATE CLARITY
The above message you created for your yoga business is both a logical and emotional one. Many people fail to communicate their message with other team members, or even their clients, because they get bored saying the same thing over and over again.
But, repeating your message is more than just sounding like a trained parrot. It's that you take the time to communicate your message via different sources, through various channels, and using different tools.
You could:
Email your community about positive transformations in your classes
Add unique posts to your social media outlets
Send out weekly staff emails (short) that share an uplifting studio story
Write a post-staff meeting email to reinforce the main points covered
Send an email after working with a client to confirm their progress and their goal
Essentially, use discipline and persistence to keep you and your team on the same page. If you work alone, these principles can be implemented to update your community. In any case, a cohesive message said over and over again adds credibility and value to your yoga business.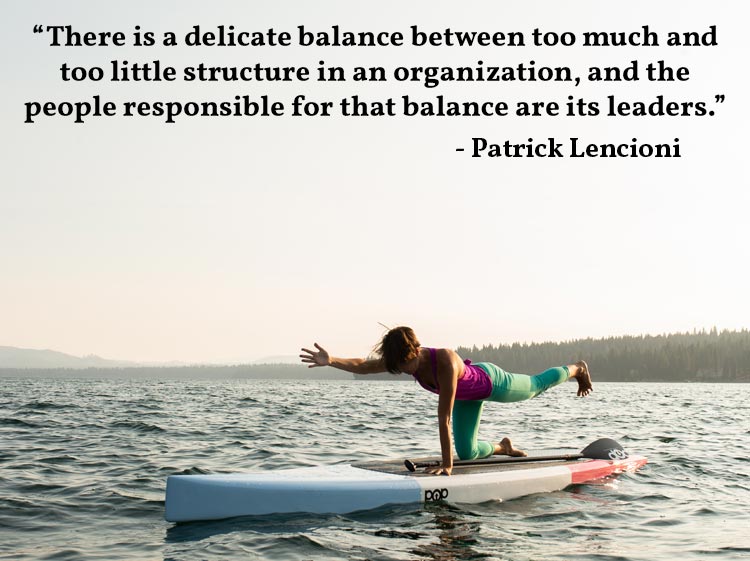 Photo Credit: Diane Nicole Photography
(4) REINFORCE CLARITY
You want yourself and your team to succeed. The best way to help everyone do this is to give them a clear direction, regular information about how they're doing, and access to a coach for improvement. Said another way, there are lots and lots of opportunities to reinforce clear communication. This can be done when you:
Get to know your ideal clients
Keep structure in place to highlight core values with your team
Invite staff and clients to give feedback about staff performance
PUTTING IT TOGETHER
Poor health in the body means reduced energy, productivity, and focus. These same negative side effects are also seen in unhealthy yoga businesses. It also involves wasted resources, loss of customers, and financial hits. In order to prevent confusion and low performance, create business health goals right now! The four components above work just as well for independent contractors and large studios alike. So what are you waiting for?