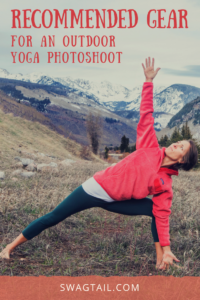 When planning for an outdoor yoga photo shoot, having the right gear can make or break your experience. If you get cold or your outfit gets dirty or if the outfit colors you brought don't pop in the environment can drastically minimize the impact of your photos (as well as create a less-than-optimal experience during the session). With this recommended gear list, however, you can make sure those things don't happen to you.
When I traveled through Nashville this spring, the temperatures dropped just before our arrival. In order to capture the best light, I had to brave a low thirty-degree morning (instead of the predicted fifty). This cold front followed us to Vail, CO, where snow fell the day before my shoot in the mountains.
I had focused so much on the logistics behind each photo shoot that I had overlooked some great ways to take care of myself the day of, and in both cases, I added more essentials to my gear list. All of the gear I recommend below has been used and tested via my own experiences, Here's what I suggest you pack when you head outside to get some great yoga photos yourself:
OUTDOOR YOGA PHOTO SHOOT GEAR LIST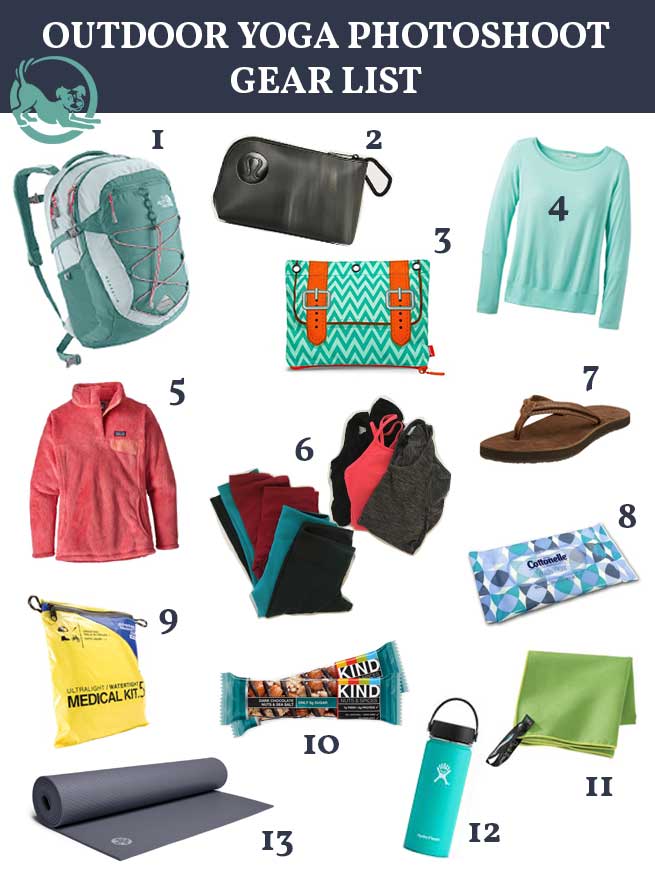 (1) THE NORTH FACE BOREALIS DAYPACK
During the first few outdoor yoga photo shoots, I carried an over the shoulder bag for much of the same gear I list here. However, it was awkward to carry and challenging to keep organized when moving from location to location. Thus, I turned to The North Face Borealis Day Pack for a light-weight and stylish solution. With a rainbow of colors to choose from, this pack weighs only 2 pounds and has numerous pockets for organizing your things. This even includes a small, fleece-lined pocket on the top for your cell phone, which provides easy access when looking at inspirational photos for your session. As a side note: There is a male version of this pack for you yoga dudes out there, or those females with a longer torso.
(2) LULULEMON OFF THE MAT POUCH
This pouch is a great way to stash smaller items that you want to utilize throughout your photo shoot. This includes, but is not limited to:
Lip gloss  ·  Hairbrush  ·  Makeup  ·  Sunblock  ·  Shout stick  ·  Lotion  ·   Hair ties  ·  Other…
The best part is that there is a carabiner on one side so you can clip it to the outside of your pack, and hold it in place with the pack's external bungee cord.
(3) ZIPIT IMPACT 3-RING PENCIL CASE
My husband often teases me that my favorite purchases are baskets, bins, and organizing accessories. What can I say? I like efficiency! The Zipit Impact 3-Ring Pencil Case not only has a funky, fun style, but it serves an added purpose of holding more business-related items like your checkbook, wallet, and other bookkeeping materials. It's true that I really carry a 3-ring binder in my pack when taking photos outdoors. The binder serves to hold any photographer paperwork, photo shoot logistics, or even printed images that I want to show the photographer regarding yoga poses or inspirational ideas.
(4) LIGHT LAYER
If you've spent any time in nature, you know that the weather can change in a matter of minutes. A light layer, such as Prana's Synergy Top can provide a bit of warmth in between photos, or it's a fashionable way capture a different mood in your photos. The material is also extremely soft. It's a piece I used during my outdoor yoga photo shoot in Vail, but it's one I wear to and from the studio (as well as even a recent trip to Disneyland).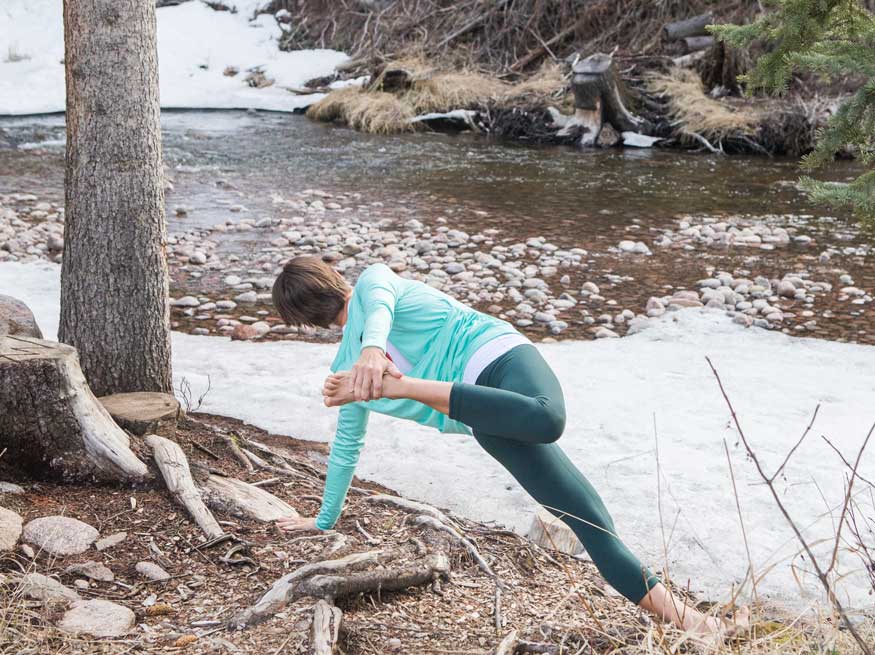 Photo Credit: White Starfish Photography
(5) HEAVY LAYER
In order to capture the best light, many photo shoots take place early in the morning, just after sunrise, or during the golden hour before sunset. These transitional times of day are prone to more drastic changes in temperature. That's why having a heavy layer, such as Patagonia's Re-Tool Snap-T Fleece Pullover, is a stellar choice to pack. In fact, I purchased this top while in Vail. It kept me warm in the chilly evening air and provided an excellent color contrast to the mountain backdrop. Plus, Patagonia is a company of integrity. Their founder wrote a book entitled, Let My People Go Surfing, which reveals their code of ethics and unusual business principles that have helped them build a lasting, service-based company.
(6) EXTRA LEGGINGS + TOPS
Does anyone else tend to overpack when going on vacation? I think preparing for an outdoor yoga photo shoot can be a similar experience. Yet, having options on site can greatly influence the success of your session. Research your location beforehand, so you can gauge the colors in the environment. Then, select a few different leggings and tops that will fit both the setting and the desired effect of your final photos. I usually bring 3 extra leggings, as well as 3 extra tops. This way I can mix and match when outside. Your photographer will probably have an opinion as well, so any options you bring can add more creative flair to your photos.
(7) REEF SWING 2 SANDALS
I'm a surfer girl at heart, which is probably why I like Patagonia's company outlook and this classic pair of Reef Swing 2 Sandals. They're lightweight (about 4 ounces), comfortable, and easy to carry in your pack. Plus, you can easily toss them to your photographer should you need to remove them just before snapping a photo. I advocate for the darker brown option, as the lighter version tends to show foot sweat and dirt more rapidly.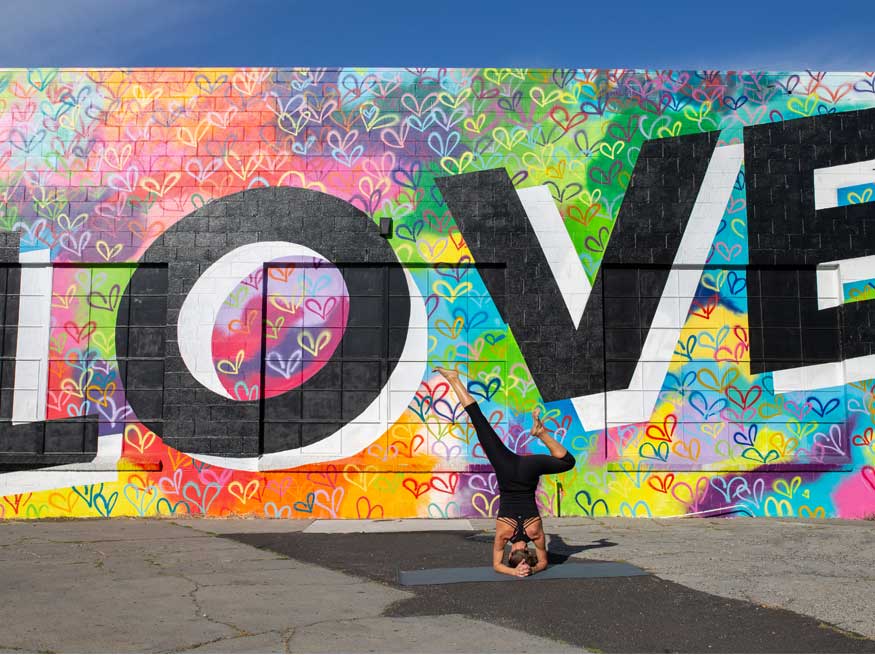 Photo Credit: Diane Nicole Photography
(8) WIPES
Yoga involves being on your hands and feet, and outdoor surfaces are notoriously dirty. That's why I use wipes to stay as clean as possible during the session. It's true that photographers can remove blemishes in the editing process. But, why make them work any harder? Or why chance getting your clothes dirty if you want to keep using them for more photos? I choose Cottonelle wipes because they are light in fragrance and conveniently seal to maintain their freshness. If you have any all-natural suggestions, I'd be open to trying something new. Please leave a comment below if you have a recommendation.
(9) ULTRALIGHT MEDICAL KIT
If you haven't gathered this about me already, I do like to be prepared. While I've never had to actually use anything in this Ultralight Medical Kit during a photo shoot, I keep this in my pack just in case. For example, I was recently taking photos in an urban parking lot next to a really sweet and colorful mural. Unfortunately, it was a well-trafficked lot and there was lots of glass on the asphalt. I wore my sandals as much as I could, but sometimes it was just easier to move from spot to spot with bare feet. If you keep a medical kit in your pack, you will be able to address any minor wounds should they surface. And, you could always just keep it in your car and grab it when needed.
(10) SNACKS
I notoriously eat throughout the day. Whether at my computer or on-the-go, I've got snacks with me at all times to ward off hunger. Since an outdoor yoga photo shoot involves doing yoga (surprise), eating beforehand is not always a great option. The time lapsed since eating can be even longer on the day of a shoot if you have completed a full personal practice to warm up for the photos beforehand. The solution? Keep a KIND bar (my favorite is the double dark chocolate nut) or a Justin's nut butter pouch (the chocolate hazelnut is delicious) in your bag. These are two options I use when traveling. Yet, if you're close to home, you might want to whip up some Oh She Glow's Feel Good Hearty Granola Bars. Even if you don't eat them during the session, you'll have an immediate post-shoot snack to tide you over until a more substantial meal.
(11) A TOWEL
This one may seem like common sense, but a towel serves many purposes. It can also be used to wipe hands and feet, as well as provide a clean spot for those sitting bones in seated postures. For a long time, I simply grabbed a beach towel out of my closet. But, I've since opted for a light-weight alternative I can just keep in my backpack and have ready to go. I like the REI co-op multi towel (size large) because it is super absorbent, comes with a small carry pouch, and has a quick attach loop if you want to let it dry outside of your pack.
(12) HYDROFLASK STAINLESS STEEL WATER BOTTLE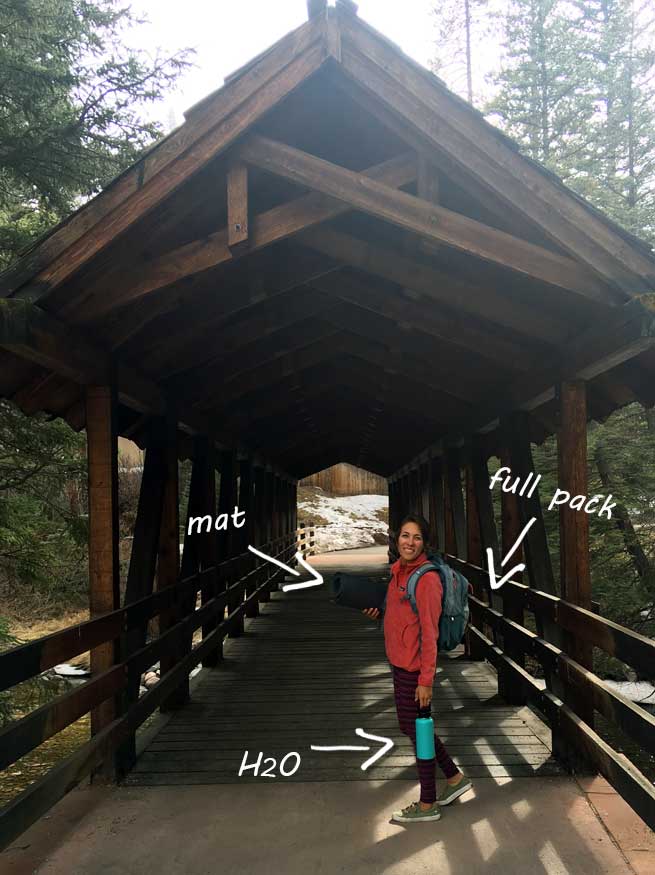 Staying hydrated is a must during your photo session, especially on hot days. A wide-mouth, 32-ounce Hydroflask is definitely my go-to bottle for all conditions. The vacuum-insulated design allows me to keep water really cold, which is great for those humid Florida days. Or, I put hot lemon water in it for those colder shoots. This bottle is also durable enough to make it through any kind of trek needed to get to your photo shoot location, and yet light enough to not be a burden. And, it's made out of non-toxic BPA-free plastics and food-grade stainless steel. Did I also mention the amazing color choices available, too?
(13) MANDUKA PROlite MAT
Depending on the location of your outdoor yoga photo shoot, you may or may not want to have a yoga mat in every photo. In the wild, it can be nice to just have the earth beneath your feet. In a more urban setting, a mat might just be essential to keep you clean and supported. I have the Manduka PROlite mat in thunder gray because it has a high-density cushion and it's lighter in weight than their other mats. Another perk is that the color blends closely with many outdoor surfaces, so the focus of a photo can be kept on the yoga posture instead of the mat itself.
What do you take with you when doing an outdoor yoga photo shoot?
Please tell us in the comments below?
Some of the links in this post are affiliate links. Any purchases you make help to support this blog at no added cost to you. I only recommend products that I stand behind, and if you ever have any questions about any of the products featured on my site, please email me. Thanks!