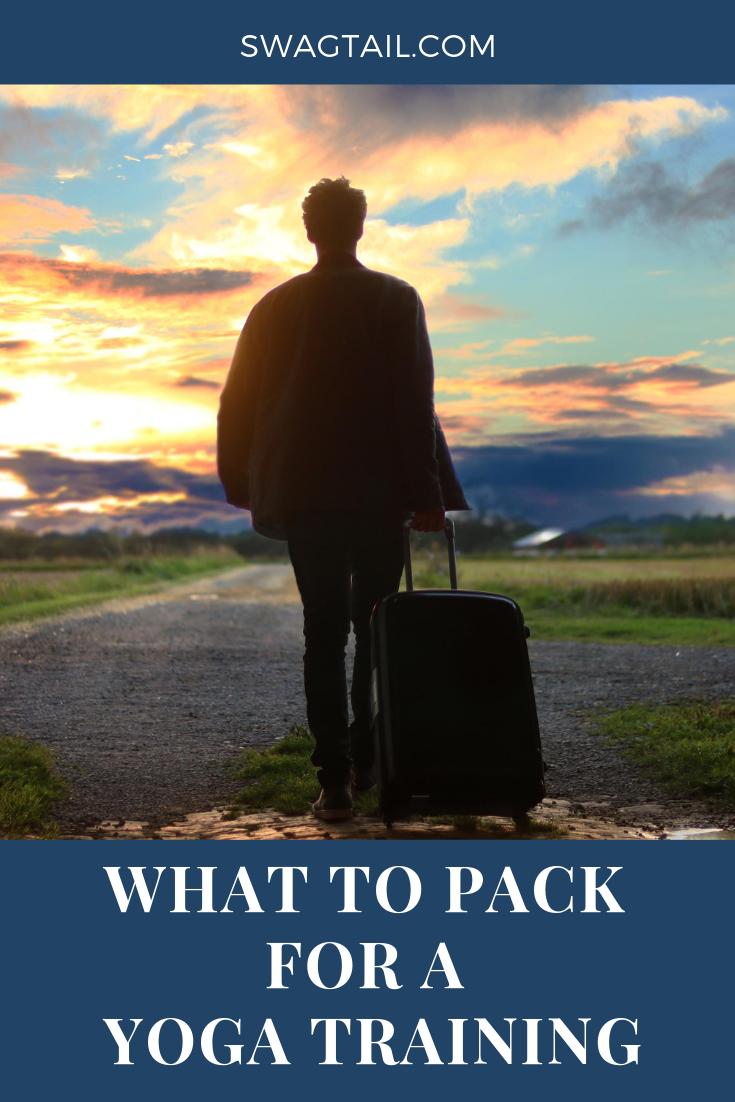 Have you ever arrived at your vacation destination only to find that you forgot your toothbrush or deodorant again? Did the weather shift on you suddenly when away from home and discover that the clothes you packed are no longer relevant? The uncertainty associated with travel can cause undue stress, even if your getaway involves lots of yoga and meditation. To save you time and energy (and an unwanted headache), I created a checklist of what to pack for a yoga training.
As a yoga professional registered with Yoga Alliance, 30 hours of continuing education is required every three years. You can accomplish this via weekend workshops or online courses. My favorite way to do this is through in-depth retreats. In fact, I've been traveling to do this for over a decade now and I've refined exactly what to put in my suitcase.
Photo Credit: Mantas Hesthaven
PACKING LIST GOALS
Here are my highest priorities when I pack for a yoga training:
Save space. I'm tiny and I want to be able to easily tow my items to and from the training.
Travel lightly. Who wants those additional charges for heavy bags?
Be comfortable. There are so many great fabrics that keep you stylish and comfortable when traveling today. My aim is to wear (and pack) these types of garments. Conveniently, yoga clothing is designed to be relaxed-fitting. Since you'll be wearing that for most of the training, comfort is easily built into your wardrobe while learning.
Find ease. You'll find this list might include a few more items of clothing than you would normally think to pack. This is for two reasons. One; yoga clothes are often small and pack neatly in a suitcase. Two; I don't enjoy wasting my holiday hours doing laundry.
Stay healthy. Yoga shifts a lot of energy in the body, and a yoga training routine can be much different than your daily routine. This can be a recipe for fatigue or illness. That's why this list includes a few items that keep your body as vibrant as possible while away.
So, without further ado, here are the top ten items I suggest you pack for your next yoga training.
(1) YOGA MAT
You practice on your own mat at home, and you'll want that familiar real estate when traveling, too. There are so many styles and materials and weights to choose from these days that you might actually own a travel-style mat and a heavier one for daily use.Just make sure that the mat you travel with to your yoga training is one that is familiar to you.
I personally travel with my regular Manduka ProLite mat because it is durable and thick. Since I'll be spending lots of time on the mat during training, I want the extra support. However, you'll have to sacrifice 4.2 pounds of your suitcase weight. For lighter options, Manduka has the eKO Lite mat, which still weighs about 3.5 lbs. They also have the Superlite mat. This is half the weight of the Prolite at 2.2 pounds and conveniently folds neatly in your bag. The tradeoff for space and weight is that it's smaller, though.
(2) LIGHTWEIGHT PACK
Item number two on this list of what to pack for a yoga training is a lightweight bag or tote. Since I like to be practical at times, this bag serves two purposes.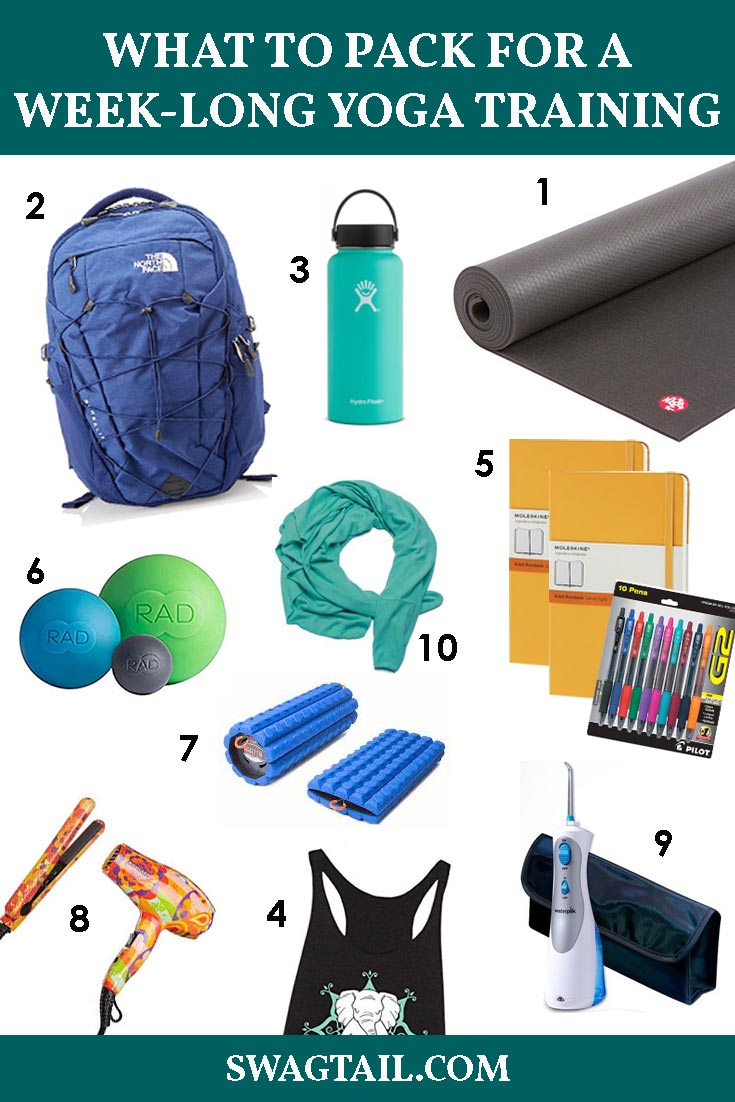 The first is that it can be a carry on bag if you are traveling by airplane. The second is that it can serve as a way to transport all of your daily items you want on hand when attending class at the yoga shala.
Unless you're an octopus, it will be hard to carry your notebooks, pens, water bottle, extra layers, phone, and props to and from your sleeping room to the group classroom.
I've tried many bags over the years. My favorite is the North Face Borealis day pack. I often use this as a way to transport gear during outdoor yoga photo shoots, but it's great in this instance, too. It's got lots of pockets it's comfortable. If you prefer a tote that also holds your bag, I suggest the Lululemon Go-Getter bag. I have it in teal and keep it with me when traveling across the US.
(3) HYDROFLASK WATER BOTTLE
Staying hydrated is a must during your yoga training, especially in hot climates. A wide-mouth, 32-ounce Hydroflask water bottle. is definitely my go-to bottle for all conditions. The vacuum-insulated design allows me to keep the water really cold, which is great for those humid locations. Or, I put hot lemon water in it for those colder, winter ones.
This bottle is also durable enough to make it through any kind of trek needed to get to your training, and yet light enough to not be a burden. And, it's made out of non-toxic BPA-free plastics and food-grade stainless steel. Did I also mention the amazing color choices available, too?
Additional Note: If you want to take hot tea or water into the yoga shala, I highly recommend you also pack the 14 ounce Yeti Rambler. It's also a great addition to any weekend camping getaway or long road trip.
(4) TWO YOGA OUTFITS PER DAY
Your first thought might be that it's ridiculous to have two yoga outfits per day. But hear me out! I mentioned that one of my highest priorities on yoga trainings is to make life easier for myself. Instead of being tied to a laundromat for a few hours, I'd rather explore the terrain or hang out with the cool new people I meet.
So, with yoga outfits per day, you have one for the active, sweaty class that likely takes place in the morning. Then, you have a clean yoga outfit to put on for the rest of the day after your shower.
A more space-savvy technique would be to wear a clean outfit in the afternoon, then recycle that same set for your next morning's class. That way, you might only have to bring 8 or 9 sets for a weeklong training.
Additional Thoughts on Clothing:
Layer up. It's always nice to have some additional, comfy layers to lounge in during the training. This could include soft wraps, cotton hoodys, or even fuzzy socks.
Remember an evening off of the mat. There are times that you might want to explore the city around your yoga training. A cute and iron-free outfit is a must in my book. The Prana Halle pants and Halle skorts work well. I also have dresses by Patagonia, Toad&Co, and Prana that travel well, too.
(5) NOTEBOOK & JOURNAL
A yoga training is different than a yoga retreat. Your main reason for being there is to learn and grow as a yoga professional. Thus it's important to take notes when there. As my husband would say, "It's like trying to drink water through a firehose."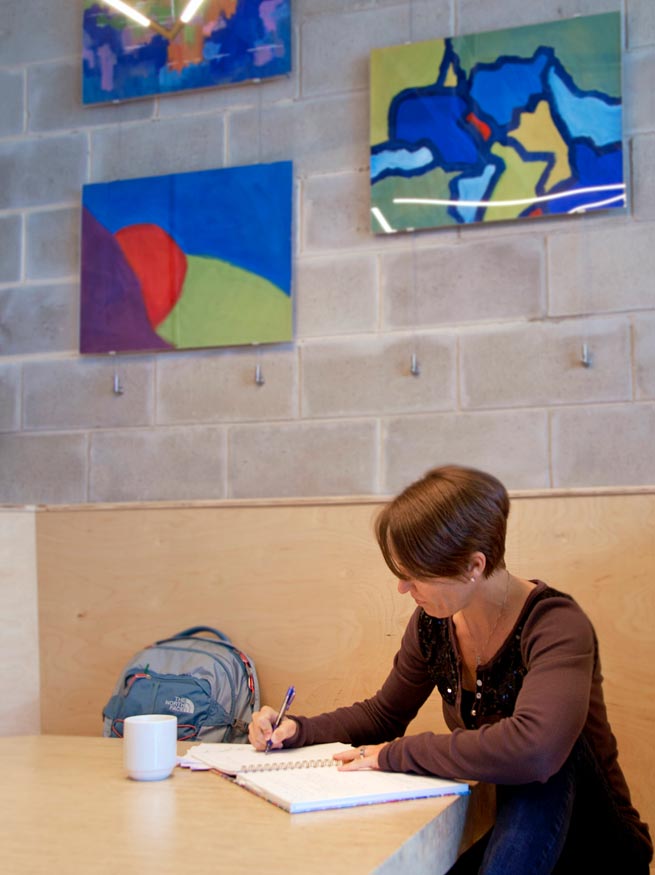 There is so much new information coming at you daily that your brain can't possibly absorb it.
My solution? Bring two separate notebooks.
The first one I bring is a spiral-bound, lined notebook. This is used to take notes during the lectures. I also write down yoga sequences from classes taken during the training, so I can share them with my own students).
The second one I pack is a Moleskine journal to track my own personal insights. I wake up early and make notes about my thoughts. I also write in this journal before bed. Time flies by at a yoga training, and your personal growth is often exponential. A journal can capture this expansion in the moment.
What about pens?
My favorite pens are the Pilot G2 gel roller color packs. Don't forget the highlighters, too. You will likely be given a manual the start of your training and highlighters can be an easy way to mark them up.
Photo Credit: Ember and Earth Photography
(6) TENNIS BALLS OR MYOFASCIAL RELEASE BALLS
Even though a yoga training is full of yoga, it's also full of lots of sitting. This can result in sore muscles and stiff joints. Incorporating myofascial release into your break times (or even when listening to lectures) can be helpful.
The cost-effective solution is to pack a set of tennis balls. I keep two right on my van dash for those long hours on the road. If you want various sizes, I recommend the Rad rounds Myofascial release balls. The best part about either of these solutions is that they are easy to pack and leave your body feeling more energized and free after use!
(7) COLLAPSABLE FOAM ROLLER
The same myofascial benefits that come from using balls also apply to foam rollers. This includes muscle relaxation, tissue lengthening, and restoration of muscular balance (just to name a few).
But who wants to sacrifice the space in your bag as you pack for a yoga training? The Brazyn collapsable foam roller is the perfect solution. Just like the water bottles, they come in some amazing colors, too.
(8) BLOW DRYER AND STRAIGHT IRON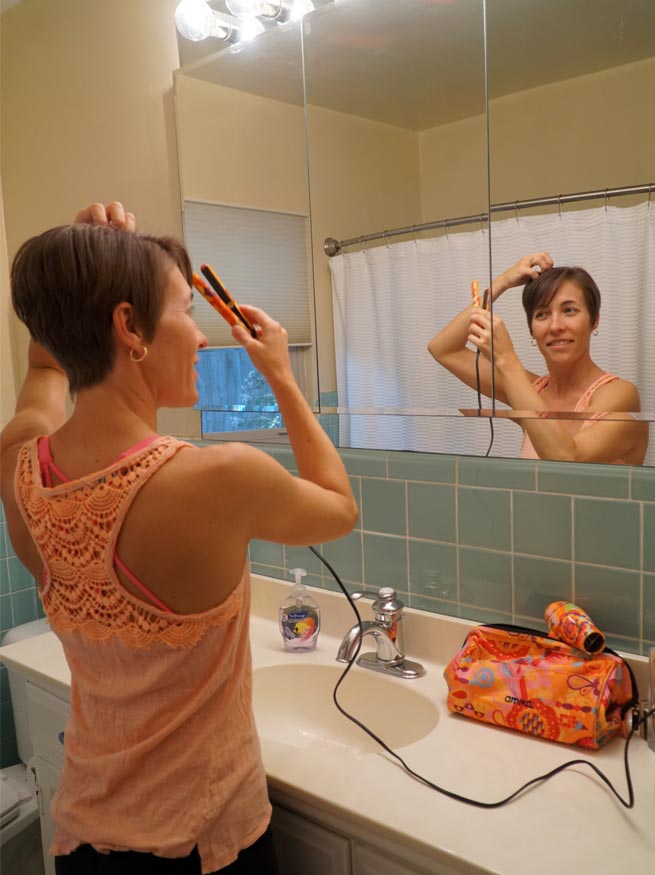 As you already know, I have really short hair. This means that 99% of the time I wake up in the morning with the craziest bedhead ever! A quick wash will tame the beast that resides on my dome. The Amika travel size mini dryer ensures that I don't look like a wet dog when it's time to hit the yoga shala. It's small but mighty powerful.
The best part is that Amika makes a matching mini flat iron. This is perfect for times we want to leave the training site and look our best doing so.
(9) WATER FLOSSER
I find oral hygiene an important part of physical wellness–which is really just one of five components of overall wellbeing. As a child, I was terrified of dentists. In fact, my mom says that the first time I went to one as a four-year-old, I wouldn't even open my mouth.
I've since overcome that fear. In fact, I actually now enjoy getting my teeth cleaned twice a year. AND, it feels great to use the Waterpik water flosser a few times each day. The Waterpik is a high-pressure water system that massages gums, removes deposits of food and plaque in the mouth, and reduces bacteria that could accumulate there. With all of these great benefits, I don't want to skip this daily ritual when I'm at a yoga training.
The travel size water flosser is the way I keep my mouth clean and healthy on the road. If this isn't part of your daily routine already, I highly suggest it! Your mouth and dentist will thank you!
(10) HAPPY LUXE TRAVEL BLANKET/WRAP
With the Happy Luxe Travel Wrap, you don't have to be flying first class to feel luxurious. This piece feels like cashmere, yet is made out of the best eco-friendly material available today. Plus, it can be worn as a wrap, scarf, or travel blanket. When you arrive at the yoga training, it can also serve as a warming layer on cold mornings or during savasana in class.Airports and airplanes can be cold places.
PUTTING IT TOGETHER
Even though you get stoked to learn more about yoga, a week away from the familiarity of your own bed and routine can take a toll on your body and mind. Thus it's essential to pack properly for a week-long yoga training. This sets you up for success from the get-go.
The top ten items above are designed to make your entire travel and training experience easy, efficient, and enjoyable. As always, I suggest you check in with your instructor beforehand to see if they have any recommendations for their specific program.
And, as always, make sure to double check visa and passport requirements when traveling overseas. It would be a huge disappointment if you packed appropriately, but couldn't get on the plane. I knew someone who did this and it was a huge bummer to say the least.
What do you take with you when traveling for a yoga training?
Please tell us in the comments below!