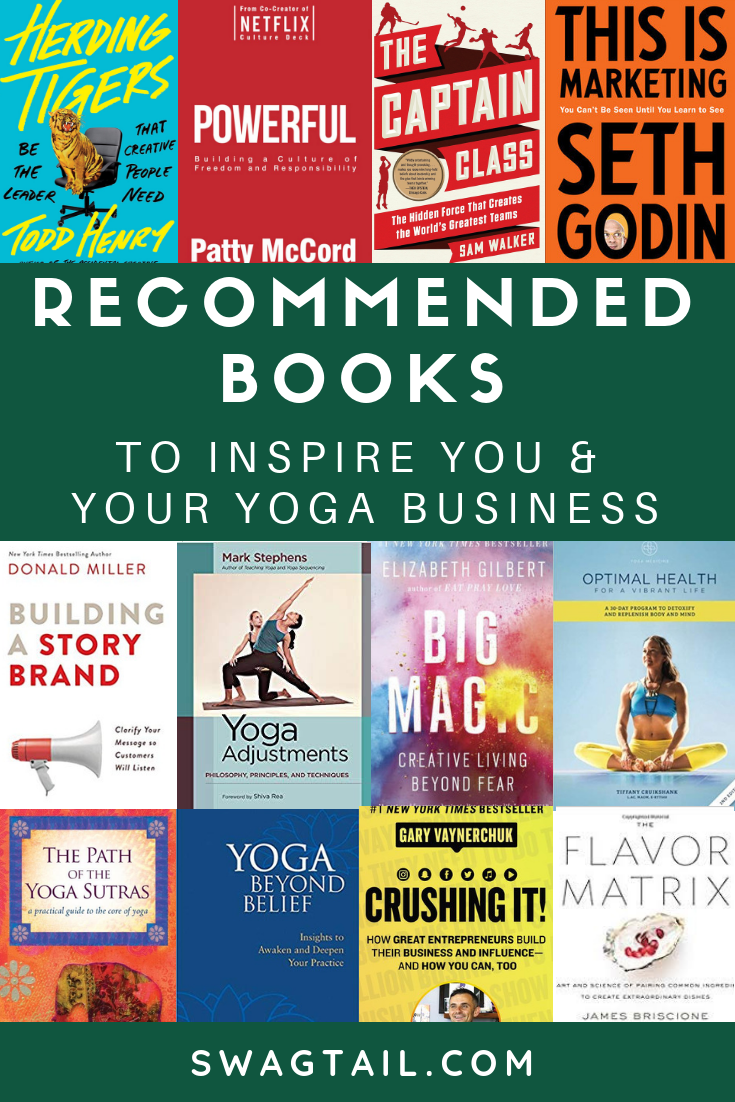 The yoga industry continues to grow daily and you can stay on the leading edge with ongoing learning. This includes the study of yoga-specific topics as well as how to improve the marketing, communication, and efficiency of your yoga business. This post shares our top recommended books from 2018 to help you position yourself for success in 2019 (and beyond)!
Looking back to January of last year, my goal was to read one book per week. Why have this ambition? I wanted to deeply understand the latest trends in business, and bring their application to you in the yoga world.
Much of the insights gained from these books made it into posts this year, such as:
More will also be shared in the weeks and months to come!
If you're ready for personal and professional expansion, I highly recommend any of the books below! Even if you select just ONE this year, you could greatly benefit from the wisdom and experience of these authors. Here's to happy reading and a happy new year!
LEADERSHIP
Overview: As a yoga professional, you want to enhance the health of your students. But what about the health of the companies with whom you work? This books reveals how clarity of purpose and open communication can unify a group. And, the author provides questions each step of the way so that you can implement these powerful tactics with your team, too.
Favorite Quote: "Most organizations exploit only a fraction of the knowledge, experience, and intellectual capital that is available to them. But the healthy ones tap into almost all of it."
POWERFUL, by Patty McCord
Overview: Netflix is an iconic brand today because it upset what the market thought was possible, and created an entirely new way of enjoying entertainment. What is less known about this company are the radical work policies that foster freedom, responsibility, and honesty for each team member! Amazingly, these same principles can help your team–and entire company–succeed, too!
Favorite Quote: "Excellent colleagues, a clear purpose, and well-understood deliverables: that's a powerful combination."
Overview: The skills required to be an excellent yoga teacher differ from those needed to lead a yoga studio or community. Henry outlines how to jump confidently into managing and organizing other talented individuals.
Favorite Quote: "Focus is an act of bravery. In order to say yes to one thing, you must say no to many, many others."
Overview: While yoga professionals often seem to work alone, they're often actually part of a team. In this book, Walker reveals how core qualities of leaders play the biggest role in winning. And, he tells some amazing stories for you sports fans to illustrate his points!
Favorite Quote: "The single most important ingredient after you get the talent is internal leadership."
MARKETING
CRUSH IT, by Gary Vaynerchuk
Overview: The internet has drastically changed the way any business can scale, and Vaynerchuk shows how you can leverage this digital era for sustainable success. The best part is that these simple steps can be followed no matter where you stand a yoga professional
Favorite Quote: "Even if your ambitions are huge, start slow, start small, build gradually, build smart."
Overview: This book dissects the various social media platforms and provides strategies you can use to reach a broader audience. The best part is you can remain true to your principles and authentic voice while doing so.
Favorite Quote: "When it comes to professional opportunities, this is the best time to be alive in the history of humankind."
Overview: People love stories, this book reveals 7 essentials to crafting a narrative that will resonate with your audience. The end result? You can bring more value to your customers can speak their language from the get-go.
Favorite Quote: ??
Overview: The act of selling has often been framed in a slimey, greedy context. Yet Godin's insight will help you re-frame your view of marketing into one where your compassion and care for others can help your business shine.
Favorite Quote: ??
Overview: You have control of how the world views you and your yoga business via the outstanding content you post online. This colorful text shows you how to tell a great story and engage with others in meaningful ways.
Favorite Quote: "When you're self aware, you know your message. When you know you're message, it's easy to keep it consistent in every setting."
YOGA TEACHING TOOLS
You can have all of the best marketing and leadership skills in the world, but if your product (or teaching skill set) is poor, you can never grow to the level you seek. The books in this section provide specific teaching techniques to help you safely and efficiently serve your students on the mat.
Overview: I consider this a must-have textbook for any new yoga teacher interested in working with a healthy population. It spans the historical roots of yoga to its modern-day manifestations. Plus, it covers essential techniques for teaching asana, pranayama, and meditation.
Favorite Quote: ??
Overview: In order to stand out in a growing yoga market, many teachers rely on creative yoga sequences. This manual provides numerous outlines for safe and engaging classes. And, it will give you a firm understanding of why postures get sequenced together in the first place.
Favorite Quote: ??
Overview: Hands-on-assists are a controversial element of teaching yoga due. This text highlights the 7 principles to use when utilizing human contact in class, and how safely implement them in a wide variety of asanas. Even if you decide to opt out of personal touch in class, you can learn better ways to cue your students via the information provided here.
Favorite Quote: ??
Overview: While there are no set professional standards for yoga teachers, this book provides an in-depth view of the ethical , financial, and philosophical aspects of the profession. It will definitely challenge new and seasoned teachers alike to consider nothing less than excellence in their stance.
Favorite Quote: "The end of formal education constitutes the beginning of your work as a yoga teacher. Serious beginning teachers will continue to diligently pursue their studies–with other teachers, in their own personal practice, and through ongoing self-analysis of the efficacy of their teaching methods."
Overview: The title of this book describes exactly what you will learn when you flip beyond the cover. You'll receive step-by-step instructions on how to use postures, breathing techniques, seals, and energetic locks in the physical yoga practice. It also provides beginning and advanced techniques to help you better serve each individual student.
Favorite Quote: "Pranayama is the means by which a yogi tries to realize within his individual body the whole cosmic nature.
YOGA PHILOSOPHY
The books below provide a greater understanding of yoga philosophy. They dive deep into the roots of the practice and provide clarity about why these ideologies are relevant still today.
Overview: Yoga as a culture and practice is evolving daily. White does an excellent job of weaving ancient principles into modern-day living. He also asks insightful questions to help you unearth the core values behind your reason for practicing.
Favorite Quote: "An insatiable appetite and energy for learning and a fresh, inquiring mind are among life's greatest assets."
Overview: Patanjali's eight limbs of yoga are dissected through the ancient Sanskrit language. Each chapter breaks down a Sanskrit term and explains how it integrates into yoga philosophy. Plus, you'll discover how these concepts are still valuable–and applicable–in the 21st century.
Favorite Quote: "Yoga, is by definition, a process of quieting [external] activities in order to be able to look deeply within and connect with that which never moves–our divine inner light of awareness."
Overview: Many of the yogic lineages today, including Iyengar and Ashtanga, stem from Krishnamacharya's viniyoga approach. This book, written by Krishnamacharya's son, outlines the foundations of his teaching. And, it shows tangible ways a person of any age, health, and mental state could benefit from a yoga practice.
Favorite Quote: "Taking an intelligent approach means working toward your goal step by step."
Overview: When you start yoga, you essentially form a new relationship with yourself and the world around you. Chopra outlines the seven stages of love, as well as ways to remove obstacles that stand in the way from loving yourself and others more deeply.
Favorite Quote: "Love is the beginning of the journey, its end, and the journey itself."
PROFESSIONAL DEVELOPMENT
I created this category as a way to capture a few books that I would recommend, but would not necessarily fall under the above categories.
Overview: You have a unique voice, special talents, and unparalleled interests. When you learn to highlight these aspects of yourself in your business, you can amplify your impact. This book also helps you identify your sweet spot for effectiveness, so you can make the most of your time and energy.
Favorite Quote: "When you are pouring yourself into your work and bringing your unique perspective and skills to the table, then you are adding value that only you are capable of contributing."
BIG MAGIC, by Elizabeth Gilbert
Overview: You are a creative being, and Gilbert encourages you to step into your innovative genius. Through heartfelt stories and perceptive questions, you will be guided to uncover the numerous jewels within you already!
Favorite Quote: "Measure your worth by your dedication to your path, not by your successes or failures."
Overview: Everyone can make changes at the level of the body and mind that will lead to lasting, positive results. This book explores the science about the neurochemistry of the brain, as well as a practical approach to embrace the changes you seek.
Favorite Quote: "Since we are wired to create habits, why not make true greatness, compassion, genius, ingenuity, empowerment, love, awareness, generosity, healing, quantum manifestation, and divinity our new habits?"
Overview: Each new stage of life is like a new adventure, and Hyatt provides a practical way to map out steps to reach your goals. This even includes ways to bring your broader dreams into reality.
Favorite Quote: "By reaching for what appears to be impossible, we often actually do the impossible; and even when we don't quite make it, we inevitably wind up doing much better than we would have done."
COOKBOOKS
Yes, it's true that when I order a cookbook, I sit down and read through it just like I would any other book. This gets me familiar with the contents, as well as extremely excited about what to cook for upcoming meals.
Overview: The Hemsley sisters believe that wholesome cooking is essential to happy, healthy living. Each recipe in this book packs a ton of nutrition into easy and tasty dishes!
Favorite Recipe: HMMM
Overview: This book blends art and science into a unique way to pair ingredients. Plus, you'll be delighted by the mind-blowing pictures and recipes that showcase Briscone's simple food formula.
Favorite Recipe: Garlic Honey (easy with cheese and crackers, or over roasted veggies)
Overview: Well, I spent $50 when I visited the bakery in person, and I figured it would be more cost effective over the long run to learn these recipes at home. This book provides step-by-step instructions to make elegant baking accessible to all.
Favorite Recipe: TKOs (these are Oreos for an elevated palate)
Overview: This is my go-to book every January and provides a 4-week cleanse to reset your entire system. Dietary goals, yoga postures, and recipes guide you along this attainable path… and you'll feel fantastic as a result of your focus!
Favorite Recipe: HMMM
FOR FUN
While I really enjoy learning with the time I spend on books, they can also provide a great escape for the imagination. Most of these were enjoyed on audio book while traveling.
PUTTING IT TOGETHER
You have the choice at any given moment to grow, evolve, and become the best version of yourself. This is also true of your yoga business. Why not invest the time and energy to learn some incredible individuals walking the talk? Select one, or many, of the recommended books above to get you started on the right foot for the coming year ahead!