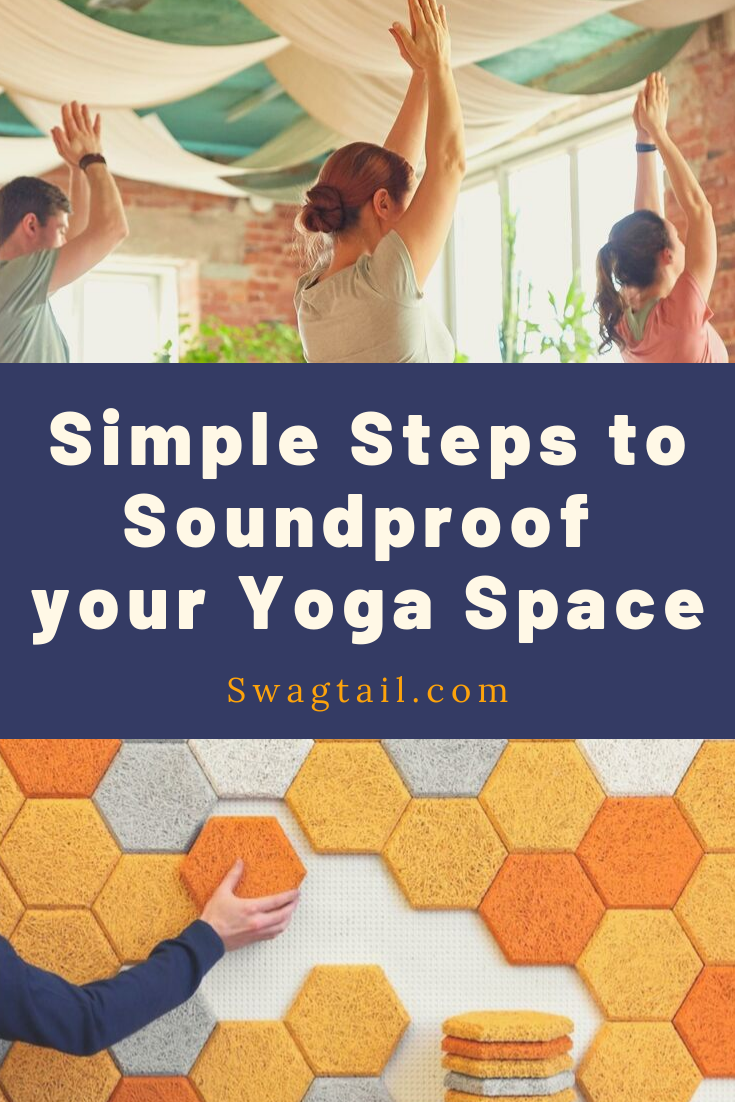 At the end of every yoga class, you lead your students into a peaceful savasana. Yet many times nearby road noise or the loud chatter of other students just outside the studio walls can be very distracting. This can be a frustration for teachers and students alike. You can prevent these problems when you properly soundproof your yoga space. This post shows you how!
On a recent trip up the California coast, I took a class at Yoga Soup in Santa Barbara. The well-appointed retail space impressed me immediately. And the natural sunlight pouring into the yoga studio confirmed I had made the right decision to practice here.
As I unrolled my mat, I couldn't help but notice the sound panels that lined the walls and hung from the ceiling. Many might have overlooked these simple features, as they were painted the same color as the surfaces behind them.
This made me smile. I knew this studio was prepared to manage sound efficiently. Music would resonate well within the room. The teacher's voice could be heard by all in the large space. And, the panels would block out distractions from the constant flow of traffic just outside of the door.
Instead of gushing about the class when I met my husband for breakfast afterward, the first words out of my mouth were about these sound features. I knew he would appreciate this information based on his past career as an interior designer. I picked his brain for other great ideas to soundproof your yoga space–and those great insights are what you find below.
NOISE REDUCTION COEFFICIENT (NRC)
Before we dive into the steps to soundproof your studio, I'd like to explain a little about the science behind sound management. When you build out a yoga studio (or any other space), you want to determine the acoustical rating of that construction.
Said another way, the surfaces within any given room have different acoustical properties. Soft surfaces, like carpet, soft furniture, or fabric absorb more sound waves. Hard surfaces, like wood floors, windows, and concrete or sheetrock walls, reflect them.
Noise Reduction Coefficient (or NRC for short) is the scale used to measure how much sound gets absorbed by any particular surface.
An NRC of 1 means that the product absorbs all sound. So the higher the NRC, the better the product is at soaking up sound. To give you a practical example, carpet on rubber underlay might have an NRC of about 0.4. This means it absorbs 40 percent of the sound hitting it and 60 percent bounces back. A window, on the other hand, might score only about 0.05, which means it reflects 95 percent of the sound hitting it straight back again).
Yoga studios are often empty rooms. And, they are surrounded by hard surfaces on the floors, walls, and ceilings. This means that sound problems are amplified in these spaces, and get even worse when there are high ceilings involved.
The rest of this post will help you pick out the problem areas in your studio. Once you know where to make changes, you can use any number of the ideas below to soundproof your yoga space. In doing so, you will buffer unwanted sounds and make the entire sound experience for your students far more enjoyable.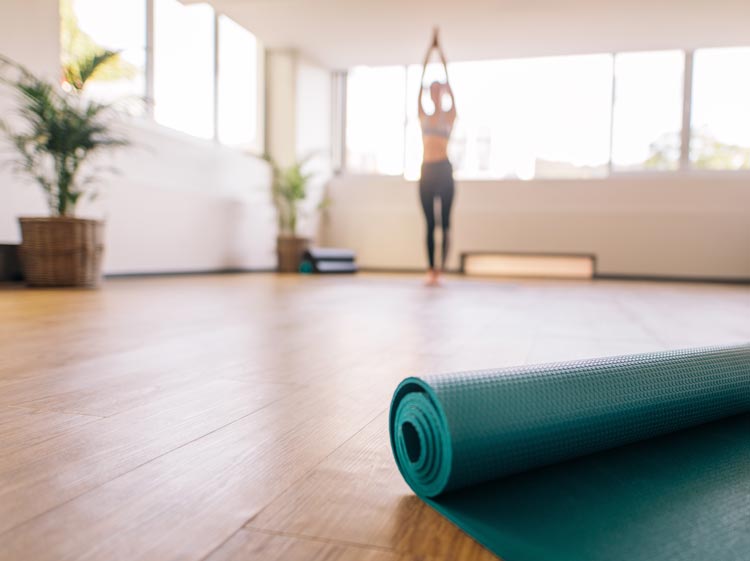 SOUNDPROOF YOUR WALLS
Let's start with the walls in your yoga space. The following sound traps will block sound from bouncing around the room. This is also known as buffering sound, or sound deadening.
Use Sound Soak Panels
Soundsoak panels are a cost-effective way to absorb sound. You can find these acoustic panels commonly in rectangular dimensions of 24 x 48 inches. Yet, other sizes and shapes are available today. My personal favorite is the hexagonal panels, which can be used to create a really cool geometric pattern on your walls.
Additional Benefits:
Soundsoak panels come in a wide variety of shapes, sizes, and colors (which can be used to match your existing decor)
These panels can be affixed directly to walls every easily. Simply mount them flush to the wall with a small screw or finish nail.
Sound Soak panels can be removed just as quickly, leaving minimal damage to the walls. And, you can take them with you should you decide to change the locations of your yoga studio.



Photo Credits: Form Us with Love,  DW Arthur
Keep in Mind:
You can strategically place them on problem walls in your yoga space. Just make sure you don't cover the windows!
Broadcast panels are a step up from Sound Soak panels and can be used when serious sound problems are present.
Install Fabric over the Windows
Natural light adds a great boost to any yoga practice. But in order to catch those rays, you need lots of windows. And, as you now know, windows have a very low NRC. To prevent sound reflecting back into the room, install fabric over the glass.
You can do this with curtains. Curtains are fabric panels–often sold in pairs–that come in a wide range of widths, lengths, materials, colors, and patterns. This makes them a very versatile and cost-effective option.
Drapes are similar to curtains, except they are made of heavy fabric and absorb more sound as a result. The drawback is that they are lined on the back to block outside light. And since you want to share the sun rays with your yoga students, I suggest a lighter-weight (or even sheer) fabric).
One more thought: Curtains or drapes have more pleats and thus absorb far more sound than a flat surface like mini blinds or fabric shades.
Create a Wainscot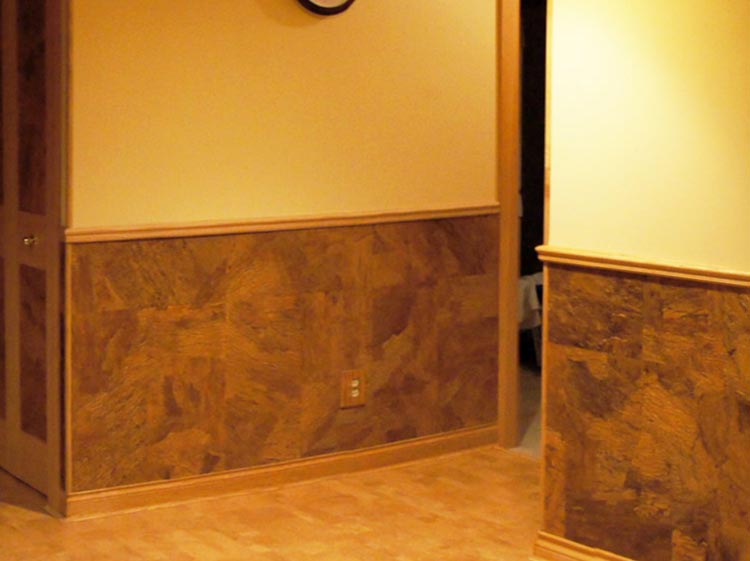 A wainscot is an area of paneling on the lower part of the walls of a room. Normally, a wainscot is 30-42 inches in height. Yet you could create an empire wainscot and go as high as 54 inches.
While this design feature is often made of wood, you can use softer surfaces on the walls to soundproof your yoga space. This might be carpet or even cork panels (which come in a variety of shapes and sizes). There are even soft foam peel-and-stick panel options available.
Additional thoughts:
When you create a wainscot, you can still use the walls for inversions or other yoga postures.
Cork panels are easy to clean. Simply vacuum the walls.
Be aware that cork panels in a hot yoga space might serve as a long term challenge, with odor absorption and discoloration.
Photo Credit: Cancork
SOUNDPROOF YOUR CEILINGS
Now that you've identified and fixed any problem areas on the walls, it's time to soundproof the ceiling. This next section will cover how to reduce sound on hard surface ceilings.
Put Acoustical Sails in Place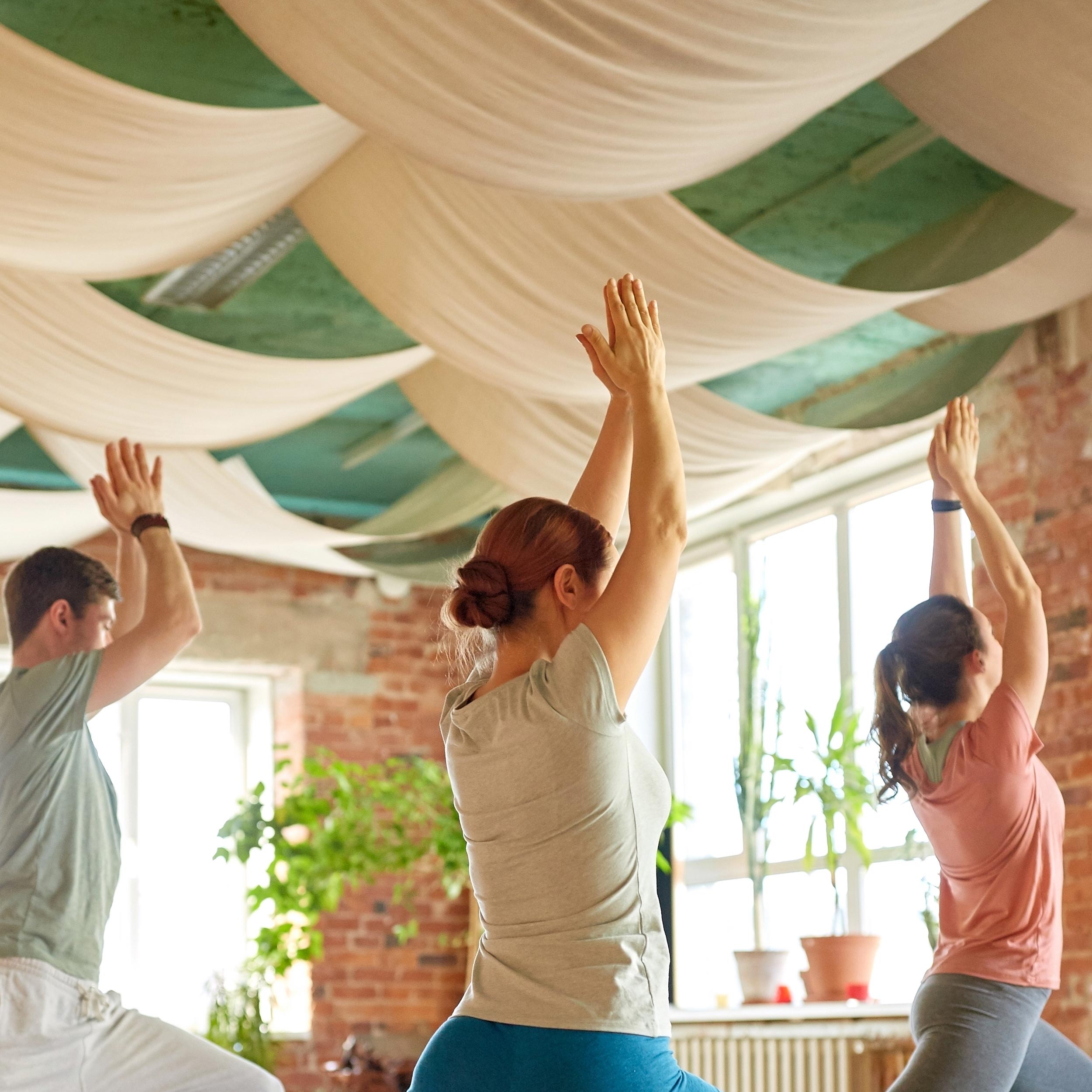 A perfect example of acoustical sails can be found in the banner image of this article. To create an acoustical sail, pick a fabric and drape is down from the ceiling 18-24 inches. Similar to the pleats of drapes, these sails absorb sound and odors. And, the best part is, they can be easily washed to remove dust and unwanted smells.
Keep in mind:
This tactic is best for spaces with high ceilings.
If the ceiling is really tall, you can drop the fabric down more than 24 inches.
The heavier the fabric, the more sound the sails absorb.
This approach is also best when you have lots of natural light or uplighting in your yoga space from torchiere lights or wall sconces.
Avoid blocking overhead lights or HVAC vents when hanging these sails.
Tips to stay safe:
Please note that if your studio is located in a strip mall that also contains a restaurant, you might need to ensure your sail material is flame retardant.
Use Acoustical Banners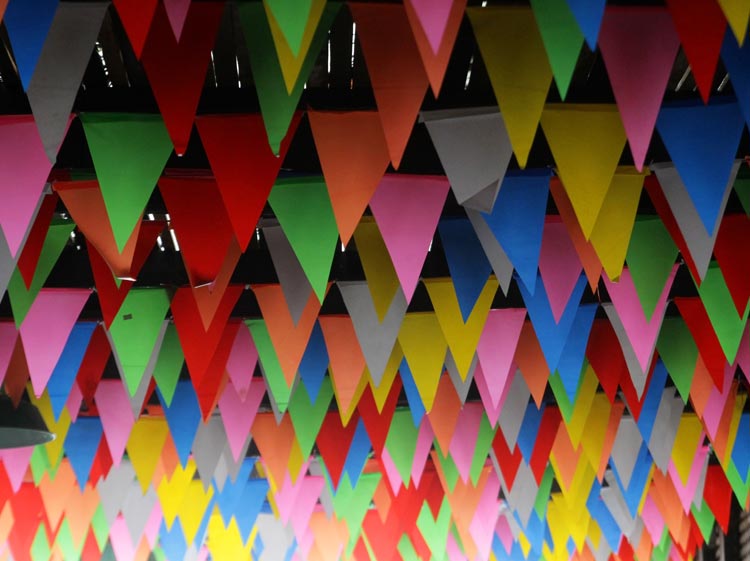 Banners are similar to sails in that you hang material from the ceiling to absorb sound. Only this time, the material drops vertically instead of being strung horizontally. Again, this strategy is best when you have higher ceilings. Another bonus is that you can print messages on the banners to promote the values and ideas of your studio.
One more thought: Acoustical banners swing when the heat or air conditioning is powered on at your yoga space. This wave-like motion can help to soundproof the studio even more.
Suspended Ceiling Panels
Just like Soundsoak panels can be affixed to a wall, you can use suspend similar panels from the ceiling to buffer sound. There are numerous options to fit your budget. You can build them for a more cost effective approach. Or, you can purchase higher-end options, like Whisperwave Ceiling Cloud.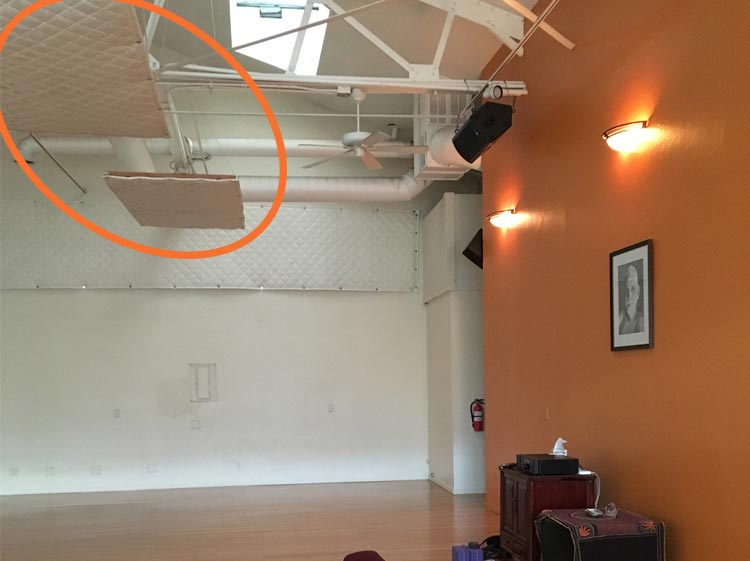 FREE-STANDING OPTIONS
This last category of ideas to soundproof your yoga space involves far less preparation and installation. You can use free-standing objects in your studio to absorb sound effectively, too.
Consider these two options:
A Room Divider
You can purchase standing room dividers to absorb sound. Get an accordion-style room divider, with 4-6 panels, that contains some fabric. This is important for a number of reasons:
Soft fabrics buffer sound better than hard surfaces like wood or bamboo.
Bends in the room divider will deaden the sound greater than a flat surface.
You could add more fabric on the outside of the frame to further match the divider to your yoga space.
The best thing about these is that you have great flexibility with placement. You can fold them up, and move them around your space for the best sound engineering. And they can also be used to block off an unsightly aspect of your yoga space or add more privacy when heading toward the bathroom.
White Noise Machine
A white noise machine is a small device that can be just inside or outside the door of your studio space to cancel out unwanted noise from the waiting room, retail space, or reception area.
This was a great solution for one wellness center in Michigan who had a long hallway with numerous small rooms on each side. We placed a white noise machine in the hallway by each of these doors to uphold privacy on the inside of each room. It also minimized sounds from the shared walkway.
Small Stereo Speakers
Similar to a white noise machine, small stereo speakers can be placed inside or outside of your studio to manage sound. You can place them on the wall or ceiling outside the door to the room to project sound out toward any waiting students. This will create more privacy inside of the studio and in a loud space.
You can also put them within your studio to cover undesirable noise outside. To do this, place your speakers on the SAME walls as the unwelcome sounds. For example, If you teach near a loud street, place the speakers on the wall that lines that street. This will project your desired music over the passing traffic.
PUTTING IT TOGETHER
Sound has the ability to create a meaningful experience for your yoga students. Yet, unwanted noise can distract you and your class. This can lead to frustration and lower class attendance over time. That's why it's important to soundproof your yoga space correctly. Use any number of the ideas above to enhance your teaching space. They will save you time, money, and a potential headache down the road.
Take Action Now:
Assess the sound quality in your yoga space today with the principles above.
Enjoy your new awareness of soundproofing strategies as you take classes in various studios around the world!
Contact us if you want suggestions on how to improve the sound at your yoga studio. We've got the skills and insights to get you on the right track very quickly!