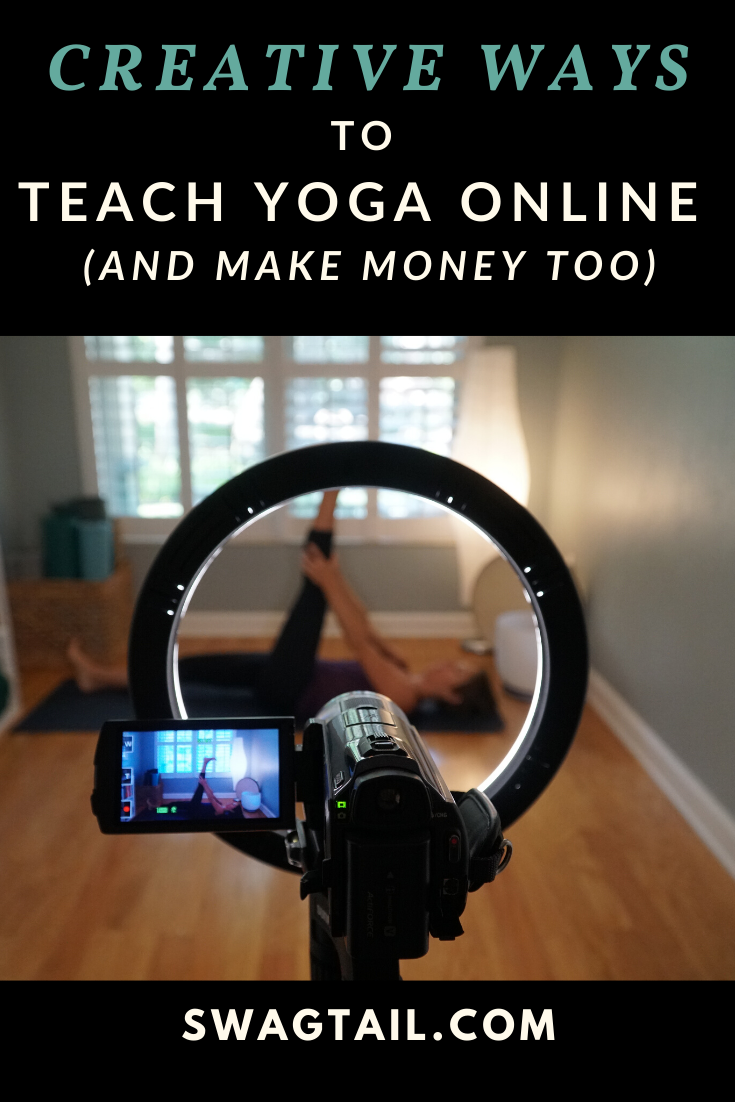 Daily routines have recently been disrupted due to the COVID-19 outbreak. Group yoga classes have ceased and even private lessons have been canceled to the quarantine. To keep your yoga business afloat and to still give your community the support they seek with yoga, it's time to teach yoga online. This article showcases how some incredible yogis across the United States are doing just that!
This is such a large topic, in fact, that I sat bolt upright in my bed at 11 pm the other night. I've had Yoga Business Academy clients and teachers around the world concerned with the rapid changes in the industry. And for two hours, words just poured from my brain, through my fingers and onto the screen with numerous ways to film your classes confidently and strategically.
Yet this is a blog post, and not a book.
So this article will highlight big picture ideas of what is working thus far. And, if you want more specific information on how to shift your mindset, which equipment works best for video, and other tips to teach yoga online, then sign up for my virtual workshop here.
WHO'S WHO
Before I dive deeper into this article, let me first introduce you to the faces behind the names in this post. Thanks to this move into the online space, you can actually take classes with each of them now (without having to leave your living room)!





BENEFITS OF TEACHING YOGA ONLINE
There are numerous benefits you provide your students when you still teach in an online forum. Some of these include:
Students save time, energy and resources without the need to travel
They get to stay socially connected, even when in isolation at home
Students feel grounded when they are able to connect with your familiar face, location, and yoga teaching style.
You help students find structure when you show up consistently at set times.
Borders are removed, and students can practice with any teacher regardless of physical location.
For example, Lisa shares, "students who do not live [near us] are able and willing to attend. And since many people are not working due to the quarantine, I have friends in California and Washington state who are upgrading to a membership and attending classes. Even MY DAD is going to attend the first time!!!"
Instructor Benefits:
There are also many benefits to you, as a teacher, when you teach yoga online. In fact, you likely many of the same benefits as your students. Plus, you:
Get ongoing practice to refine your craft of teaching
Learn new ways to communicate familiar yoga ideas
Discover interesting ways to expand your reach
Are able to explore fresh marketing strategies, and
Definitely enhance your sense of purpose.
Daneen says this so succinctly:
"Each day of the quarantine I feel purposeful and productive. I'm so grateful to live in an era where we can still connect while "social distancing." Each day I reach someone new with my content. I firmly believe we all need yoga now more than ever. Instead of focusing on a "crowded market," I choose to focus on abundance. I have no expectation or desire to become an internet sensation. I'm just absolutely thrilled to think that one new person today took the time to try a 30-minute class with me. If that one person takes one deep breath (and knows it, even), well that's just magic; they are changed for the better. If I can make just that one person's day better? That's success. Doing this work virtually exponentially increased my chances of connecting to that one new person. And that's pretty amazing."
EMBRACE A NEW MINDSET
Yes, yoga is originally a practice taught one-on-one; from teacher directly to student, in the same physical location. This format morphed into group classes here in the west, which gives many students the opportunity to learn in a supported environment. Now, with the digital age in full bloom (and the outbreak of the Coronavirus), it's time to teach yoga online, too.
Making this leap requires a shift in mindset. This involves a change in your beliefs.
Now, I can hear the voices of many teachers saying to me, "But that's not real yoga. It's not authentic and it takes away from the value we provide to our students in person."
I won't deny that teaching yoga virtually is different. And I don't believe that teaching yoga online will ever fully replace in-person learning.
So if you want to opt-out of the entire film-from-your-home or studio experience, I get it. It's not for everyone. Yet for those of you who are ready to adapt in changing times (whether it be teaching yoga online for the short-term or integrating online classes into the larger aspect of your business model), you'll want to adopt these mental beliefs:
The Time is Now, and I'm Ready
You can succeed in the online space when you realize the time is now, and only you can step in to make the changes you desire.
As Meghan said, "our studio wanted to create virtual content for our students and teacher training programs for quite some time. The outbreak propelled us forward into learning just how to do this, and how to navigate the technology that makes teaching yoga online possible. We realized–No more procrastinating – the time is now!"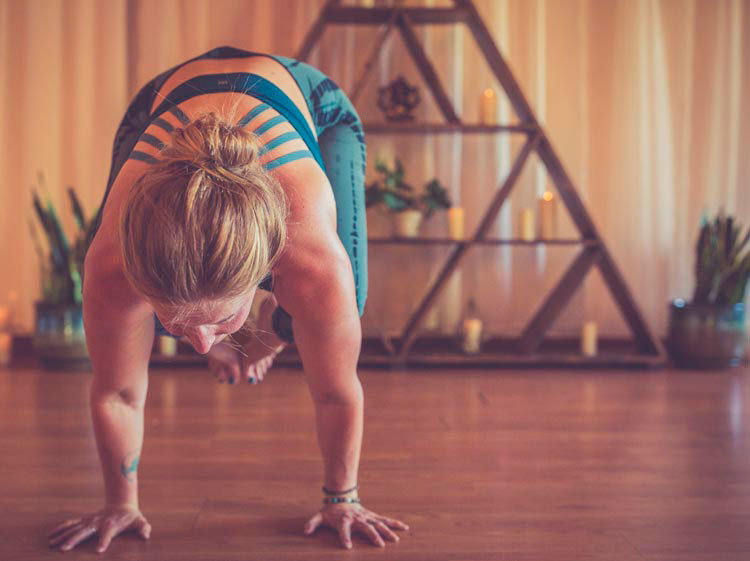 Photo Credit: Truckee Yoga Collective
I Adapt Well,  and Find New Ways to Serve My Students
To thrive in uncertain times, it requires an ability to adapt well. Lindsay at UpYoga is doing this well. They are currently offering a full schedule of livestream classes. They also have an online book club, virtual workshops, and community circle time all via the internet.
Another great idea is that they are rolling out a 25 in 30 DAY CHALLENGE in April. There is a great likelihood most of spring will keep us isolated at home. Thus, the added incentive to show up on the mat and unite as a group greatly increases with an approach like this.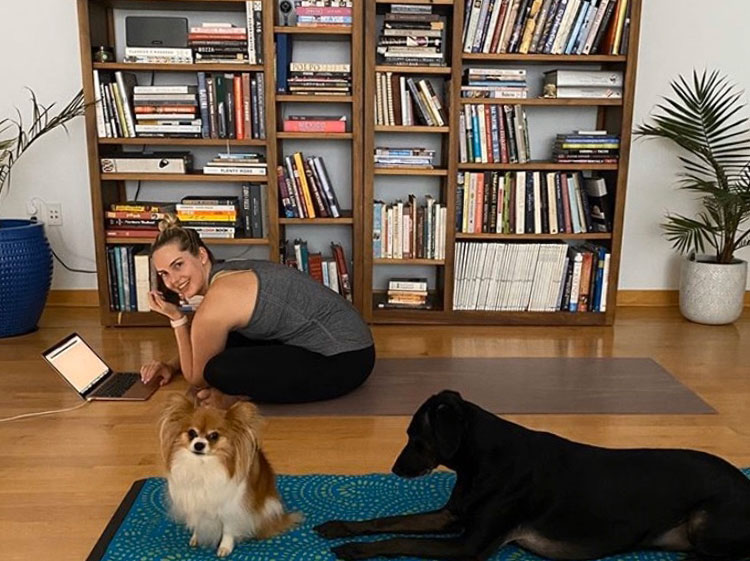 Photo Credit: UpYoga MN
I Proudly Take Ownership of My Yoga Business
Daneen also had an interesting take on this. She says, "I had been so focused much on teaching live studio classes, that I let my online content falter. I was immediately inspired to create, create, create–from building out my FB Business page, to refining my Instagram feed and branding, to creating my own YouTube channel.
Now, I am taking agency for how I represent my content online. I have owned the url daneenfarrallyoga.com for 2 years and have yet to publish it. My new goal to build it out.. There are so many possibilities to entertain, I'm having so much fun!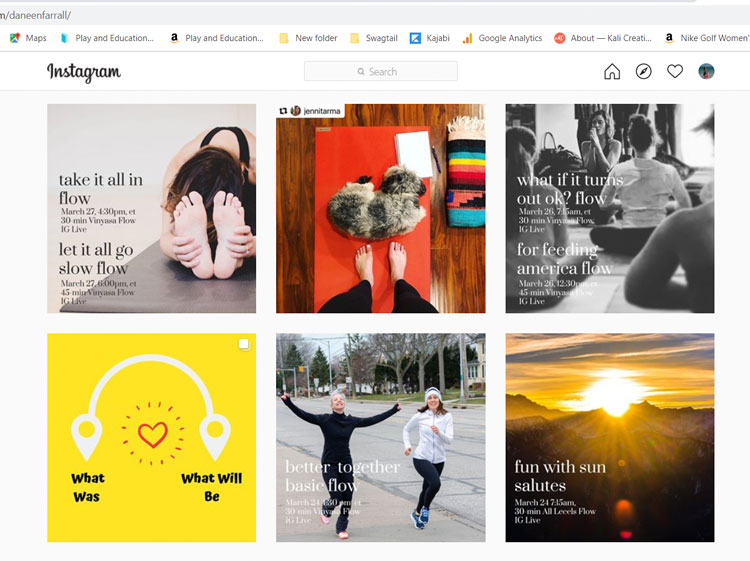 Photo Credit: Daneen Farrall
COMMUNICATE WITH CLARITY
Sometimes I feel like a broken record when I say that clear communication is vital to building and sustaining a yoga business (or any enterprise for that matter). Clear communication sets the tone for any experience. It sets guidelines and expectations, and clears away any misunderstanding between people.
This is especially true when you are now teaching yoga in the online world. Not only are you distant from your students, but you're also separated from other teachers and staff with whom you regularly interact. So, here are some tactics to employ very clear communication in your business:
Support your Staff
For most studio owners with a team around them, the highest priority on their list is supporting their staff. Lisa sent out a survey immediately to her teachers and asked them questions like:
Do you feel comfortable filming from the studio?
Who feels ready to teach via camera at all?
Who needs time to reset and refresh?
How can I best be here for you?
The best part is that this was a thoughtful way to get information from numerous people at once. And, it gave Lisa a chance to build a strategy for the studio based on the strengths, availability and energy of the team.
Cue What You See
It can be extremely beneficial to allow cameras ON during your group classes. This allows students to not only see you, but see each other. And, it gives you–as a yoga teacher–the instant feedback from student positions that you would normally see in person.
UPYoga knows this well, and shared the following:
"The community is raving about being able to log in to the classes and see each other. Because the classes are taught live we, as teachers, are still teaching to the "room". We watch our students practice, call them by name and cue to what we see. This provides the connected community experience we've worked so hard to create over the years. Our teachers are happy to teach their classes."
As a side note here, you may want to instruct your students to pause, and take a seat on their mat, when you are ready to demonstrate something yourself. You likely do this in class already, only now you'll have them watch the screen. Then, when you guide them to try this themselves, you can watch them on their own mats and provide personalized instructions based on what you see (just as UPYoga teachers are doing above).
Chat After Class
Just as you would congregate after class to chat about your week with fellow yogis, your students can crave this interaction after a virtual class, too. This is exactly what Westport Yoga KC is doing to bring their community together:
"Our students are a very tight knit community. They miss one another and I miss them too. In addition, my teaching style is very interactive since we focus heavily on teaching yoga philosophy. So we allow students to ask questions, and we want to tailor classes for their needs."
This can include some time to socialize briefly after class, given that you (as the teacher) set the expectations of such time in advance.
Make Online Access Easy
The virtual world of teaching is new for many teachers, as is how to collect payment and stream classes online. To make this transition as seamless as possible for your students, make sure:
You email students the basic instructions
Have an obvious link or picture or button on your website to gain access to online classes
Your website duplicates those simple instructions to access online classes
You regularly email your staff and students as changes arise at your studio.
In times of crisis, it can be better to over-communicate the plan then leave others wondering (and assuming) what is going on without the necessary information.
DELIVER VIDEOS LIKE A PRO
While there are numerous ways to deliver your virtual classes to your students, the option you select will depend on your teaching goals. My personal favorite is ZOOM video conferencing. It's the company I use for my interviews, conference calls, webinars and live group trainings. ZOOM has been great for me, and I would say that about 75% of the yoga industry is using this now to teach yoga online.
As Lisa says, "all of our classes are being held in the same zoom conference meeting room. Our studio upgraded to the business zoom account; this way we have our own online classroom. And just like our physical space students may come and go as they wish. They do not need to pre-register for classes; I want a member to look at the clock at 5:55, shut down their computer and head to their yoga mat for their evening class. They need yoga and they need their routine now more than ever."
Other Platforms
Steve Hart has also created a VIMEO library. In addition to streaming live classes, students are able to rent or buy previously-recorded material. This provides yet another revenue stream for the teachers and studio as a whole.
He says, "It was free to set up the On Demand page with Vimeo and upload pre-recorded classes. Plus, the first month is free. Then, the fee is $20/month thereafter. I figured I would give it a try and it has worked great so far!"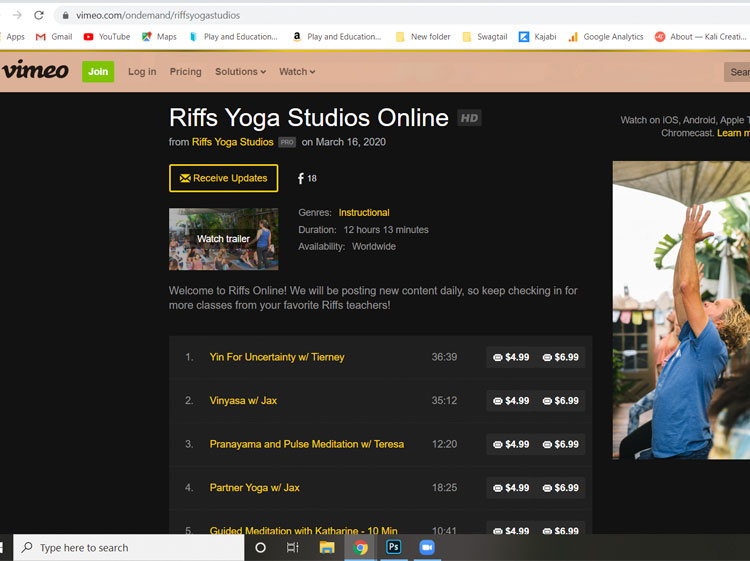 Daneen is taking a different route entirely. She's providing short bursts of daily content on a consistent schedule via Instagram and is also posting videos on her YouTube channel. Both of these strategies increase the number of ways her students can still join her on the mat.The best part is that if you use platforms like YouTube and Facebook, you can also create private links and groups should you still want to receive set payments for your services instead of the donation route.
PUTTING IT TOGETHER
While it might seem light years away at the moment, we will be able to gather in-person for yoga classes again soon. In fact, we'll likely crave the human interaction after so much isolation. This is great news for yoga teachers!
You will have had the opportunity to expand your reach, support your students when they need it most, and refine your teaching skills in new ways just by teaching yoga online now. And, then you will have more value to add to your clients over time, and more wisdom to bring to the mat, because of this experience. Hold the course. Be a source of stability in these uncertain times. And continue to bless your community each and every time you show up to teach yoga online.We're in this together! And we can do this!
Take Action Now:
Download this Guide to Teach Yoga Online. It includes the ideas posted above, as well as some swipe files that give you even more ideas of how to communicate clearly with your staff and students.