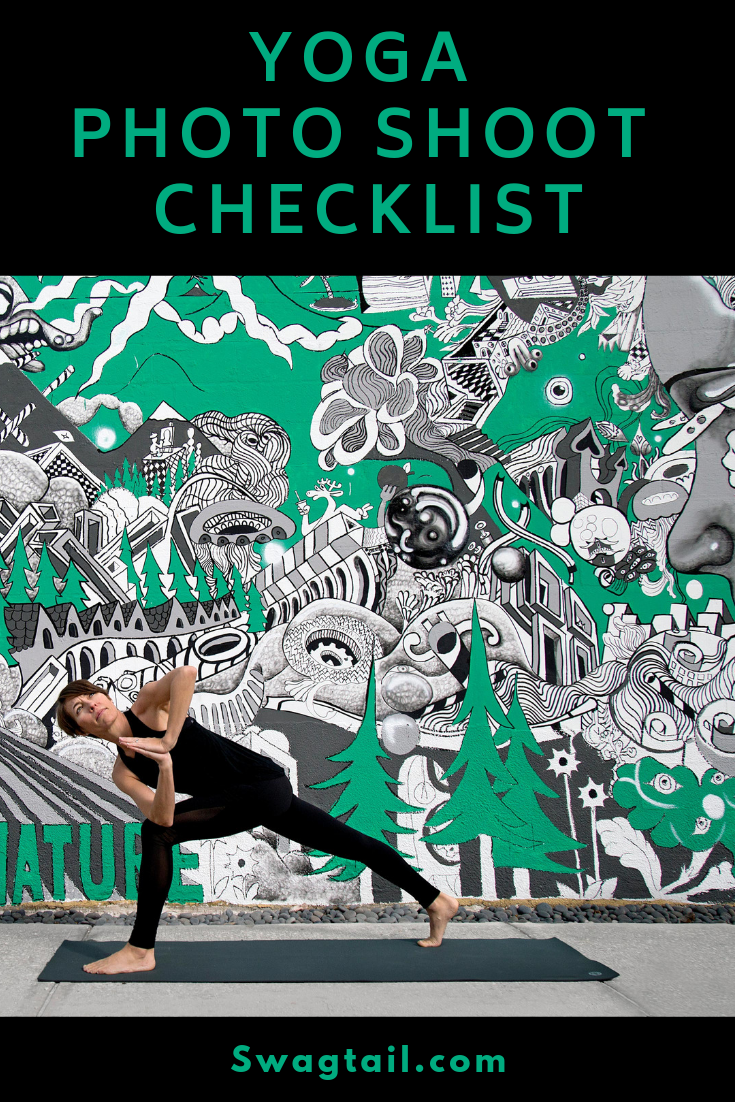 Yoga photos are a great way to add credibility to your yoga business. Once you have a photographer in place, you want to make sure your time, money, and energy aren't wasted. That's why we created this yoga photo shoot checklist. It will guide you through clear steps to take in the weeks, days, and hours leading up to your yoga photo shoot. You can then feel prepared and confident when taking your photos (and in sharing them online afterward)!
My husband and I travel all around the country in our Sprinter Van, and I love taking yoga photos in unique places. Some of my favorites include the mountains of Vail, Colorado and the waterfalls of Silver Falls, Oregon. And my excitement goes through the roof any time I see a beautiful mural in a city landscape!
To capture images in each location, I often work with a local photographer. Each professional has their own way of communicating and taking pictures. I created this yoga photo shoot checklist to be ready for the unexpected and the unknowns in these situations. So whether you're traveling or staying home for your next photo shoot, you too can plan like a pro and show up ready to rock your poses in front of a camera!
Photo Credit: Ember and Earth Photography
THE BUSINESS BEHIND A PHOTO SHOOT
Taking yoga photos can be a really fun part of building your brand. Yet, those beautiful images are like icing on the cake. The preparation you put in before the photo shoot is really what sets you up for success. This starts when you learn the business behind a photo shoot.
Line up your Logistics
Not only do you clarify your intention for the photo shoot long before you get in front of a camera, but you also line up numerous logistics. These include:
Finding a great photographer
Scouting a location
Clarifying the details of your photo shoot
Determining a theme or purpose for your photos
Getting your paperwork in order, including a photographer contract, model release form, and property release form
CREATE A VISION BOARD
Once you have a photographer in place and a scheduled date for your photo shoot, it's time to decide what images to create. The best way to do this is to create a vision board for your photo shoot. Scour the internet, social media sites, and yoga magazines for poses you'd like to include in your session. This can be done in the week, or weeks, before your session with them.
Since there are so many ways in which to visually capture a pose, you will want to refine which camera angles you prefer and color schemes you like. Plus, you have a unique body. Select poses that will promote your strengths and add credibility to you as a yoga professional.
Once you have images you love, save them to a specific folder on your phone. This will make it easy to share these images with the photographer on site. You can also email them your ideas ahead of time (just make sure you do this in ONE email, instead of bombarding their inbox with yoga photos).
24-48 HOURS BEFORE YOUR PHOTO SHOOT
As your session is just days away, you will want to make sure the following items are completed on your photo shoot checklist:
Check the weather
If you're filming outside, it's essential to keep an eye on the weather. I suggest doing this daily leading up to your photo shoot. This will help you better prepare for any unexpected elements and know exactly what to pack for an outdoor photoshoot.
If you're filming indoors, your clothing might not be affected by the weather. Yet nature could influence other logistics, such as the lighting indoors. It might also affect your transportation to and from your shooting location. In any case, check the weather at least 48 and 24 hours before your session! And, if you're like me, you'll check it the morning of, too, just to ensure there are no last minute surprises!
One side note here: Check your photography contract to ensure you can reschedule your photo shoot due to harsh weather if working outside. Many professionals offer this, but you just want to double check if unwanted conditions arise.
Charge your batteries
Any electronic devices you plan on taking to your photo shoot should be charged the night before! This includes your phone, laptop, and additional cameras you will bring with you. Even though the photographer might be solely responsible for professional photos, it's fun to get behind the scenes footage to add to your social media channels. Those images would be impossible to capture if you're out of power. So, plug everything in the night beforehand!
Fill your vehicle with gas
Have you ever jumped in your car only to remember you're super low on gas? Do you ever share your car with someone else, and find they left you with only fumes in the tank? If you have to drive anywhere for your photo shoot, make sure you fill up your vehicle with gas before you're en route to your destination. You definitely don't want to waste time and energy the day of doing this!
Pack a yoga kit
There is a simple quote that has stuck in my brain for years: "If you fail to prepare, you are preparing to fail." Highly dramatic, I know. Yet, it reminds me to take simple steps to stay organized (especially before important meetings, interviews, and events). Since you will be taking photos away from the comfort of your closet, and possibly a bathroom, you will want to pack a yoga kit to take with you.
This yoga kit can include:
Two yoga mats
Any yoga props (blankets, straps, etc)
A towel (for sweat or to clean up if outside)
Multiple yoga outfits (at least 3-5 sets)
Sandals
Jewelry
Sunscreen
Makeup
Additional toiletries (toothbrush and paste, hair ties, brush/comb)
Water
Light snacks (especially since you'll likely be hungry right after you're done)
Anything else you think will be helpful.
If possible, I suggest that you put these items in your vehicle the day before your photo shoot. You will then have less to think about right before you leave for your session.
Finalize your Yoga Sequences and Postures
While you created a vision board in the week, or weeks, prior to your photo shoot, it helps to refresh your ideas right before your session. Make sure the photos are well organized on your phone or print out the images you want to include in your session. This will help you communicate more clearly with your photographer.
Get on your mat
Stay flexible and focused, and even practice the specific poses you want to capture during your photo shoot. This muscle memory will come in handy when you have to hold these asana-s in front of a camera!
THE DAY OF YOUR PHOTO SHOOT
There are three basic items to attend to the day of your photo shoot:
Do yoga. Even if you have an early session, get on your mat again and warm up your body.
Double check your photo shoot checklist. You want to make sure you didn't forget anything.
Schedule plenty of travel time. Just like you want to arrive early when teaching a yoga class, you also want to do so for your photo shoot. This will allow you to start the process in a relaxed, centered space!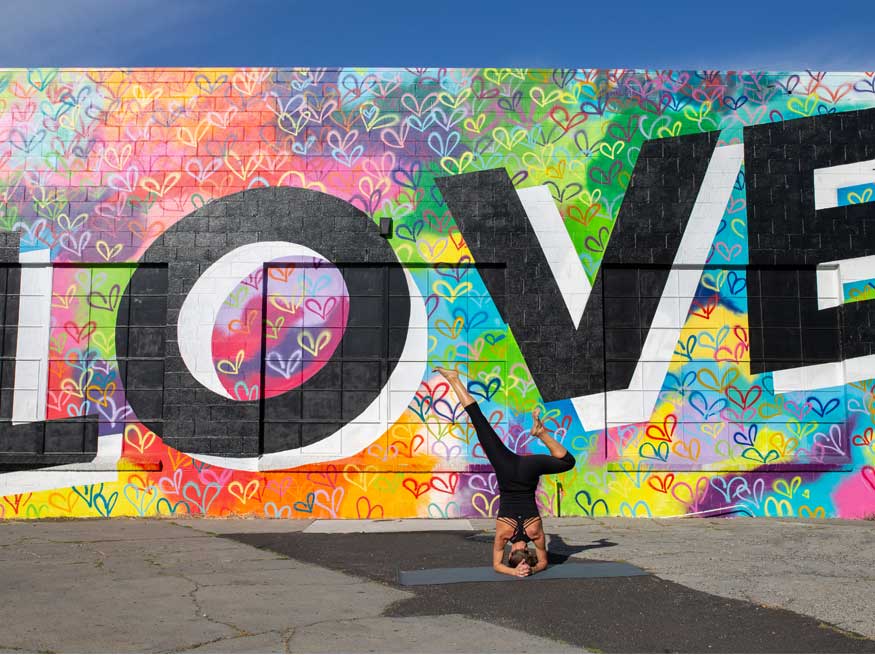 Photo Credit: Diane Nicole Photography
PUTTING IT TOGETHER
You want to have a clear and consistent message for your yoga business. This involves aligning the images you share with the words you use online. To ensure you maximize your time, energy, and money to capture great images during a photo shoot, you want to be prepared in advance. This yoga photo shoot checklist will help you do just that!
Take Action Now:
Download the checklist to above to be totally prepared for your next yoga photoshoot!
Send us your favorite yoga pics via Instagram! We love seeing you shine!
Leave photo shoot tips of your own in the comments section below. Your wisdom can help us all, too!